The Ultimate WordPress Premium Plugin Suite Bundle
Do you want to give your WordPress site a big facelift? Do you want to add tons of new features to your eCommerce store or online community at a fraction of the price?
If you're taking on a big project and need more than one tool to get there, we have just the deal for you: a complete WordPress plugin library for just $199!
Your purchase comes with continues expert support, plugin updates, and any new plugins or addons released from the bestselling CreativeMinds team.

Save Money, Get It All
Whether you need a way to monetize an online course, improve the security of your website, or incentivize community engagement, our massive collection of WordPress plugins have you covered.
Best of all, every plugin is written by the same team of expert WordPress developers, so you can rest assured they will work together seamlessly!
What's In the Box?
Advanced WordPress Toolset

Get tools to create or enhance 100's of functionalities and boost any WordPress site.

The Full Catalog of CM WordPress Products

Immediate access to all 99+ of CreativeMinds premium WordPress plugins and addons.

Highest Edition

Get the most advanced edition of all plugins and addons.

Use Forever

Once installed, plugins and addons can be used forever.

Unlimited Updates

Unlimited updates and new feature releases for our existing plugins and addons (while subscription is active).

New Products Yet to Be Released

Access to all upcoming plugins and addons as they are released.

Helpdesk Email Support

24/7 expert technical support

On Site Support

On-site assistance to resolve any issue you might have with our plugins.
GDPR Compliant

Our plugins offer tools to give users full control over their data, and assist site admins with data regulations compliance. Learn more.
What the WordPress 99+ Suite Bundle Offers
At CreativeMinds, we have a wide variety of plugins and addons designed to address a WordPress administrator's needs, to support eCommerce sites, to build eLearning platforms, for online marketers, to improve your site's SEO, and much more.
In addition to our current mix of innovative products, we're always on the lookout for great ideas to help WordPress users create great websites. New plugins and addons based on user requirements and suggestions are coming out all the time!
Get These WordPress Features and More
Tooltip Glossary

Create a fully-featured glossary or dictionary of terms with customizable popup tooltips.

Map Routes Manager

Create a community catalog of map routes and trails with points of interest which can be embedded in any page or post.

SEO Keyword Hound

Build page specific keyword lists and compare them with your competitors to get to the top of Bing and Google SERPs.

Popup Ad Manager

Build customized popup banner, Javascript, image, and video ads with fully customizable ad triggers.

Micropayments

Create your own virtual currency or points management system, integrated with WooCommerce and EDD.

Two Factor Authentication

Add a second layer of security for users to login to your WordPress site with two factor (2FA) authentication.

Business Directory

Build a directory of local business listings similar to Yelp or YellowPages, with map display, memberships fees, and more.

Questions & Answers Forum

Create multiple Q&A discussion boards similar to Stack Overflow, complete with user voting, comments, private messages, and social media login.
View a full list of plugins and addons in the WordPress Plugins 99+ Suite Bundle.
Plugins and Addons Included in the 99+ Suite Bundle
Upon purchasing our WordPress Plugin 99+ Suite Bundle, all of the CreativeMinds plugins and addons will instantly be available for download. Here is a list of what is included…
New Plugins Coming Soon
New plugins set to be released soon. For as long as your support and update subscription remains active you will receive support, updates, all of our existing plugins and addons and also the plugins and addons we are set to release over the coming year:
Voting Widget Plugin – This plugin will let you embed a voting widget into any post and track users results
Image Slider and Image Gallery Plugins – Slider and Gallery Image Plugin
Video Manager YouTube Support – An Addon to support YouTube videos in the video manager
Frequently Asked Questions
Why should I purchase the CM Plugin Suite Package?
You'll gain an incredible set of tools to enhance your WordPress site in just about any way you can imagine – build an online community, an e-learning platform, monetize your site, and much more! You'll also receive all of our new releases, updates to every plugin we release, and expert WordPress support. You get all this for an amazing price, at a huge discount compared to buying each plugin one at a time.
Does the suite package include the latest edition of the Tooltip Glossary plugin?
Does it include all the plugins in the E-learning Bundle?
How many times can I install each plugin?
How do I download the plugins and get new updates?
Once you have an active subscription to the plugin suite package, you will be able to log into our customer dashboard where you will see all the updates and downloads. Learn more in the general support guide.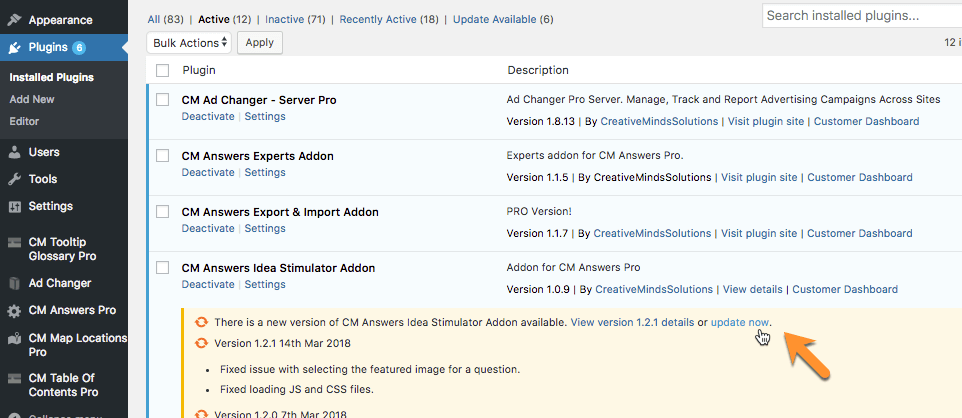 Does the 30-Day Money Back Guarantee Apply to the Plugin Suite Package?
Unfortunately, we can't offer the 30-day guarantee for this bundle, since you gain access to all of our plugins and they are digital products. It is very difficult to protect ourselves from malicious users who will install everything they need and then create a false problem with one plugin to get their money back unfairly. So we simply can't offer refund for this, sorry.
What we can offer is a ton of pre-sale support. If you are curious about what our plugins can do, you can check our in-depth product pages describing what we make in full detail with free access to the documentation for every product we sell, as well as live demos for many of our products. For any additional questions, you can always contact us via email or the live pre-sales chat support (check the contact page). So it is possible to get a detailed understanding of what our products do before you commit to your purchase.
If you've already bought one or two of our plugins and wish you'd gone for the whole lot and saved money…Just ask and we can possibly upgrade you for the difference in price, we have done this many times before.
Does the suite include only CM plugins or also add-ons?
It includes both the higher version of all of the CreativeMinds plugins and also all their add-ons. This is a complete bundle of our entire library of plugins and add-ons.
I've bought some plugins from you and wish to upgrade to the complete suite, can I just pay the difference?
Probably yes. We get asked this quite often, which we're pretty proud of. If you have purchased some plugins recently and want to go for the complete suite, then get in touch with our customer support and we'll try our best to help you out.
If you bought something 11 months and 29 days ago it might be a different story.