Booking Calendar Events Add-on Description
The Booking Calendar Events Add-on for WordPress allows to add events with a full event description and allow users to register to the event. It serves as an event booking solution for your calendar.
Rich Calendars

Events appear in the calendar along with any available bookings.

You can define multiple eve for each calendar and allow a defined number of attendees per each.

This versatile WordPress events add-on creates the ultimate calendars!

Calendar sample with bookings and events
Interesting Events

Add images and messages for each event, making them unique and appealing. Editing is easy - add images and format text just like with any regular WordPress content!

Each event receives a page where users can check the number of open spots, register and leave a note.

Create beautiful and informative events for your team easily!

Sample event page for a birthday party
Dynamic Calendar View

Hovering the mouse over an event highlights it, and fully booked appointments get grayed-out.

Choose an exclusive color for events to make them stand out.

Fully booked meeting in the Calendar
Booking Calendar Group Meeting Add-on Prerequisite Plugin
Can only be used if CM Booking Calendar Pro was installed before using this add-on.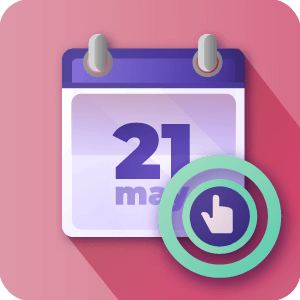 Booking Calendar Events Add-on Features
Please check the user guide to learn more about this add-on.
| | |
| --- | --- |
| | Bookings and Events Together – Calendars can have both bookings and events at the same time, allowing you to prioritize them as fit |
| | Unlimited Events – Create as many events as you need. |
| | Calendar View – The events' name appear in the calendar, making them easy to find |
| | Quick or Full View – Choose if clicking on an event will show the information on a simple interface or on a new tab |
| | Limit the Seats – Select how many openings each event has. After the limit has been reached, it gets closed |
| | Email Notifications – Send alerts to users automatically whenever an event is requested or accepted. These messages are fully customizable with placeholders – this way, every user will receive a personalized email |
| | Handy Table of Events – Generate a table of all events for each calendar with a simple shortcode |
| | Compatible with Booking Payments – Charge users for requesting bookings by using this add-on along with the Payments add-on |
BookWP Main Features (Base Plugin)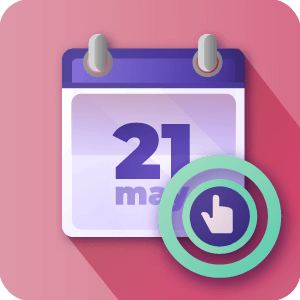 | | |
| --- | --- |
| | Slick Booking Calendar – Add calendars anywhere on your site, allowing users to book appointments easily |
| | Multiple Calendars – Supports multiple calendars at the same time with individual scheduling preferences. Each calendar can have its own appointment form, event duration times, moderator, session length, availability period etc |
| | Multiple Spots – Calendars can have multiple spots for each time slot. The Front-End view will display how many spots are available, if any. If the booking is full, it will be shown as blocked |
| | Availability – Bookings include an advanced calendar feature set where you define the exact availability of calendar dates and times that customers are permitted to book. You can also define days off when booking is not permitted within the calendar (for instance, weekends) |
| | Appointment Form – Each calendar has a unique booking form that includes all the necessary information to make bookings. The form is essential for managing scheduling requests and can include any number of fields and can be customized as needed. Also, this scheduling form comes with reCaptcha support |
| | Moderation – Bookings can be accepted automatically or can be moderated before acceptance. This setting is available for each calendar |
| | Individual Moderator – Each calendar has a moderator who receives new booking notifications and can discuss booking requests with the customer |
| | Personalized Timezone – The calendar Front-End view is adjusted based on the customer's timezone |
| | Mobile Support – When a small screen device is detected, the responsive plugin will switch to Day view, which is adjusted to fit small screens and mobile |
| | Multiple Views – Supports Day, Week and Month view on the meeting scheduler |
| | Calendar Reminders – Send automatic reminders to the admin and customer before booking events start. Customize how many hours in advance notification emails will be sent |
| | Notifications – Each booking creates notifications for both the moderator and the customer who has completed the booking |
Booking Calendar Events Add-on Front-End Gallery
Booking Calendar Events Add-on Back-End Gallery
Booking Calendar Events Frequently Asked Questions
What's the difference between a booking, an event and a group meeting?
It's possible to use the three in tandem.
What happens if a regular booking is made at the same time as an event or group meeting?
In this case the Event booking takes priority over the group meeting and regular booking. The priority is event > group meeting > regular booking. So the event booking will appear in the front-end.
To learn more about this see this Help article.
What happens to the events I've created if I disable the add-on?
If you disable the add-on then the events will not be shown. However, they won't be deleted – once you reactivate the add-on, they will be available again.
What happens when the maximum number of places have been taken for the Event?
When this happens the appointment will change to show "Booked" in the calendar front-end view, to inform people that it's no longer available.
To learn more about this see this Help article.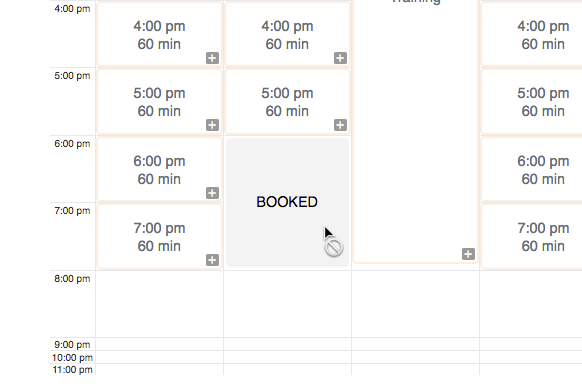 Can this plugin work as a way to sell seats for events with limited places? Like concerts and gigs?
Yes. In this case you should probably take a look at the Booking Payment add-on as well. It allows you to use Easy Digital Downloads or WooCommerce to take payments from customers for Bookings.
To learn more about Booking Payments see the Product Page.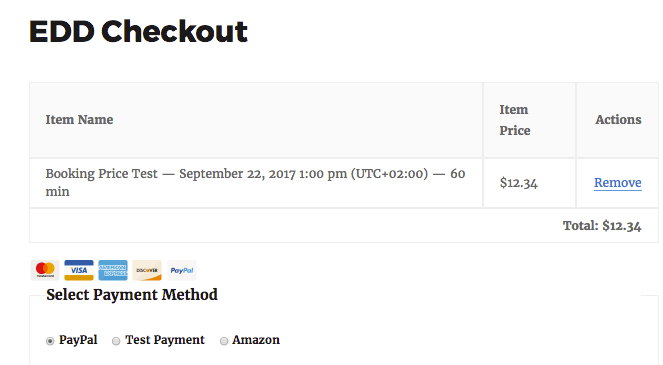 Can I isolate events from regular bookings in the admin panel view?
By default they're separate in the WordPress Dashboard. Bookings and Events have separate areas.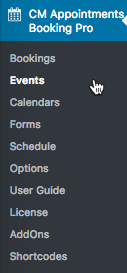 Is it possible to set a different color in the front-end calendar for Events?
Certainly. This can be done through the Appearance Tab within the Plugin Settings ( Appointments Booking Pro → Options → Appearance).
To learn more about this see this Help article.
Booking Calendar Events Add-on Related Add-ons
Booking Calendar Events Changelog
Version 1.0.1 28th July 2019
Added compatibility with the "Offer multiple event durations" option
Updated the licensing package
Version 1.0.0 10th Mar 2019