Best WordPress Pop-up Plugin – Meet the WPop
The WPop Pop-Ups plugin by CreativeMinds allows you to add various banner ads and announcements for any page of your site. This popover WordPress plugin makes it easy to create fixed custom banners that appear in the middle or bottom of your page.
Versatile Pop-Ups

The pop-up builder includes various pop-up components and features for creating versatile and highly converting pop-ups.

Use pop-ups to promote sales, email lists and events on your WordPress site.

Example pop-up banner with image
Pop-Up with embedded video

Add Image and HTML Pop-Ups

Create HTML pop-ups with image, embedded video and links on WordPress using this pop-up plugin.

Implement a pop-up ad in HTML, a message box and animated banners.

Catch the attention of your users with multimedia content.
Newsletter Pop-up

Include shortcodes from MailChimp, MailerLite and other platforms.

Display subscription lists right in the pop-up!

Newsletter form pop-up
The Custom Popup Banners plugin includes image pop-ups, shortcode pop-ups, text pop-ups, pop-up animations and more, as well as the ability to create multiple popups for various posts and pages.
Who Can Use The WordPress Pop-Ups Plugin
Are you promoting a new event, product or discount? This responsive popover WordPress plugin is an excellent lead generation tool. Design a custom popup banner ad that will grab the user's attention without interrupting their browsing!
The plugin applies to every use case.
WPop Plugin Use Case Examples
Selling – Engage your visitors by providing them discount codes on pages of specific categories, such as beauty products, law practice or healthcare services
Lead Capture – Add a "Subscribe" pop-up with and embedded form shown only to guest users and boost your

newsletter

user base
Advertising – Display random AdSense campaigns based on different criteria. For more advanced advertisement use, we recommend the Advanced Ad Campaigns Manager and Server Plugin for WordPress
Multimedia Hub – Include banners with images, galleries, videos and

HTML

content anywhere on your site


Many PopUp Triggers
Choose what activates banners and apply the right trigger for each campaign!
List of triggers:
Page loaded – Good for sales, welcome messages and subtle banners
Mouse clicked on chosen element – Show extra info about images
Mouse hovered certain element – Apply small campaigns on headers and footers
User inactive for x seconds – Great for high-impact reminders
User tried to leave page – Ideal for asking feedback if the page has bad

bounce rate

User reaches bottom of page – Direct visitor to the contact form or FAQ
Target Specific Pages and Dates
Plugin Setting for Defining Specific Pages per each Campaign

Combine Many Rules

You have many options as to where and when popup banners should appear.

You can also combine rules.

Examples:
Across your whole site during weekends
Only on the homepage between midnight and noon
Blog Pages with the "/blog"

URL

path, only on desktop devices
Pop-Up Display Calendar

Define exactly when each campaign will be shown.

For example, display regular deals banners on weekends and special sales campaign during Black Friday.

Campaign calendar
WPop Banners, Ads and Campaigns Features
When using this plugin each popup runs inside its own campaign allowing you to control the popup location in your site and much more!
Add template or custom .mp3 sound effects to capture the attention of your visitors.
Configure banner delay, background color or image and edge shape to tailor the campaigns to your site's visual identity.
Reports and Statistics

The admin dashboard includes a detailed dashboard with statistics and reports.

Track the performance of each campaign to perform A/B tests and learn which popup converts better.

Admin Statistics Reports
Using the WordPress Popup Plugin for Capturing Leads
Popups are an excellent tool for gathering information from your users and capturing leads.
Trigger the popup on critical pages for your funnel, such as Hire Us. Then, show a flashy contact form to selected users only, such as the ones that stayed in the page for over 10 seconds.
Use the Popup Forms Builder Addon For WordPress and start building your userbase!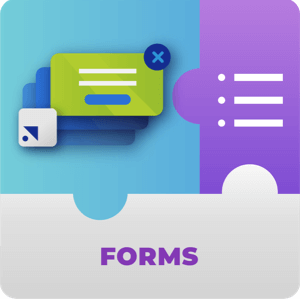 Special PopUp Triggers and Appearance Control
PopUp triggering Options

PopUp Display Interval

Our unlimited WordPress popups can appear every time the user load the page, only once per page or only once for all the site.

You can set a delay between the page load and the popup appearance.


Compare CM WPop to Other Pop-up Plugins
Popup Builder, IceGram, Footer Pop-Up Banner, PopUp Pro and Ninja Popups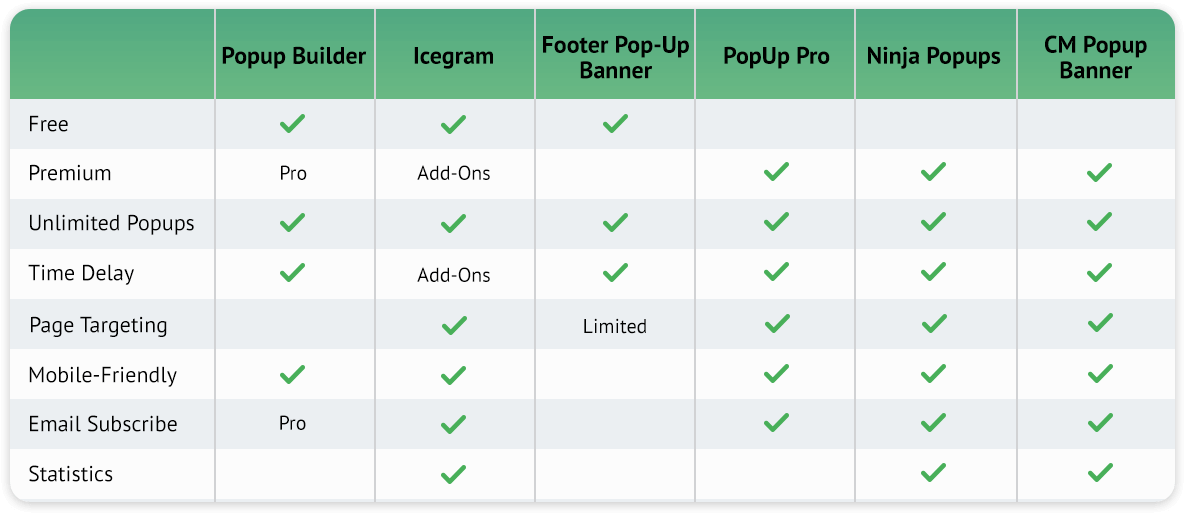 WPop Plugin Additional Resources
WPop Related Plugins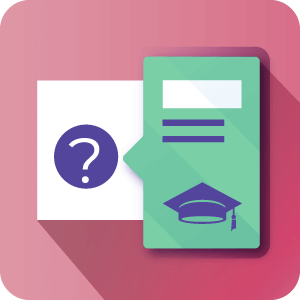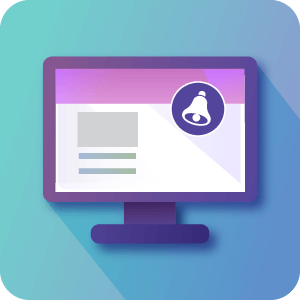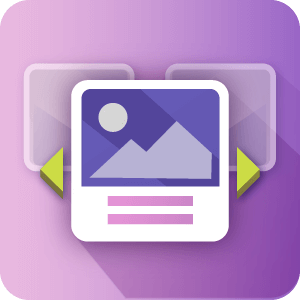 WPop Plugin Premium Features
Please check the user guide to learn more about this plugin.
PopUp Types – This popup system allows you to choose between pop-up, fly-in and full-screen banner options. You can define multiple campaigns to work on your website.
PopUp Width and Height – Choose the width/height of the custom WordPress popup windows.
Responsive – Fully responsive with option to turn mobile display off.
AdDesigner – Easily create a custom banner and add the required text and colors. The Ad Designer is an easy to use tool that helps you build beautiful popups and manage the awesome popup designs.
Campaign Statistics – Track banner

clicks

and

impressions

in an easy-to-use report. If you use banner

variations

in a campaign you can check when the banner converts more.
Restrict by Page/Post/URL – Choose which pages, posts, or specific URL your campaign will appear on. You can choose multiple pages for each campaign.
Restrict by Period – Choose the start and end date and time for your popup ad campaign.
Random PopUps – Add multiple popup banners in the same campaign and show a random popup allowing you to choose the best converting popup.
Custom Effects – Define PopUp banner campaign effects once popup shows. For example, you can make the popup slide before appearing.
Option to add delay – Add a delay between the time that the page loads and the popup appear.
Display Interval – Define when user will see the popup. On every page load, one per each page and more.
PopUp Content – Use image popups, html banners, video and more.
Special Triggers – Trigger popup or fly-in on JS hover or click events.
Sounds – Support for a sound file to be played once popup appears. User can upload their own sound files or use plugin default.
Fullscreen PopUp – Support a full screen popup window.
Page leave intent detection PopUp – Detect when user moves cursor to close the tab and in such event show the popup.
Inactivity detection – You can show the popup when user's inactive for X seconds (not moving mouse and not typing).
Show X amount of times per customer – You can define that the campaign will show X amount of time per a specific customer until it stops.
Target Specific Users – Set campaign to target logged-in or non logged-in users.
Restrict by days of the week – You can define that the campaign will run on specific days of the week.
WPop Plugin Image Gallery
Front-end Gallery
Back-end Gallery
Popup Plugin Add-on
This addons can be installed with the MicroPayments plugin to give additional functionality.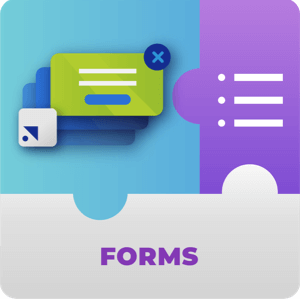 WPop Plugin Frequently Asked Questions
Please check the user guide to learn more about this plugin.
Can I customize popup to match my site?
Yes. The plugin is not theme specific and supports all major themes. The plugin includes many customization options available per each banner campaign.
Can I use a HTML banner?
Yes. The plugin supports the display of HTML in the popup banners. To learn more about how this works see our documentation article with a tutorial video by ☞
clicking here
.
Can I limit my campaigns to appear on specific dates?
Yes. In fact, you can specify not only the dates in which you want your banners to appear, but also the days in the week and times of the day.
Can I create banner ads for specific pages?
Sure you can! Each of the banner ads you create, can either be assigned to all pages and posts, for specific post types, or for specified url's within your site. You can also determine whether to display the banners each time a page loads, or only on the first page load.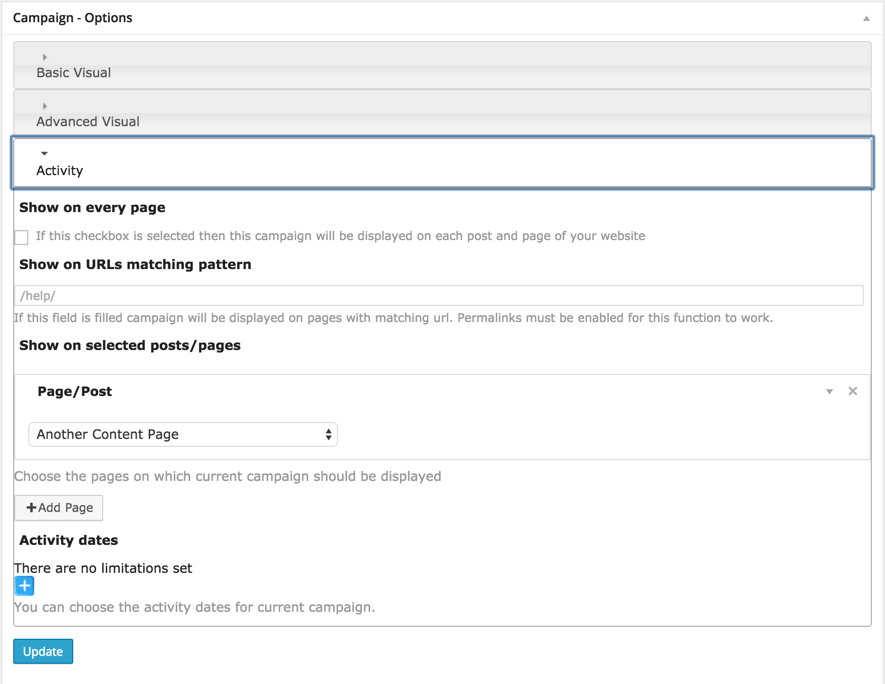 Do I have to use pre-made images for my pop-up campaign?
Absolutely not! Pre-made images look great on pop-up campaigns, but they're not obligatory. If you don't have a graphic designer to create your banners, you can easily build them yourself using our html popup banner editor. You can customize the text, font, size, color, border and opacity of your banners, and much much more.
Does this plugin have age restriction popup option?
Unfortunately, this plugin does not have age restriction popup .
Does this plugin allow to add a disclaimer popup notice ?
Is it possible to add audio or any other media into pop-up banners?
Yes, our plugin supports adding Audio as well as Video to the pop-up banners. There is a user guide for both of these. Check them out:
Audio Popup
…
Video Popup
.
Customer Reviews for the WPop Popup Plugin
It is what I want… Work fine, no errors… Thanks

I am working on a client's website and about 2 weeks ago, it was imperative that I get a suitable pop up plugin for a reasonable price and fast.I chose this plugin and everything was great. Unlike other free pop up plugins, this one gives you far more customization options. The only thing was that I needed it to only show on the front page and the only options were for it to show on all pages.I contacted the developers about my issue and within a days time, they resolved the issue!Great plugin and even better support, thank you!

If you need a simple solution for WordPress popups do not look for other plugin then this one! Awesome plugin, thanks a lot!10/10

Works really well. I'm a designer and I like the pro options alot. I can brand the plugin however I need it.

I was able to set it up and get it to work, but had some minor issues and the support service was excellent. Very impressed.

Works well and does what it should. good work!

Great Plugin and good support

I have tried using the Popup banner plugin and it worked well with my theme and didn't conflict with any other plugin on my WordPress site. I had an issue while trying to show the popup on my homepage and contacted support which promised to fix the issue and release a new version.
WPop Plugin Release Notes
Version 1.4.9 28th Mar 2020
Fixed: security issues
Added: paragraph lines wrapping during edit banner content
Fixed: select banner bug
Version 1.4.8 13th Mar 2020
Fixed: Curl option SSL version check
Version 1.4.7 14th Nov 2019
Fixed WordPress v5.3 compatibility issue
Version 1.4.6 22nd Oct 2019
Added support for the CM Popup Forms Builder Addon
Version 1.4.5 15th Sep 2019
Added support for the CM Popup Forms Builder Addon
Version 1.4.4 23rd Apr 2019
Fixed the "Hide banners on this post/page" option
Updated license package
Version 1.4.3 27th Jan 2019
Fixed bug which caused

jQuery

error
Fixed

php

warning
Updated license package
Version 1.4.2 11th Jan 2019
Fixed the bug which caused empty Edit Campaign Item page
Version 1.4.1 26th Dec 2018
Improved the ouibounce model

CSS
Version 1.4.0 17th Dec 2018
Updated license package
Bugfix related to selected posts/pages with disable campaign
Version 1.3.10 1st Oct 2018
Bug: Fixed the bug with "Users type for pop-up"
Version 1.3.9 8th July 2018
Bug: Fixed the posts/pages url for the PopUp show
Bug: Fixed close time issue with Fly-In Bottom type popup
Version 1.3.8 21st June 2018
Version 1.3.7 7th June 2018
Version 1.3.6 5th Mar 2018
Change: Added the bug log to statistics
Added the options to set time through which will close pop-up
Bug: Fixed the preview
Bug/Change: Added the support on the BuddyPress profiles
Version 1.3.5 19th Feb 2018
Bug: Fixed the error in the network activation
Bug: Fixed the warning
Version 1.3.4 9th Feb 2018
Bug: Fixed the bugs related to Selected Banner selection
Update: Updated the Licensing Package
Version 1.3.3 8th Feb 2018
Added settings for logged in and non-logged in users
Added thanks you popup for CM

Registration

Pro
Bug fix
Version 1.3.2 22nd October 2017
Added the options to set the separate width and height for mobile devices (based on max-width of device)
Version 1.3.1 4th August 2017
Added the option to add the background url link
Version 1.3.0 4th June 2017
Added the option to disable the campaign
Version 1.2.11 4th June 2017
Version 1.2.10 6th April 2017
Fixed the PHP 7 compatibility
Version 1.2.9 24th jan 2017
Added support to narrow screen only campaigns
Version 1.2.7 7th jan 2017
Fixed the bug with the undefined function
Version 1.2.5 22th Dec 2016
Changed the default banner selection to Selected
Added the feature which automatically selects the first banner if none was selected
Version 1.2.3 19th Oct 2016
Added the option "Fixed number of times till reset" in the Show Interval selection
Added the option to show the banner after scrolling to the bottom of document
Added the option to set the weekday based campaign activity
Version 1.2.2 6th Oct 2016
Improved the support for the videos in the modal
Improved the CSS rules
Version 1.2.1 28th Sep 2016
Fixed the bug causing the inability to remove the activity dates of the campaign
Version 1.2.0 31st Aug 2016
Added an option to play sound on modal opening (in the Sound tab of each campaign)
Added a new type of modal "Full Screen" next to existing Pop-Up and Fly-In Bottom
Added a new options for "When fire the popup?" – "After inactive for X seconds" and "On page leave intent"
Added support for 'auto' width and height
Fixed a bug with the close button missing for PopUps
Fixed small styling issues
Version 1.1.12 4th Aug 2016
Fixed the responsiveness of the images
Updated the Licensing Package
Version 1.1.11 28th June 2016 (Pro Version)
Fixed the bug in the Fly-in banners, causing them to popup on each visit regardless of the settings
Version 1.1.12 21st June 2016 (Free Version Only)
Fixed the bug causing the popup display on page with posts
Version 1.1.10 12th June 2016
Added the option to add the background image
Version 1.1.9 9th June 2016
Fixed the problem with the

shortcodes

in banners
Fixed the z-index of the close button
Version 1.1.8 11th May 2016
Free Version: Fixed the bug with displaying the popup on Homepage (single page)
Pro: Added the option to display the banner only once
Pro: Fixed the bug with displaying the popup on Homepage (single page)
Version 1.1.7 28th April 2016
Fixed the styling on the mobile devices (responsiveness)
Added the option to center the content of the banner horizontally
Added the option to center the content of the banner vertically
Added the option to turn off the statistics (clicks and views)
Improved the option to turn off the banners on mobile devices (by setting minimum width on which banners appear)
Fixed the option to disable the banners on certain pages (metabox)
Fixed part of the misleading labels in metaboxes
Version 1.1.6 12th April 2016
Updated the dataTables.js library
Fixed small bugs
Version 1.1.5 20th March 2016
Updated licensing

api

support.
Version 1.1.4 25th Feb 2016
Added automatic updates from plugin dashboard
Replaced plugin admin interface including license activation and userguide
Version 1.1.2 + 1.1.3 15th Feb 2016
Fixed statistics reports bug
Version 1.1.1 26th Jan 2016
Added JS trigger events (hover or click events)
Version 1.1.0 20th Jan 2016
Fixed a bug with dropdown selection
Version 1.0.10 19th Jan 2016
Added option for z-index for each campaign
Version 1.0.9 19th Dec 2015
Updated the licensing API
Fixed the bug with the AddDesigner
Fixed the bug causing the campaigns to detach from posts/pages after update
Fixed the problem with the editor not working
Version 1.0.6 05th Oct 2015
Fixed the conflict with bootstrap.css causing modals not displaying correctly
Version 1.0.5 29th Sep 2015
Fixed the error caused by the activity date, hour being empty
Fixed the problem with the editor
Version 1.0.4 31st Aug 2015
Fixed bug related to the editor
Version 1.0.3 30th July 2015
Added missing custom post type support
Added padding support for popup banner
Version 1.0.2 3rd July 2015
Fix: All display option fields should be much shorter (they are huge)
Fix: Stats date range now also includes the day from start and end date (00:00:00 – 23:59:59)
Fix: Missing images
Added Color picker support
Remove old tabs from campaign options (ui-accordion) replace with new tabs from disclaimer and welcome
Version 1.0.1 20th June 2015
Added the option to hide on mobiles
Added the option to display on the homepage
Fixed small bugs
Plugin First Release 23rd May 2015