Expert and WordPress Member Directory Plugin Description
WordPress Expert and Member Directory plugin by CreativeMinds allows you to build an embedded member discovery catalog on your WordPress website.
WordPress Member Directory plugin makes it easy to start any kind of a curated members list or company directory and include it anywhere on your WordPress site.
Member Directory Members Index

WordPress directory plugin lets you filter the member using several filters, including: free text search, category filtering, tags filtering, area of expertise filtering, services filtering and supported language filtering.

Showing a Member Directory Index Page
Member Profile

WordPress expert Directory Plugin is a perfect solution for building a WordPress member directory for academic institutes, organizations and companies. You can also change all labels included in the plugin to reflect your own language or terminology

Showing a Member Profile Page
Plugin includes customization options which allow you to add custom fields and links to the member page listing.
Allowing WordPress Members to Manage their Own Profiles
Posting a new Member Profile

Member directory community edition support the ability of external users to submit their profiles, manage their profiles or claim existing profile.

Admin can moderate members' submission and reject or accept profiles based on his own policy.

Showing form which support posting and updating member profile
Member Directory – Paying for Members Listings
WordPress Members directory payments edition let you charge money for posting made by members. You can charge for new member profile posting and for keeping the member listing or renewing member profile listing each year (you can define the cycle length).
Paying for Profile Submission and Renewal

The payment system is based on wither WooCommerce or Easy Digital Downloads carts and you have the option of more than 50 payment gateways including PayPal, Authorize.Net, 2Checkout, Skrill, PayMill, Stripe and many more.

Setting Screen Showing Cart with Member Profile Submission Cost
Once installing EDD cart system or WooCommerce cart system plugin (which is free) you get the PayPal and Amazon payment gateways included.
It is possible to use a mixed mode payment which means that part of the member information will be visible for free and the other part will be visible only once paid
Using the WordPress Member Directory Plugin
WordPress Members Directory – Build a curated members discovery directory on your WordPress site
Support member Submission – Allow members to list and manage their profile
Advanced WordPress Directory Search -Allow users to filter and locate members
Member Directory Localization and Supported Languages
Localizing Member Direcotry Labels

All frontend labels can be easily changed to any language so the user interface will speak your own language. This also includes adjusting the terms used to match your own use case.

Setting Screen Showing Member Directory Payment Labels
Member Directory Additional Plugin Resources
Expert and Member Directory Basic Features
Create a directory which includes a catalog of members' profiles
Define member categories
Choose basic styling options
Expert and Member Directory Plugin Advanced Features (Pro Version Only)
Please check the user guide to learn more about this plugin.
Extended Member profile Information – Each member profile has the following details – overview, publications, education, experience, address, Website URL, Facebook, Twitter, LinkedIn, Phone number, Google+ and more.
Ads and Promotions – Admin can insert ads in the member profile page taken from Google or any other external plugin in search results.
Export / Import – Export and import member profiles across sites
Custom Fields – Add custom fields with your own added metadata.
Search and Filters – Filter member profiles by categories and tags or free text search
Member Directory Index Templates – Several designs to the members directory index. You can also choose between two available templates.
Member profile Page Design – Easily customize member profile page look and feel. You can also choose between two available templates.
Moderation and notification – Admin can moderate new member profile listings or be notified when a new member profile is posted (with community edition)
Member profile Promotions – Promote member profile in search results and related profiles widget
Related Profiles Widget – Show related member profiles in each member profile page
Custom Taxonomies – Supports additional custom taxonomy and filtering.
Shortcodes Support – Supports shortcodes to show a list of all categories, a single member profile widget and more
Style member profile page – Style and change the look and feel of the member profile page from the plugin settings. This includes background colors and more.
Style Member Directory – It is easy to style and change the look and feel of the member directory (index) page from the plugin settings. This includes layout, size of each profile box, theme and much more.
Tags Support – Option to add tags to each member profile and to search by tags or filters member profiles be tags
Editable Labels All plugin labels can be easily edited and localized from plugin settings
Member Directory Editions and Pricing
| | | | |
| --- | --- | --- | --- |
| Feature | Pro Edition | Pro Community | Pro Payments |
| | $39 | $59 | $79 |
| Create any number of member profile listing | | | |
| Choose the default member image | | | |
| Choose the member category | | | |
| Extended profile information | | | |
| Advertisements Support | | | |
| Import / Export | | | |
| Profile custom fields | | | |
| Search and Filters | | | |
| Directory Index Templates | | | |
| Profile Page Styling | | | |
| Additional taxonomies | | | |
| Shortcodes Support | | | |
| Promote profiles | | | |
| Permalink Settings | | | |
| Related profiles widget | | | |
| Editable Labels | | | |
| Tags Support | | | |
| User can list a profile | | | |
| User can claim existing profile | | | |
| User can manage his profile | | | |
| Admin can moderate new posted profiles | | | |
| User can pay for posting a profile | | | |
| User can pay for renewing a listing | | | |
| User can pay for claiming a profile | | | |
| | $39 | $59 | $79 |
Member Directory Additional Addons and Modules
The following list is additional modules and addons which can be installed together with the Member Directory plugin and provide additional functionality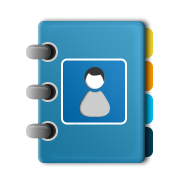 Member Directory Payments
Support charging payment for publishing a new member listing or renewing an existing one. You can choose between WooCommerce cart or Easy Digital Downloads.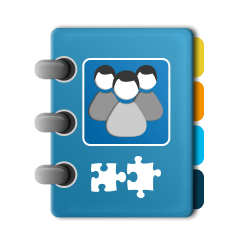 Member Directory Community AddOn
CM Member Directory Community Add-On allows external users to add a new member profiles, claim existing one and manage their listings. Can only be used with CM Member Directory Pro
Member Directory Related Plugins
Member Directory Frequently Asked Questions
Please check the user guide to learn more about this plugin.
How do I enable shortcodes for the directory so I can have a gallery above the description?
You can use WordPress gallery shortcode to display several images in the member description. Just upload the images and then create a gallery.
Can I customize the expert directory widget to match my WP theme?
Sure. The expert directory is using a shortcode which can be easily embedded into any theme. The plugin settings include many features that supports customizing your expert directory's look and feel
Can I add my social media links to my expert listing?
Yes. Each expert listing include all the possible social media links including Twitter, FaceBook, Google+, LinkedIn and many more. You can also add custom links
Does this Plugin allow me to take payments from people for adding listings?
To take payments the Expert Directory Payments addon is required, the core plugin does not handle payments alone.
Learn more about the Expert directory payments add-on by clicking here.
How can I allow expert listing owners to add or manage their own listings?
To enable this or to allow experts to claim and control their own expert listings the Expert Directory Community Add-on will need to be installed. To learn more about it →
clicking here
← .
Can I filter which expert listings appear on my site
Yes. Each site owner can moderate and manage which experts appear on their site.
Can I embed ads from Google AdSense?
Absolutely! In fact you can embed ads from any external source by copying the campaign code and pasting it into the location where you want them to appear. This includes Google adsense campaigns, CM Ad changer, or any internal or external source of adverts. Embedded ads are displayed in between your expert directory listings on locations that you define, as shown in the image below: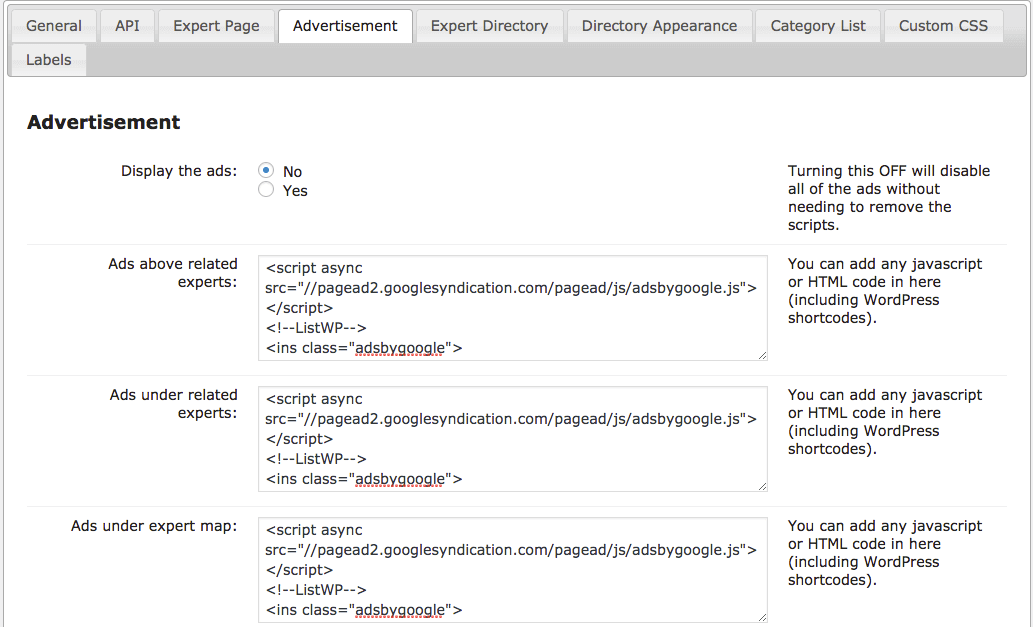 What filters can I have on my expert directory page?
That's up to you to decide. You can choose parameters such as tags, categories and expert location as filters, or create you own custom parameter as a filter. Users will also be able to search for experts by entering keywords into the search bar.
Does this Plugin support creating directories of businesses?
It could be used for this purpose but our Business Directory plugin is much better suited for this purpose.
Read more about it by clicking here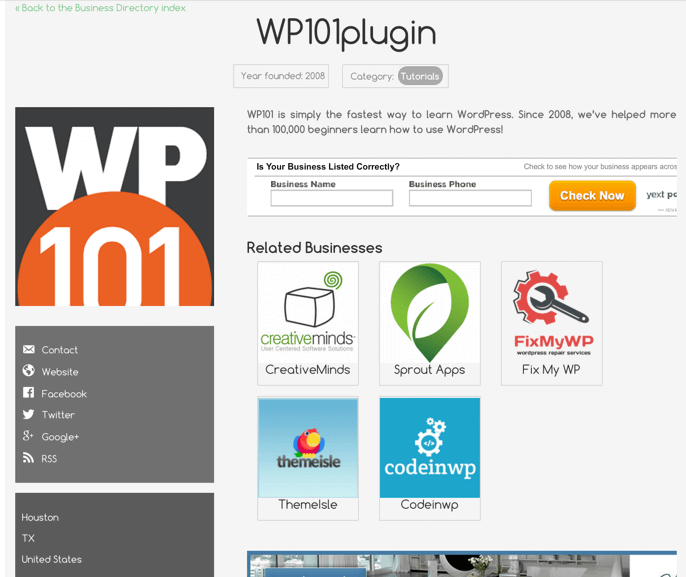 Could this Plugin work for creating a Directory of people rather than strictly for businesses?
It can work for different purposes such as the one you have described. Since the front-end labels can all be changed from their defaults to reflect whatever you want your directory to be about the plugin is very much open to being used in different ways.
It sounds like our Members and Experts Directory plugin might be a better match with what you're looking for however. Read more about the Expert Directory plugin by clicking here.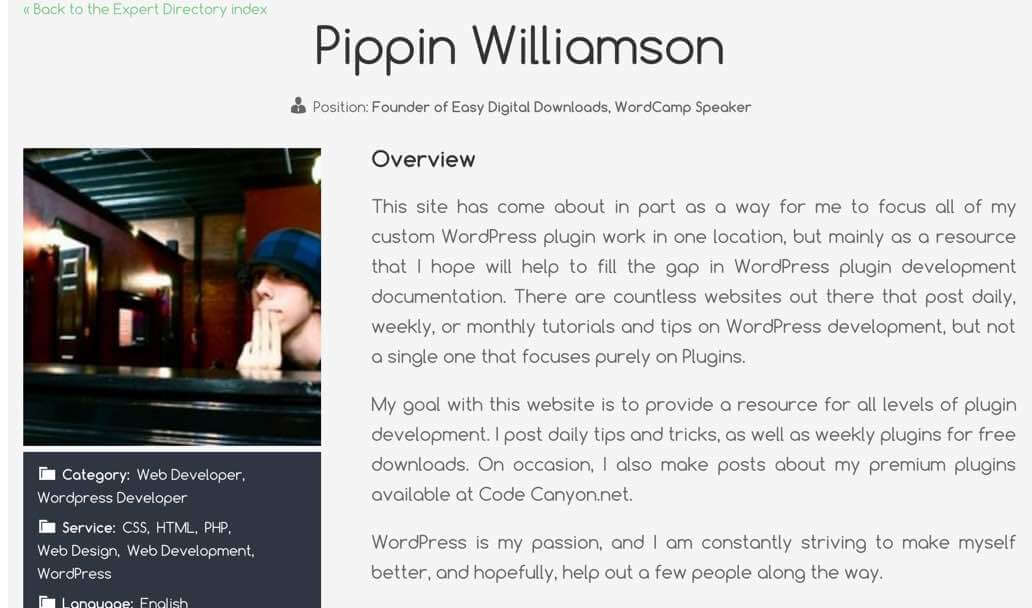 WordPress Member Directory Online Demo
| | |
| --- | --- |
| | This demo shows an index page with all profiles posted in the member directory. Clicking on a profile image will take you to the member profile page. |
| | Using shortcodes– Using a shortcode to display all categories defined in the member directory. Clicking on a category will show all related members found. |
Member Directory Image Gallery
Back-end Gallery
Version 1.3.3 13th Dec 2018
Added setting "Enable Lightbox" for expert pages
Added setting "Display alphabetical index" for List View
Added setting "Display expert City/State" for List View
Added setting "Show position with expert name" for expert page
Version 1.3.2 10th Dec 2018
Added CSS class for unpaid expert
Improved galley features
Version 1.3.1 20th Nov 2018
Added expert images gallery and videos feature
Version 1.3.0 6th Nov 2018
Fixed map loaded issue and zoom
Fixed bug related to trash post appearing in search
Version 1.2.9 13th Sep 2018
Owner email and info import via CSV import
Fixed HTML break issue
Updated license package
Version 1.2.8 11th Aug 2018
Added order listing by last name
Added on the index page show last name first
Bug: Fixed related to permalinks disabled notice in admin
Bug: Fixed related to expert image in admin
Version 1.2.7 31st July 2018
Fixed default expert image issue in Tiles 2.0 View and Expert Directory View
Version 1.2.6 27th July 2018
Version 1.2.5 24th July 2018
Added: p and br support in cmed_expert description
Updated license package
Version 1.2.4 19th July 2018
Bug: Fixed image import issue from CSV
Version 1.2.3 16th July 2018
Bug: Fixed related to star rating
Version 1.2.2 8th July 2018
Bug: Fixed image issue in cmed_expert shortcode
Version 1.2.1 4th July 2018
Bug: Fixed image issue in cmed_single_expert shortcode
Version 1.2.0 3rd July 2018
Bug: Fixed expert backend list image
Version 1.1.19 27th June 2018
Fixed default expert image issue
Version 1.1.18 19th June 2018
Added the support for admin to change the author
Added the "the_content" filter for the Expert Page
Version 1.1.17 15th June 2018
Shortcode list improvements
Version 1.1.16 10th June 2018
Added GDPR Support
Added HTML editor support in settings
Version 1.1.15 10th May 2018
Bug: Fixed a few small bugs and typos
Feature: Added the integration with the CM Reviews plugin
Version 1.1.14 26th Jan 2018
Bug: Fixed the bug with the pagination
Version 1.1.13 23rd Jan 2018
Change: Updated the shortcode settings
Feature: Added the option to gather and display the statistics of business views/clicks
Bug: Fixed the bug with the shortcode displaying the wrong items when pagination was disabled
Bug: Fixed the bug with the image size
Bug: Fixed several small bugs
Version 1.1.11 26th Sep 2017
Fix for the bug making it unable to hide the address for expert
Version 1.1.10 10th Sep 2017
Fix for the imported experts not visible until saved
Fix for the display of the address (hidden by default)
Version 1.1.8 12th June 2017
Added the ability to search by Tags
Updated the Licensing Package
Added new 1 new view for Index Page and 1 new template for single entry
Fixed some bugs

Version 1.1.7 22nd April 2017

Removed the edit link for the subscribers

Version 1.1.6 5th December 2016

Fixed a grey bar in the product page that is an unwanted scrollbar that appears on Android devices

Version 1.1.5 18th November 2016

Fixed the bug in the letters filter

Version 1.1.4 31st August 2016

Fixed the unclosed div on taxonomies page

Version 1.1.3 10th August 2016

Updated licensing dashboard.

Version 1.1.2 from 13th July 2016

Added Google Map API support
Fixed Backlink issue
Redesigned Star Rating module
Added the support for Payments AddOn

Version 1.1.0 from 11th June 2016

Plugin First Release 24th April 2016