Ask The Expert WordPressPlugin by CreativeMinds Description
The ask the expert system supports adding multiple experts and assigning them to an unlimited number of categories. Each expert can be assigned to more than one category while each category can host several experts.
Assigning Questions to Experts

Users can post a question, and the first expert to answer is assigned to the question and continues the communication with the user who posted the question.

Each question can be publicly or privately displayed. If set to private, only the expert and the user will be able to view the question and answer.

User can also choose to post a question to a specific expert and not to all experts in a category.

Admin Dashboard Showing Each Question Status
Ask the Expert Payment Support
The ask the expert WordPress plugin can support payments using the EDD (Easy Digital Downloads) or WooCommerce cart systems which has more than 30 available payment gateways including PayPal, Stripe, 2Checkout and many more. Admin can define the cost for posting a question or for answering. Admin can set a different price for each category or also a price for viewing an expert answer.
Experts Profile and Dashboard
Each verified expert can create their own profile with a detailed description about their background. An Expert can add a picture and also additional contact information.
Ask the Expert Dashboard

The Expert dashboard contains all questions awaiting a response, questions which were already answered and gives access to the expert profile.

Admins can use a shortcode to list all available experts by category so users can directly pick the expert they wants to receive answers from

Edit Profile Screen in Expert Dashboard
User Profile and Dashboard
The User can create a profile adding their picture and basic contact information.
Posting Questions

Users can post new questions which will be sent to a list of experts or else placed in the public folder so anyone can answer it. Users can attach files or images to questions they ask.

Screen Showing New Question Posted by a User
WordPress Administrator Dashboard
The WP admin can view all current questions in the system, reassign a question to another expert, make a question public or private and manage all questions.
Reports and Statistics

Admin has a reports dashboard showing all system activity and additional statistics for each expert.

Screen Showing Statistics and expert Reports
Using the Ask the Expert System for WordPress
Post Questions for Experts to Answer – Let real experts answer user questions on your WordPress site
Private Questions Support – Private mode feature lets users ask experts private questions
Assigning Questions to First Available Expert– Let experts pick the questions they can answer
Expert Supported Categories – Support multiple topics and unlimited experts
Expert Directory – Build an index of all available experts by category
Ask the Expert Localization and Supported Languages
Easily Localize the Experts System

All frontend labels can easily be changed to any language so the user interface will speak your language. We already have PO/MO files for many languages covering all plugin frontend interactions.

Plugin Labels Settings
Supported languages includes: Spanish, Polish, German, Danish, French, Italian, Russian, Czech, Dutch, Portuguese, Swedish.
Ask the Expert Additional Requirements and Customization
Let us know if you are missing any functionality. We can help you customize our plugin to meet your specific needs and business requirements.
Ask the Expert Prerequisite Plugin
CM Answers – Is bundled with Ask the Expert system
Ask the Expert Related Resources
Ask the Expert Related Add Ons
Ask the Expert System – Admin Features
Please check the user guide to learn more about this plugin.
Admin can manage all incoming questions change the expert assigned to them, moderate them, make them private or public and more
Admin can move questions from one expert to another
Admin can assign experts to categories and set any number of categories
Create a frontend index using a shortcode to display all experts by category
Ask the Expert System – Expert Features
Professionals and Experts can decide which questions to take and answer
Can answer questions
Can release questions
Can transfer questions to other experts
Can add their profile information including full bio, picture and contact information
Ask the Expert System – User Features
Can create a profile with basic information
Can see all of own questions posted
Can post a new question to any category they choose
Can post a new question to professionals and experts they choose for the expert help.
Can decide if a question is sent to an expert or is open for anyone to answer
Can ask a professional direct question through the user friendly and simple contact form / ask question form.
CM Answers – Is bundled with Ask the Expert system
This plugin allows you to create a community website like Stackoverflow , Quora , Stack exchange and Yahoo Answers
Access Control – With this complete Question & Answer system administrators can control who is allowed to view or post queries and which users are allowed to respond. Also control access to categories by role.
Ads Integration – Supports showing ads and banners inside forum.
Attachments – With the CM Answers plugin, Users can upload files / add attachment to their questions or answers. Admins can restrict certain file extensions.
Voting and Best Answer – Allow users to vote for questions or answers and question authors can select the best answer out of all the responses submitted to their question.
BuddyPress – Integrates with BuddyPress API. Shows posts by users that login with their BP profile.
Categories – Categorize your questions and answers in multiple and/or sub-categories. Supports multiple forums. Related questions can be posted under question categories
Comments – Comments can be added for each question or answer.
Customization – Easily customize the style and appearance of your Q&A discussion forum. Style forums by changing the color of your choice and much more.
Disclaimer – Include a disclaimer that asks users to agree to your terms when they visit your forum for the first time.
Drag & Drop – Drag & Drop files to attach them to posts.
On Page Navigation> – Use Ajax browsing mode to keep users on the same page while using the forum.
Edit After Posting – Authors can be allowed to edit their questions and answers even after they've submitted their posts.
Favorite Question – Voting can be enabled for users to pick their favorite questions.
Geo-location Information – Shows the geographic location so you can see where your users are coming from.
Localization – This plugin is translatable. It provides multilingual support including RTL language support (right to left). Supports UTF-8 characters for translation into a variety of different languages.
Logs & Statistics – Generates a detailed log and statistics of the forum activity.
MicroPayment – Support within CM Answers for micro-payments to users that post answers.
Badges – When using the Micropayments plugin display the users' badges depending on their points balance.
Mobile Responsive – Plugin is Mobile friendly.
Moderation – Moderate user posts in your discussion forum like you would moderate WP spam. Restrict access or allow auto-approvals to specific users.
Multiple File Uploads – Support multiple file uploads on your discussion forum.
Notifications – Advanced email notification system allows authors to receive notifications when answers to their questions are posted. Users can track discussions on specific topics based on the category.
Private Answers – Support posting answers which only question poster and user can see.
Private Questions – Support Asking question poster private questions.
Shortcodes – Use a shortcode to embed questions and answers in your discussion forum to any page or post.
Social media Login – This WordPress Forum Plugin allows users to login with their social media accounts to post questions or answers.
User Dashboard – Users can view their public profiles, along with a list of all the questions and answers they've posted.
User Gravatar – Displays a Gravatar icon beside each user profile.
User Profile – Users can view their profiles that contain all their Q&A's and discussion forum contribution statistics.
Tags – Tag questions with multiple keywords for searching similar topics on you CM Answers plugin.
Text Editor – Users can edit their questions or answers with a functional TinyMCE text editor.
WordPress Comments Integration – Replaces the WP comments system with a Q&A widget on each page or post.
WordPress Multisite – Compatible with WordPress multisite functionality.
SEO features – The WordPress Answers plugin is SEO friendly and includes support for SEO meta descriptions in the index page and automatically adds the meta description to the answer thread page.
Multisite Compatible – This plugin is multisite compatible under the following conditions: (1) Each site needs to have its own unique license. (2) Data is not shared across sites.
Mark Resolved – Resolve option lets the admin mark questions as resolved once a question receives sufficient answers, or is old enough to be archived.
Most Views – Users can see the popular questions under the "most views" tab.
Bad words filter – Create a bad words filter, blocking users from publishing inappropriate content to the board.
Ask the Expert Image Gallery
Back-end Gallery
The Best WordPress Plugin – Ask the Expert Related Add Ons
WordPress Ask Expert Plugin Frequently Asked Questions
Please check the user guide to learn more about this plugin.
How many questions can be asked?
There is no limit to the number of questions which can be asked. Each user can submit as many questions as they like.
Can images or files be uploaded with questions?
Yes. Admin can allow users to add attachments and images to the questions and answers. It also applies to the answer and comment sent by the experts.
Is it possible for me to require payment for asking or answering questions on my Business websites?
Yes. We have included payment support for this plugin for requiring payment for posting or answering questions.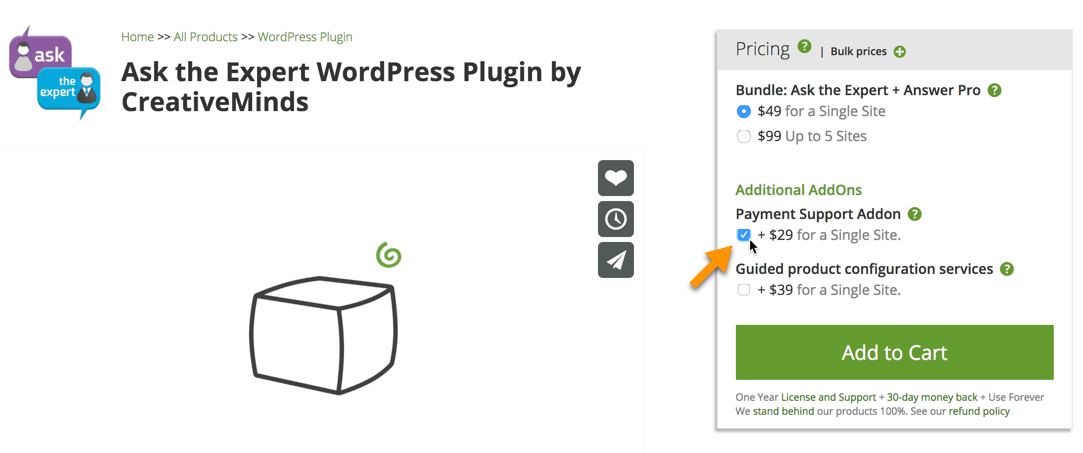 Will this plugin help my SEO?
Can users choose the expert that answers the question?
No. Our Ask the Expert plugin has a shortcode for showing the list of all available categories. User can choose to use this list to decide which category to submit their question to then experts within that category will have the opportunity to answer the question posted.
To learn more about the shortcodes for this plugin and how to use them see this documentation article
Does this plugin have a Recaptcha option?
No. It does not have Recaptcha option.
Does it have a free plugin version?
No. It does not have a free plugin version. CM Answers
have a free version but it does not include all the features.
Can users do live chat with the experts?
No. This plugin does not have a live chat feature. Users can only send private message query or ask questions to the professionals.
Who are the experts?
Experts are any users that are registered to your WordPress site. You assign them as experts in the plugin category settings. Within each category you can set one or more experts. Once defined as an expert the user will be able to view their expert dashboard which is generated by the plugin shortcode.
Does this WordPress Plugin support any language?
Yes, It supports different languages including RTL languages.
Is ask your question form user-friendly?
Yes, It is a user friendly form.
WordPress Ask Expert Plugin Online Demo
| | |
| --- | --- |
| | This demo shows two roles. The Expert and the user. Once logged in – user can post a question which will be sent to the expert. Expert can accept question and answer it. |
Version 2.0.3 12th July 2018
Feature: In the User Profile, turned the category display ("Expert in categories") into a multiselect category checkbox.
Version 2.0.2 10th May 2018
Fixed an issue with loading the user profile view.
Fixed incorrect path in user profile.
Version 2.0.0 22nd Apr 2018
Feature: Added a check to see if the category has any expert.
Feature: Create option in the back-end "Show users if a category has experts?"
Feature: Add a "Experts" Column in the categories table for easier navigation
Feature: Change name from "Categories" to "Categories and Experts"
Feature: Create option for the admin to let users show a tab "Experts" in the dashboard
Feature: Added information to user profile on what categories the user is assigned to as an expert
Feature: Let experts choose their category
Feature: Let experts create new categories
Fix: Fix social login links
Feature: Let user send question to specific expert
Feature: Add an option to add experts name dropbox once choosing a category in the question posting form.
Version 1.1.5 4th Oct 2017
Fixed issue with no reaction in shortcodes after changing page.
Fixed CSS issue on the license page.
Version 1.1.4 8th June 2017
Updated licensing dashboard.
Version 1.1.3 28th April 2017
Updated licensing dashboardCSS Improvments.
Version 1.1.2 27th July 2016
Updated licensing dashboard.
Version 1.1.1 5th July 2016
Added compatibility to the Anonymous Posting plugin – anonymous questions will be always public.
Version 1.1.0 24th May 2016
Added new shortcode to display the categories and its experts: cmaexp-categories
Version 1.0.5 24th May 2016
Updated licensing dashboard.
FIxed labels
Version 1.0.4 13th May 2016
Version 1.0.3 12th May 2016
Version 1.0.2 11th May 2016
Fixed visibility filter for existing questions.
Plugin Release 1.0.0 05th April 2016