SEO Keyword Hound Ensure your SEO Success
As the only WordPress SEO plugin or SEO tool on the market that shows you which keywords you should be using AND helps you manage them, this is the perfect tool to finally get all your SEO keywords in focus and under control and help your page become an SEO optimized.
The SEO Keyword Hound locates juicy keyword opportunities you've been missing by comparing your keyword use directly with your competitors'.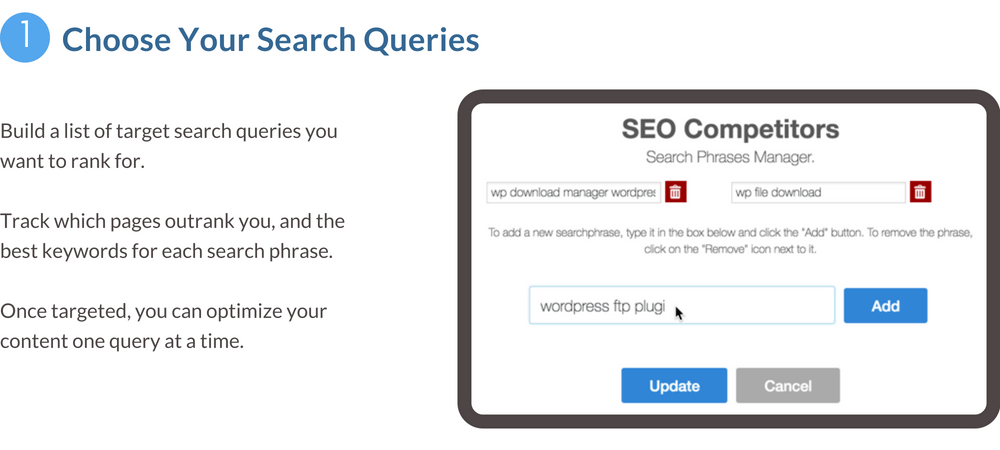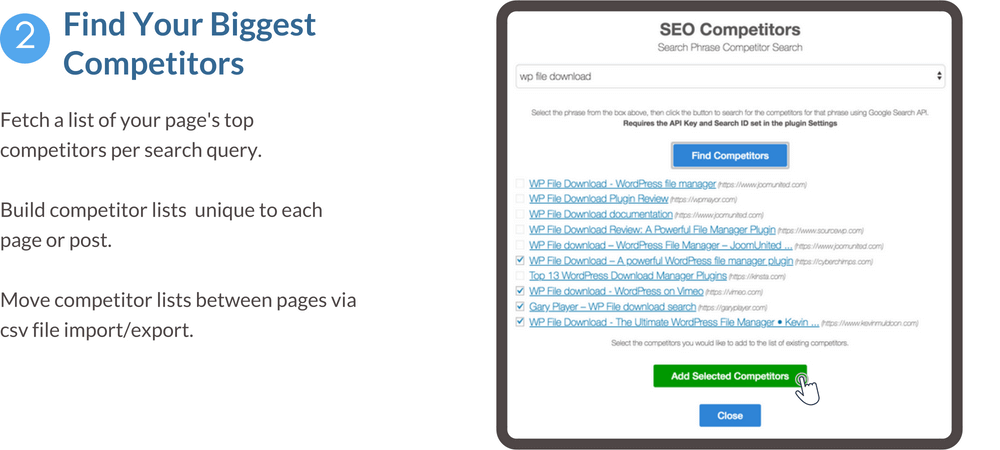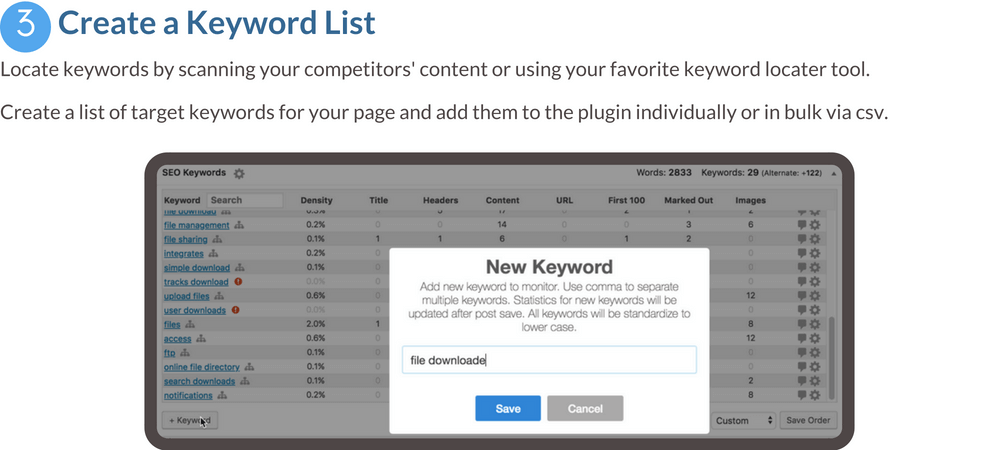 The Hound gives you powerful monitoring of each keyword and each of its synonyms, spelling variations, or abbreviations in one place.
Track keyword incidence and density in each part of your content, including title, URL, headers, first words and the alt attribute of images.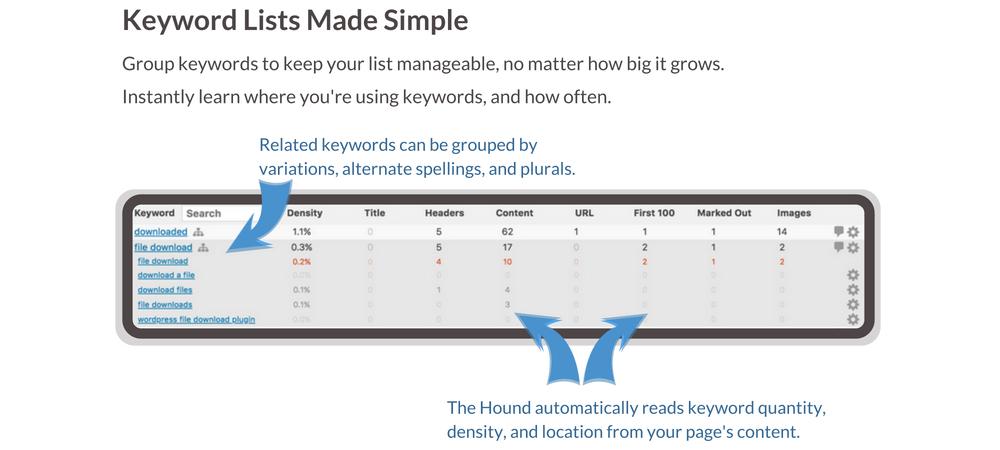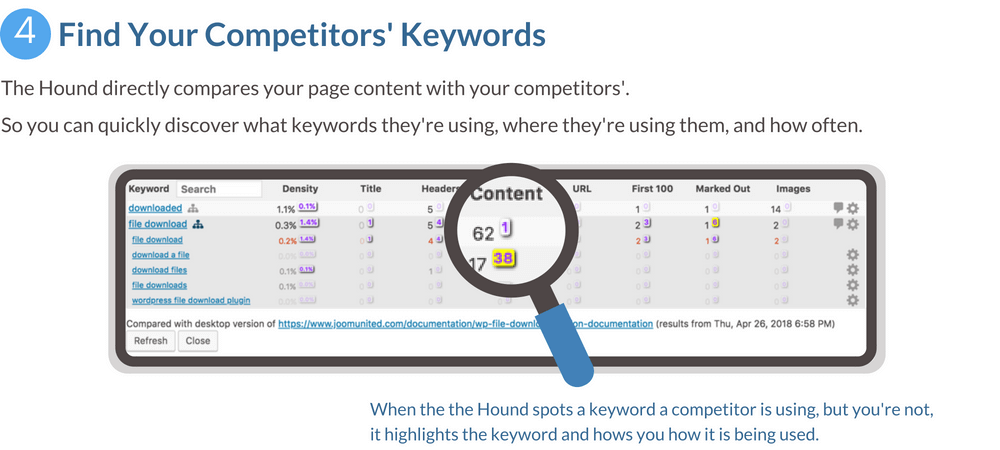 Track the success of your SEO optimization efforts over time on the page and site level to understand which strategies work, so you can stop wasting time targeting the wrong keywords or search queries and making SEO mistakes.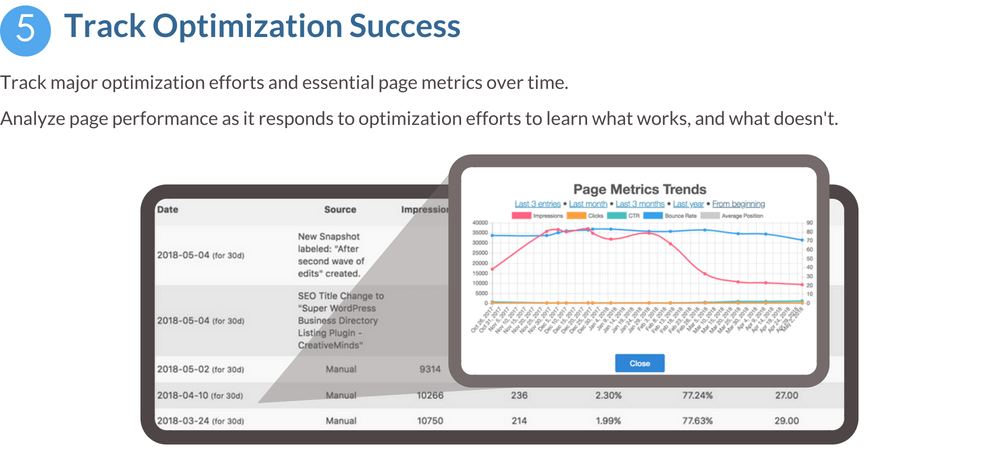 The plugin has many advanced features, but can also be used by beginners or those not very familiar with competitive analysis.
Our exclusive 80 minute video course will teach you how to locate keywords, competitors, and search queries and walk through each step of the optimization process.
With this course and our in depth plugin documentation, you can quickly start mastering your site's keyword use, no matter what your previous SEO knowledge is.
Download for Free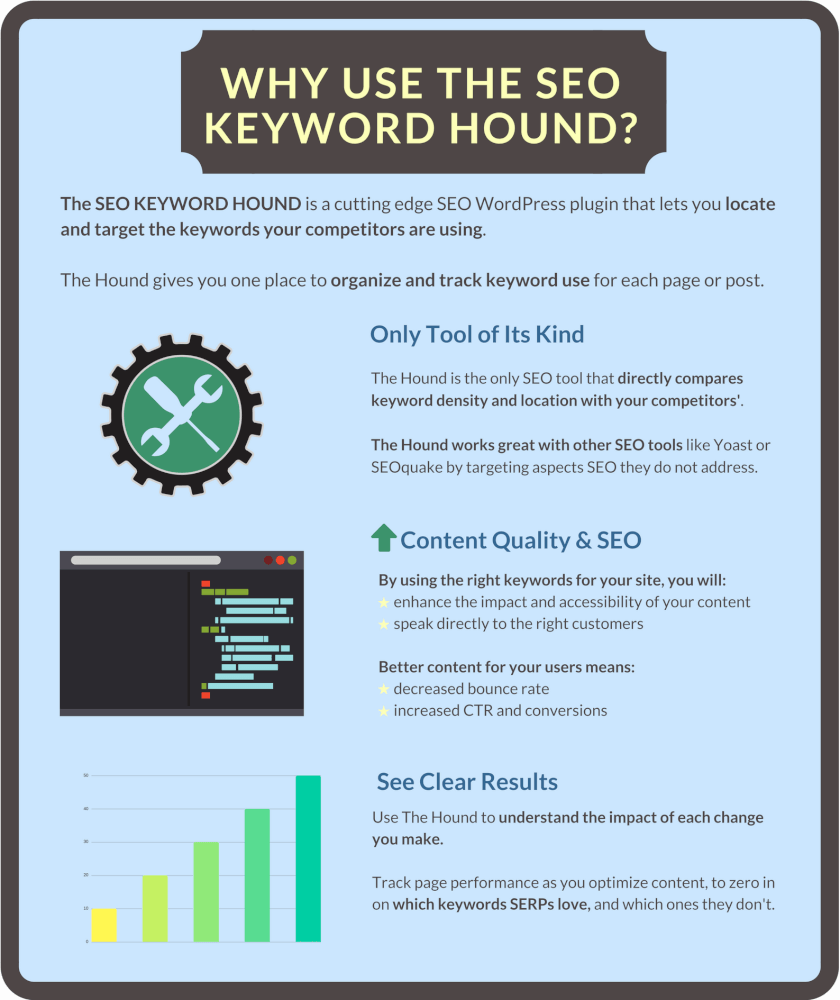 SEO Keyword Hound Overview Video
What do I need to use the SEO Keyword Hound?
Basic SEO knowledge. If you're a beginner, we've got you covered! With our 80 minute video course (free with any purchase of the plugin) and lots of additional information on our blog and SEO Resources Page, you can get started today and continue to learn as you use the plugin.
Moz API key (free, learn how to setup here).
Google Analytics for your site.
Google Search API key (free, learn how to setup here).
Most of all, the desire to make your pages rank higher!
I'm a beginner. Where do I start?
It's easy! Assess your SEO needs and choose a few WordPress pages to start working on with SEO Keyword Hound.
Check our resources to learn more about SEO.
I'm an expert. What can I expect from SEO Keyword Hound?
You can expect a fully-fledged keyword KPI tracker with extensive tools to compare statistics such as keyword density, CTR and bounce rate to those of your opponents.
SEO Keyword Hound uses data from Google Analytics and Moz, and provides handy shortcuts to fetch this information.
I use Yoast SEO. Can I still benefit from SEO Keyword Hound?
Most definitely, as Yoast SEO and SEO Keyword Hound have very different scopes and complement each other.
SEO by Yoast does a really good job at analyzing single posts in the present and providing general tips. The Keyword Hound, however, presents historical data on your content and your competitors', allowing for more comprehensive strategies.
Related Blog Resources
Super SEO Features For All Users
To learn more about this plugin, check the product guide.
Powerful Keyword Tracking

Monitor keyword KPIs on the micro level (individual pages) and macro level (sitewide).

Unique Competitor Comparison

Compare your page's keyword incidence, density, and location with your competitors.

Analyze keyword use between individual competitors or a group of competitors.

Smart Notifications

Set reminders for page owners to check page stats and regularly optimize content.

Easy Import/Export

Quickly manage keyword and competitor lists through CSV import and export.

Export a comprehensive CSV table with all page metrics and events with a single click.

Great Integrations

Integrated with Google Analytics and Moz, to quickly fetch essential metrics from each source and put them side by side with your keyword and competitor list.

Team Player

Works exceptionally well with other SEO tools such as SEO by Yoast, SEOQuake, All in One SEO, and Moz by addressing aspects of onsite SEO and content optimization they do not.
Special Benefits For SEO Beginners
Start Small
The tool still works great with just a handful of keywords and competitors on a few pages. Learn at your own pace and find your feet as you go.
Bundled Video Course
If the number of features seems daunting, be sure to watch our carefully crafted video tutorials. They explain every available setting, with examples.
Comprehensive Product Guide
Our documentation covers each setting in the plugin and tells you how they can be used, step by step. Check it: SEO Keyword Hound Documentation.
Special Benefits For Advanced Users
Execute Complex Strategy
The plugin's many advanced features give you the flexibility to constantly apply, test, and adapt your SEO content optimization strategy.
Tailored Keyword Analysis
Should the plugin look for keywords inside H1, H2, or H3? Should it analyze the first 100 or 200 words of the text separately? Define this and much more.
Advanced Changelog and Tracking
Track your keyword list building and keyword use with a detailed log. Track page edit events made by which user, to track what changes are effective, made by whom.
WordPress SEO Keyword Hound Video Course
Every purchase of the SEO Keyword Hound comes with a 1+ hour exclusive video course. This video course will quickly get you oriented to basic SEO strategies and using the tool itself.
Watch below for a brief tour of the SEO Hound and intro to the video course.
Content Optimization SEO Services
Love the SEO Keyword Hound, but don't have time to do all the keyword digging yourself?
Not to worry! We now offer our expert SEO services so you can reach your ranking goals, no matter your skill level or availability. :)
Our services include an initial page consultation and plugin setup, as well as long term content optimization packages.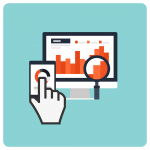 BASIC SETUP – Starting @
$149
Let us speed along your content optimization with an initial setup of the SEO Keyword Hound plugin on your site and list building on a single page (building search query, competitor, and keyword lists).
Plugin setup will be followed by a 1-2 hour Skype / Zoom meeting to review the tool, any questions you might have, and how to get started with the best keyword strategy for your site or product.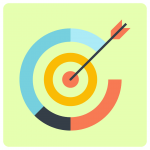 FULL SUITE OPTIMIZATION – Starting @
$349
Leave your optimization in the hands of the experts, and let us do the hard work for you! We offer 3, 6, or 9 month content optimization packages so you can continually optimize your content as search engine algorithms evolve.
Packages include the basic consultation and setup as well as: page content editing and optimization, page metric tracking and analysis, and bi-monthly performance reports.
To get an estimate of prices for a larger number of pages or more complex content, please fill out the form below.
One of our SEO specialists will be in touch soon so we can understand your specific needs and offer you a package that fits your business and site.
Keyword Hound Related Products
WordPress SEO Keyword Hound Gallery
Hound SEO Keywords Main Interface
WordPress SEO Keyword Settings
SEO Keyword Hound FAQ
What do I need to use SEO Keyword Hound?
In order to use SEO Keyword Hound, you need some basic SEO knowledge, familiarity with SEO tools such as Moz, and Google Analytics installed on your website. We have many resources to assist you with those aspects. Please check our
blog posts
,
product guide
and videos.
I use Yoast SEO. What can SEO Keyword Hound add?
A lot, actually! Yoast SEO and SEO Keyword Hound have very different scopes and complement each other.
Yoast does a really good job at analyzing single posts in the present and providing general tips. The Keyword Hound, however, manages and tracks keyword performance. It presents historical data on your content and that of your competitors, allowing for more comprehensive strategies. Learn more by reading this guide.
Does SEO Keyword Hound improve my SEO automatically?
The SEO Keyword Hound gives you powerful tools to put simple and complex strategies to action. Components such as the keyword monitor and competitor dashboard provide valuable insight and require users' input.
The plugin also provides handy shortcuts for collecting data from relevant such as Google Analytics.
What is SEO, SERP, Keyword, and Competitive Analysis?
All these are fundamental concepts for any person or company with a website.
SEO stands for search engine optimization, the group of strategies that aim to make your pages list higher on SERPs, or Search Engine Results Page.
One of the most successful SEO tactics is Competitive Analysis, which involves understanding and measuring your rivals' strong and weak points. This evaluation takes in account the performance of keywords, those terms or expressions that users used during searches.
I'm a complete beginner. How can SEO Keyword Hound help me?
The SEO Keyword Hound allows you to tweak your content to make it more attractive to search engines.
It was designed to be approachable by anyone. Since it has many features, we recommend taking some time to learn core concepts by reading our documentation guide. The more you learn about its capabilities and SEO in general, the more you will profit from the plugin.
I'm a SEO expert. How can SEO Keyword Hound help me?
With its many, many features. Keyword tracking, page/post and global metrics, quick comparison with competitors, and much more.
Can I customize the visuals of SEO Keyword Hound?
The plugin provides many options to customize the visuals of items such as competitors and labels. To see full list, please check the guide
Settings – Metaboxes and Labels
.
Customer Reviews for the WordPress SEO Plugin
This SEO plugin is unlike any other SEO Plugin. The dashboard is so straightforward and user-friendly. The competitive keyword analysis is super intuitive and suggesting relevant and alternate keywords has changed my SEO for the better. SEO is lots fo work but this plugin does a lot of that for you!

I've started using the Hound about the time it was released (I think over one year ago), and I'm happy to say it grew a lot. The dashboard is much more friendly now. This shows to me that the company takes care of its products (and users)

We use this Hound plugin to monitor around 30 landing pages. Similar to other SEO tools, the amount of data it generates can be overwhelming, but the interface here is helpful. So, while it does require you to know what you are doing, if you are looking for a top-notch competitive analysis tool optimized for WordPress, this is the way to go

This is a treat tool to boost SEO. Don't get me wrong, we do have to work a lot on SEO still, but the plugin organizes the data and leads the way. So now we know much more precisely what to do
Keyword Hound SEO Plugin Release Notes
Version 1.2.2 from July 9th 2019
Fixed the bug with saving the events when emoji was part of the title
Version 1.2.1 from June 5th 2019
Added the option to see the Dashboards for Editor role
Fixed the issue with column misalignment in metaboxes on lower resolutions
Fixed the issue with the metabox menu not staying open sometimes
Version 1.2.0 from Apr 11th 2019
Added the option to add specific value thresholds for warnings in Dashboard (one for each value)
Added the option to select the default number of items shown in the Dashboard
Added the option to recalculate the trend for each item in the Dashboard
Added the option to display the Page Funnel Graph for each item in the Dashboard
Added the option to icon allowing to display the current page SEO Title and SEO Description in the Dashboard
Added median calculation to dashboard/site pages performance
Added conversion rate calculation and graph
Improved graphs including events display
Many small fixes and tweaks
Updated the Licensing Package
Version 1.1.1 from Feb 6th 2019
Improved the parser, which fixed some problems with the keywords count in the content
Fixed the conflict between the plugin and the color pickers
Fixed the bug with the formatting of the alternative keywords
Version 1.1.0 from Jan 17th 2019
Added the categories support, and category filtering in Events Dashboard
Added displaying of the non-metric events on the graph
Added the option to Export the CSV on the Dashboard
Fixed small bugs related to dashboard filtering
Version 1.0.8 from Dec 22nd 2018
Fixed the bug with adding the new pages/posts in WP 5.0.X
Version 1.0.7 from Nov 20th 2018
Bug/Change: Fixed the keyword detection in the url
Fixed small performance issues
Version 1.0.6 from Nov 6th 2018
Change: Now displaying the rows in the Dashboard even if there are no metrics
Checked the WordPress 5.0.0 compatibility
Version 1.0.5 from Oct 3rd 2018
Change plugin admin dashboard menu icon
Fixed bug with import of competitors
Added refresh button to keywords dashboard
Version 1.0.4 from Aug 31st 2018
Bug fixes and refactoring
Feature: Replaced the generic notifications with per Event Notifications
Feature: Added the Events Dashboard
Bug: Fixed the bug with Event type when Impressions contained a coma
Feature: Updated the Licensing Package
Many small bug fixes and tweaks
Version 1.0.3 from June 30th 2018
Feature: Added the option to display Events in the separate dashboard
Feature: Added the min/max/average count of the keywords when comparing with competitors
Feature: Started to track the SEO description change events
Feature: Added the option to color the rows in the Dashboard
Feature: Added the option to select the color label for events
Feature: Assigned colors to events
Many small bug fixes and tweaks
Version 1.0.1 from June 6th 2018
Version 1.0.0 from 6th June 2018