Email and Domain Blacklist Plugin Description
The WordPress Email Registration and Domain Blacklist plugin prevents users on banned domains and banned emails from registering on your WordPress site.
This a great Anti-spam WordPress tool that can reduce the noise and restrict posting to only users from approved emails and domains.
Restrict Site Registrations

Our domain blacklist plugin makes sure that only authorized users from approved domains or certified emails can register and use your WordPress site. It's easy to avoid unwanted spammers, viruses and malware with one click blacklisting

The email and domain blacklist plugin can also work in whitelist mode, which means that only approved domains or lists of emails can register to the site.

FLogin Screen Showing Error Message Coming from the Plugin
Error Log Report Showing All Blocked Registrations

Logging Failed Registration Attempts

This blacklist plugin will automatically check a user trying to register on your WordPress site against your backlist function, or defined records of blacklisted or whitelisted domains
| | |
| --- | --- |
| | @rik0399 at WordPress.org: "Killed All Spammers - This plugin works as expected; killed all spammers and false/disposable emails addresses which is what I needed for years! No more spammers – wonderful!." |
Using Email Domain Blacklist Online Services for Suspicious Domains
Multiple Domain Filtering Options

The email domain blacklist plugin uses several online methods as well as local plugin lists to detect whether a domain is blacklisted in real time. This means that hackers and spammers will find it hard to register and harm your website!

Setting Screen Showing Options to Check Domains and Emails
This is achieved using the following banned domains detector online services:
SpamAssassin – Using a list of free email domains downloaded from SpamAssassin
DNSBL – Using DNSBL online service
WhiteLists and Blacklists – All this services can be used together with your own blacklists and whitelists domains lists or with your own banned emails list.
Using the Email Blacklist Plugin for WordPress
Protect Your WordPress Site – Prevent spammers from registering to your site
Block Spammers – A Great Anti-Spam WordPress plugin that blocks users from suspicious domains
Blacklist and Whitelist Domains and Emails – Approve registration of specific users from predefined approved emails or domains
Registration Log Support – Log all failed registration attempts
Email Blacklist Additional Resources
Email and Domain Blacklist Related Plugins
Email Blacklist Basic Features
Free Domain List from SpamAssassin which can be used to filter blacklisted domains
Create a whitelist of accepted domains
Customize Labels
Email Blacklist Premium Features
Please check the user guide to learn more about this plugin.
Email Blacklist Frequently Asked Questions
Please check the user guide to learn more about this plugin.
Can I retract a blacklisted domain?
Can I blacklist multiple domains?
There is no limit to the number of domains that you can add to the blacklist. Add as few or as many domains to the blacklist as you require.
Do the blacklisted users receive notification of failed registration?
Yes. The message the users receive is editable and appears in the plugin setting. Admin can define what the message should say.
Can I use the plugin to find out if a domain is blacklisted?
Can I whitelist a domain that has been defined as an invalid domain?
Yes. The list of invalid domains from spamAssasin includes some free domains which you may still want to enable registration for, such as Gmail and Yahoo. Simply add them to your whitelist or disable the blocking of free email domains. However, before you do that, make sure that particular domain is indeed safe.
Can I restrict by specific emails and not just domains?
Yes. The plugin also support using the same methods also blacklisting or whitelisting email addresses.
To learn more about Blacklisting email addresses click here or for whitelisting email addresses click here.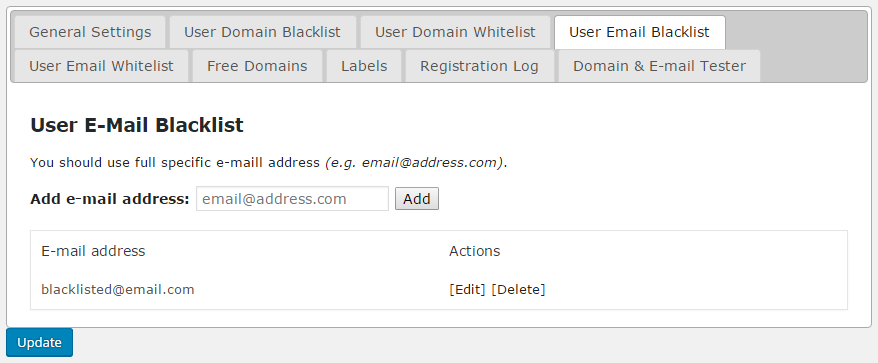 Will this plugin work with CM Registration plugin?
Yes. It is designed to work together with the CM Registration plugin.
Email Blacklist Image Gallery
Back-end Gallery
Version 1.3.10 19th Dec 2017
Updated the Licensing Package
Version 1.3.9 19th July 2017
Added the Google reCaptcha option
Version 1.3.8 12th June 2017
Updated licensing package
Version 1.3.7 10th May 2016
Fixed the support for the registration for the MU sites
Updated the Licensing Package
Version 1.3.6 6th Oct 2016
Added the support to the problem with loading the Free Emails list during activation
Version 1.3.5 23rd Aug 2016
Fixed the support for "PrivateContent" plugin
Version 1.3.4 4th Aug 2016
Improved the compatibility with CM Registration Pro
Updated the Licensing Package
Version 1.3.3 28th June 2016 (pro version)
Added the support for "PrivateContent" plugin
Version 1.3.3 21st June 2016 (Free Version Only)
Fixed the problem when only whitelist was enabled
Version 1.3.2 22th May 2016
Update licensing version and dashboard
Version 1.3.1 6th May 2016
Fixed the bug which caused the domains not being whitelisted or on free domains list as invalid
Version 1.2.8 26th March 2016
Added support to user email blacklist check.
Added support to user email whitelist check.
Added support to import emails to emails blacklist or whitelist.
Fix bugs
Version 1.2.7 20th March 2016
Updated licensing api support.
Version 1.2.6 25th Feb 2016
Added automatic updates from plugin dashboard
Replaced plugin admin interface including license activation and userguide
Plugin Release 1.2.5 30th Dec 2015
Plugin Release 1.2.4 24th Sep 2015
Updated the licensing API
Fixed the small bug with one of the files being referenced incorrectly
Fixed the General Settings label
Fixed the bug in the validation algorithm
Plugin Release 1.2.3 22nd Apr 2015
Plugin First Release 7th March 2015