The Magento Marketplace Multi Vendor Extension by CreativeMinds transforms your B2B or B2C online store into a thriving Ecommerce. But it can go even beyond with the right Magento 2 Marketplace modules!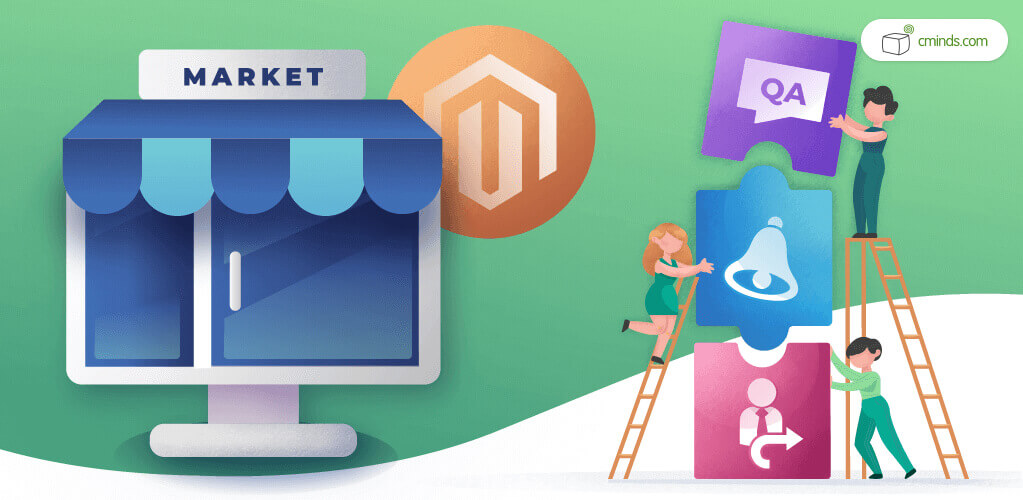 Automatically send PayPal payments, charge vendors for selling on your store, allow multiple suppliers to sell the same product, manage return requests… and much more with modules.
Magento 2 Marketplace modules can add that extra edge you might need to crush competition.
Check below all the ways you can power up the Magento 2 Marketplace extension.

Let the admin and managers transfer funds to the vendors by using the PayPal Integration module. The vendors will receive admin payments after associating their PayPal emails with their supplier accounts.
Using the PayPal Marketplace Multi-Vendor Module
Process small transaction automatically
Send payments to vendors through PayPal anywhere in the world
Build vendors loyalty through a quick and easy payment process
Reduce many of the risks in your current payment system such as fraud by automating vendors payments

Create different subscription plans to your vendors, restricting how many products they can upload every month.
Vendor Subscription Marketplace Multi-Vendor Module Use Cases
Create Different Plans – Add any number of subscription plans and turn the vendors into your loyal customers.
Improve Store Quality – Get full control over defining the number of products and product images the vendors can add within a certain subscription plan.
Adapt – At any time, configure subscription plans to find the best combinations of the price a vendor pays and the features he gets. Let vendors move to another plan with no investment loss.
Easily handle RMA (Return Merchandise Authorization) requests on your Magento stores. RMA (Return Merchandise Authorization) requests are often time-consuming and costly to manage. The Marketplace RMA module is designed to streamline requests, ease support and improve customer satisfaction.
The RMA module works in three easy steps:
Configure RMA statuses, types and reasons
Let customers send RMA requests
Handle RMA requests via admin panel or give permissions to vendors

Let customers submit product questions, and store admins or suppliers answer them! Visitors will trust more your brand if they perceive it as engaged and informative.
Vendor Questions and Answers Module Admin Options
Answer Questions – Easy backend option of replying to customers
Questions Limiting – Prevent overload of information, and display only the important questions
Hiding Q&A – Simple on / off switch to hide or display Q&A form
Delete Questions – Trash a question if it is not suitable for the product
Allow different vendors to list the same product with different price and description. The customer sees a table with all options and can add them to the cart directly from the product page.
The Marketplace Multiple Vendors Per Product Module works in two easy steps:
The admin creates the main product
The suppliers create variations with individual prices, description and quantity

Update the inventory automatically! The Marketplace Inventory Updater Module fetches a spreadsheet daily to update the quantity, stock status or price of the products that are available in the store.
Marketplace Inventory Updater Module Detailed Features
CSV Synchronization – Bulletproof inventory updating via CSV file to your Magento Store.
Configuration Options – Modify the delimiter, columns, product attribute, quantity and options for products that are not in the feed.
Vendor / Admin Configuration – Both the vendor and the admin have the ability to configure automatic inventory updating options.
Easy Setup – Fill a few required fields and the sync can begin.
The Marketplace Dropship Notification module allows the admin to send e-mails to the suppliers notifying that their orders are ready to be dropshipped.
Marketplace Dropship Notification Module Detailed Features
Supplier Notification – Automatically notify the vendors about dropshipping.
Email Template – Choose the default one, or create your own that matches the store design.
Rich Email – Display all relevant data such as shipping info, item names, SKU, quantity, price, date, order number and shipping method.
Item Status – The admin dashboard shows pending orders and the ones that were successfully dropshipped.
Add a SEO-Friendly URL for each supplier profile page in your Magento Marketplace by using the Supplier Redirection Module. Turn an ugly default generated Magento Supplier URL into branded store links.
Marketplace Dropship Notification Module Detailed Features
URL Branding – Brand your vendor store with a recognizable URL.
Automatic Redirection – Only the last redirect applies.
SEO-Friendly – URL with keywords can boost search engine ranking.
Vendor / Admin Configuration – Both can configure the supplier URL.


Create multiple orders for single purchases, one for each vendor! The module create one order for each vendor present in a order with multiple products.
Marketplace Order Split Module Detailed Features
Smart Split – Only orders involving different vendors are split.
Automatic Split – Orders are split automatically after checkout.
Unlimited Orders – Create one order for each vendor, no matter the number of vendors.
Enhances Organization – The admin can easily spot split orders.
Define a minimum order amount or quantity of products per day or order for each vendor.
Marketplace Minimum Order Module Detailed Features
Minimum Amount – Demand that the cart have a certain value.
Minimum Quantity – Demand that the cart have a certain number of items before checkout.
Amount and Quantity – Demand that the cart have both a certain number of items and certain amount before checkout.
Vendor-Specific – Assign a different restriction for every seller.