If you want to learn more about eCommerce, here are the best eCommerce blogs on the web.
Running a successful online store is no easy task, so it's always good to draw on the experience and expertise of others, as well as keeping up to date on the latest eCommerce news.
In our online world, there's no better place to gather hints, tips, and valuable pieces of advice than the internet. Here's our pick of the best and brightest in the eCommerce industry to provide you with insightful reading.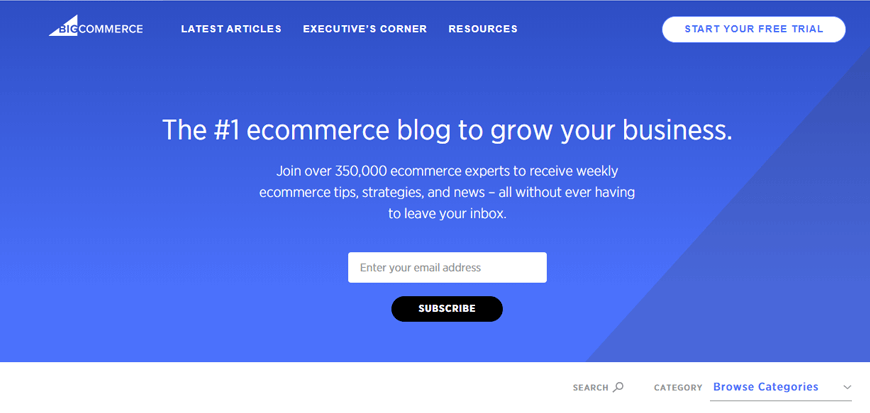 Similar to Shopify, BigCommerce is another big player in the world of eCommerce platforms – that's why their blog is another great resource when you're looking for business tips.
There are a number of categories you can browse here, from How to Sell Online to the latest eCommerce research. Their articles often go in-depth and they helpfully provide PDF versions for easier reading.
Current must read: This detailed but easy-to-read guide on how to create the perfect inbound marketing strategy.
Much like Shopify, Hubspot is a well-known name in the world of eCommerce, and their blog doesn't disappoint. It's kept updated with easy to digest pieces on a variety of topics, and you're bound to pick up tips along the way. A big plus point for their blog is the way it's broken down into categories, from marketing trends to pricing strategies.
Current must read: A helpful guide on creating content that will spread organically across the internet.
With plentiful content directed to both beginners and advanced users, CreativeMinds' blog is (we hope!) a necessary resource.
The focus is Magento rather than eCommerce at large, but still we try to always contextualize our tips and tutorials to make them relevant to all platforms.
Current must read: Their Ultimate eCommerce Basic Guide, full of tips on how to start your Magento store from scratch.
The company is specialized in Magento products and support, so we encourage you to check them out!
In their ecommerce blog, ScienceSoft doesn't pretend to seek an ultimate truth but shares their expertise earned for years in ecommerce development and consulting. The formats are diverse: comprehensive overviews, business tutorials, best practices, lessons learned in project activities and more.
Run by the ECT News Network, the eCommerce Times is a website dedicated to business news and updates, particularly in the online sector. Here you'll find the latest commercial news, as well as blogs full of tips and advice from those in the know.
Current must read: How to optimize your online store during the Coronavirus pandemic.
Committed to providing easy-to-digest content and practical information for business owners, Practical eCommerce is a great blog to stay updated on. You'll find articles and commentary on a host of business related topics, including B2B sales, marketing strategy, and even design.
Current must read: This guide on seventeen useful tools to help you live stream video.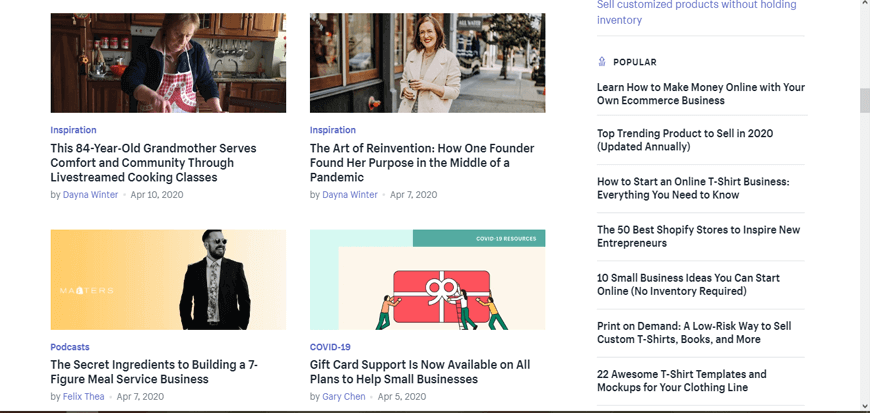 Shopify hosts over a million online stores, so it's safe to say they know a thing or two about the industry. Their blog shares regular content on all things eCommerce, from roadmaps for launching your own business to guides on how to market yourself. You'll also find business statistics, success stories, and even self-care tips for entrepreneurs.
Current must read: An inspirational story from business founder Moorea Seal about how she found purpose in the middle of a global pandemic.
The Common Thread Collective is an agency dedicated to helping eCommerce business' thrive, and their blog – Coaches' Corner – really reflects this. The collective uploads posts weekly, giving valuable info on eCommerce trends, industry growth, the latest business stats and how you can harness this information to make your business better.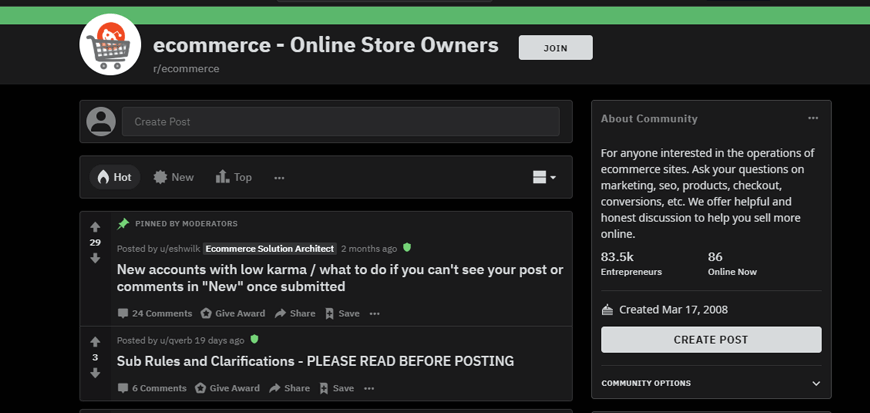 Though Reddit might not be the place you automatically think of when you're looking for the latest business news, the eCommerce subreddit is actually full of thought-provoking discussions and articles. Reddit lets anyone post and comment, so it's a great place to hear real life stories and network with like minded business owners.
For those unfamiliar with the site, you can search the subreddit by New to see the latest posts; Hot to view those people are talking about right now; or Top to see the most discussed articles and discussions of all time.
Current must read: This interesting post from a user whose side-business sales have tripled in a month.
One of the biggest eCommerce blogs on the web, eCommerce Nation should be another stop on your reading journey.
As well as the blog, you'll also find other valuable resources such as info on eCommerce conventions and summits, and a section dedicated to interviews with business owners, both small and large. The insightful interviews are the perfect place to pick up advice from people who have been in your shoes.
Current must read: eCommerce Nation's guide on how to get your products in front of the people most likely to make a purchase.
Marketed as 'Insights from eCommerce Experts', Elastic Path has tons of interesting reads on how to get started, eCommerce best practice, and managing digital relationships. The blog has a number of different categories to browse, including more niche topics like microservices and even widgets.
Current must read: A piece from late last year on how to optimize your website content for the voice search trend.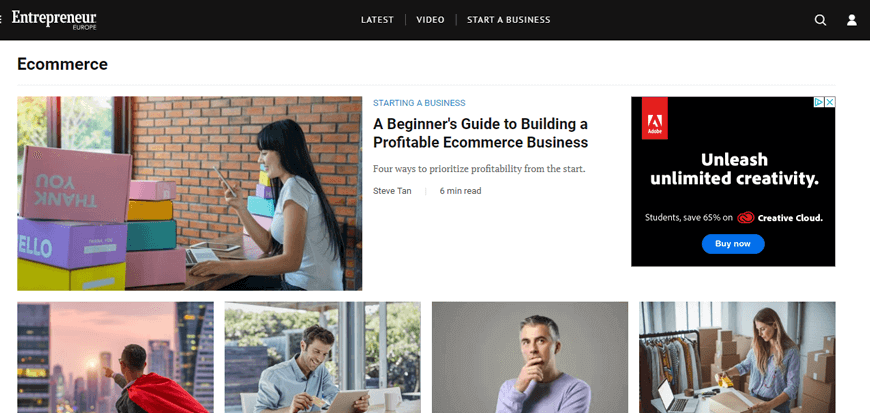 Entreprenuer.com is a great professional website with blogs on all kinds of topics relating to business – from guides for freelancers to the latest news on the growth of eCommerce. There's even a dedicated section of the website just for eCommerce, so Entrepreneur proves itself to be an invaluable resource for online business owners.
Current must read: The aforementioned blog on how eCommerce has seen astronomical growth despite the threat of a global recession.
Much like Entrepreneur, TechCrunch is a well-known site on the topic of business and technology – but did you know they have a dedicated section just for eCommerce business news? The eCommerce area of the site is less how-to guides and more business news, so it's a great place to read while you have your breakfast in a morning.
Current must read: This article on how the world's most famous eCommerce site fired staff who were critical of their handling of the COVID19 pandemic.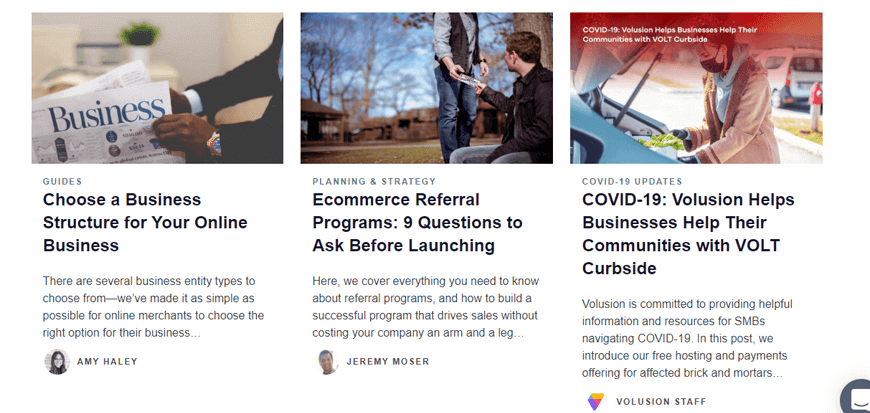 From planning and strategy to social media news, eCommerce blog Volusion is another valuable resource for hints and tips on how to make your business the best it can be. It has tons of engaging content and a really easy to navigate interface, making it another great resource when you're looking for advice.
Current must read: Their latest blog on nine questions to ask before you jump into an eCommerce referral program.
Conclusion
We hope you enjoy these blogs, but if you're still looking for more content on how to improve your eCommerce business check out our blog for how-to business guides as well as tips tricks for WordPress and Magento.