The Best Multi Vendor Marketplace Module for Magento® 2
The Magento®Marketplace Multi Vendor Extension by CreativeMinds transforms your online store into a thriving multi vendor marketplace.
Advanced product management allows vendors and suppliers to create, update, track and manage their products and orders through a supplier account in your Magento® eCommerce store.
This gives both the site admin and suppliers an easy way to manage products, shipping options, as well as fulfil orders and track sales.
The Multi vendor Marketplace module includes all the functionality available in the CM Supplier Frontend Product Uploader.
Great for Suppliers & Retailers!
Multiple Sellers– Allow multiple vendors to manage and sell products on your site
Merchant Profile – Each vendor is given a customizable, public profile which is displayed on all product pages. Admin can manually approve vendors
Bulk Product Upload – Quickly add products info and update inventory using CSV files
Orders List – Multiple sellers can handle orders that include their products, giving them more control over pricing and shipping
Advanced Tracking– Ability to view and update shipping information using a unique tracking code that is granted to each order
DropShipping – Ability for suppliers to manage shipping methods and costs and allow customers to choose shipping methods from pre-defined options
Transparency – Customers can view information about the vendor and can add products reviews and supplier ratings
Detailed Reports – Real-time sales reports on product sales, total sales, revenue, and more, with many filtering options
Commission Tiers – Admin can charge a commission based on product category for each specific vendor
Notifications – Multiple products notifications and alerts for approving products by admin and when a new order has been created
PayPal Integration– Admin can easily pay multiple vendors with the Paypal add-on. Payment can be set to be done automatically or manually.
Vendors Subscriptions– Ability to create multiple seller paid subscription plans. For example 10 products, 3 months subscription for $50.
Multishipping– Each vendor can add multiple seller shipping methods. Customers can select their own preferred shipping option.
Mobile Responsive– All Marketplace frontend and backend modules are mobile responsive
Multi Seller Marketplace Plugin Admin Benefits:
Easy to Build – Create your own niche-based online marketplace without keeping an inventory
Commision – Set a default vendor sales fee, or offer custom fees per individual sellers
Moderation – Moderate multiple sellers profiles, product information, shipping arrangements, and supplier capabilities
Reporting – Receive detailed sales reports and filter them by suppliers, categories, customer groups, and more
Unified Cart – Our Online Marketplace Plugin Processes all payments on a single shopping cart system & pay vendors manually or automatically
Automate Vendors Payments – Pay vendors manually or automatically
Multi Vendor Marketplace Supplier Benefits:
Get Started Easily – Sell products online without having to maintain and promote your own website
Upload and Manage Products – Create, update, manage and track products, orders, pricing and shipping arrangements independently
Supplier Profile – Customize an impressive supplier profile where customers can view company information, products, and reviews
Track Sales – Track sales with detailed sales reports
For more information about each module please check the "Modules" tab
What Our Customers Say
"I used CreativeMinds Marketplace Extension for Magento® to build our multi vendor store corporategift.com, the extension works perfectly and the support and communication was really amazing, highly recommended!"

Asi Erenberg, CEO, corporategift.com
Marketplace Module Additional Requirements and Customization
Let us know if you are missing any marketplace functionality. We can help you customize the extension to meet your specific needs and business requirements.
Multi Vendor Marketplace Plugin Related Resources
Multi Vendor Marketplace Extension Related Modules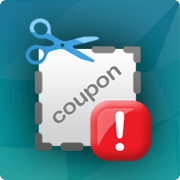 M2 Custom Coupons Error Messages
$59.00
Easily create custom error messages that explain why coupons could not be applied to the cart.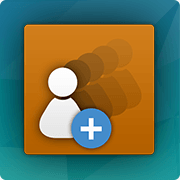 M2 Multi User Account
$199.00
Add sub-users to your Magento® account and grant specific roles to your sub account users.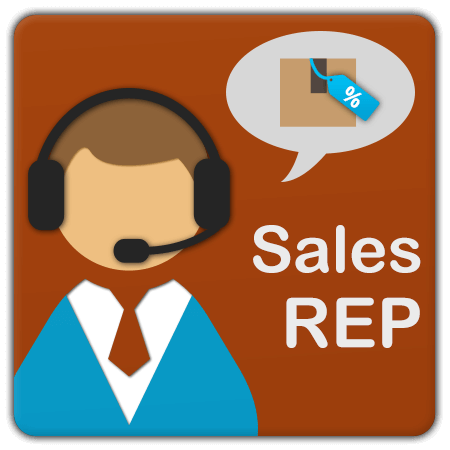 M2 Sales Rep Commission Manager
$399.00
Helps you track sales representative performance with sales reports and commission management.
Multi Vendor Marketplace module Detailed Features
Please check the user guide to learn more about this extension.

Admin Moderation Capabilities
Multi Seller Marketplace– Allow multiple merchants to upload their products directly to your Magento® store
DropShipping– Allow your suppliers/vendors to create a chain of supply, enabling them to develop their own global business with advanced dropshipping options
Store Management– Give other employees limited access to manage their products from the front-end without using the Admin interface
Admin Moderation – Admin can moderate product information, shipping arrangements, and supplier capabilities
Advanced Billing– Allows admin to process all payments with a single shopping cart system
Separate Login- Admin can set a separate registration and login page for suppliers
Product List- Admin has a list of all the products added by the supplier
Change Product Supplier- Admin can change a product's supplier/owner
Sales Reports- Admin can generate a supplier's sales report
Filter Sales Reports by suppliers, product categories, customer groups, and more
Billing Reports- Admin have billing report for each order
Vendor Approval- Admin can manually approve vendor's profile after registration, or have it approved automatically
Add Products Approval- Admin can decide if imported products are approved automatically or needs approval from admin panel, also for imported products from CSV
Vendor Payment Tracking- Track billing to organize your monthly vendor payments
Admin Customization Options
Customize Add Products Forms- Add Products forms can be easily changed in the admin panel
Metadata Labels- Admin can change labels of the existing product metadata
Add Product Attributes- Admin can can set what Attribute Set can be used in vendor product creation
Add Product Categories- Admin can define what categories are available for all suppliers or set them for each supplier
Supplier Order List- Admin can define what orders will be displayed on supplier order list
Tax Group- Admin can define tax group for supplier's products
Admin Fees– Admin can either set a default fee charge for supplier revenues, or set individual fees for each supplier
Product SKU- Admin can define if suppliers can decide products SKU or it will be auto-generated
Uploading Images- Admin can define how many images can be uploaded per product by suppliers
Add Product Types- Admin can define what product types can be created by supplier
Downloadable Products- Admin can define type of downloadable product files and their size
Add Product Page- Admin can define whether or not to show supplier's products on their profile page
Supplier Profile- Admin can define custom fields for supplier's profile – can also set some of the fields as system so they won't be shown on supplier's profile page
Supplier Products Management
Add Products- Suppliers can add products (simple, virtual, downloadable and configurable). For each add product descriptions, add product metadata and add product images
Configurable Products- Supplier can create associated products for configurable product or use existing products which match configurable product
CSV- Supplier can import products from a CSV file along with their images
Frontend Preview- Supplier can preview products on frontend before they go live
Supplier Product List – Suppliers can view and manage their products from the frontend
Product Form- Supplier can add new elements to the supplier product form
Cloning Products- Supplier can clone their products
Shipping Information- Easily print and save shipping information according to the selected carrier's requirements
Supplier Tools and Seller Dashboard
Supplier Panel – Every supplier has a link in their seller dashboard page with the products upload and management features
Sales Reports- Supplier is provided with a seller dashboard with sales and revenue graphs
Order Management- Supplier can manage their order, create shipping, print shipping labels and create invoice for order
Supplier Ratings- Each supplier has star ratings shown in their profile
Email Notifications- Supplier/Admin notifications for new order, new product uploaded/approved
Supplier's Detailed Reports – Most Viewed Products, Bestsellers, Ordered Products and export to CSV
Shipping Methods– Supplier can set multiple shipping methods for their products – they can set Flat Rate, Table Rate or Free Shipping
Supplier Profile – Supplier can create a profile with name, description and upload an avatar
Custom Notifications– Supplier can define what notification they will get
Multishipping– Each vendor can add multiple shipping methods. Customer can select their own preferred shipping option.
Marketplace Additional Requirements and Customization
Let us know if you are missing any functionality. We can help you customize the extension to meet your specific needs and business requirements.
Compare the Online MarketPlace Multi Vendor Module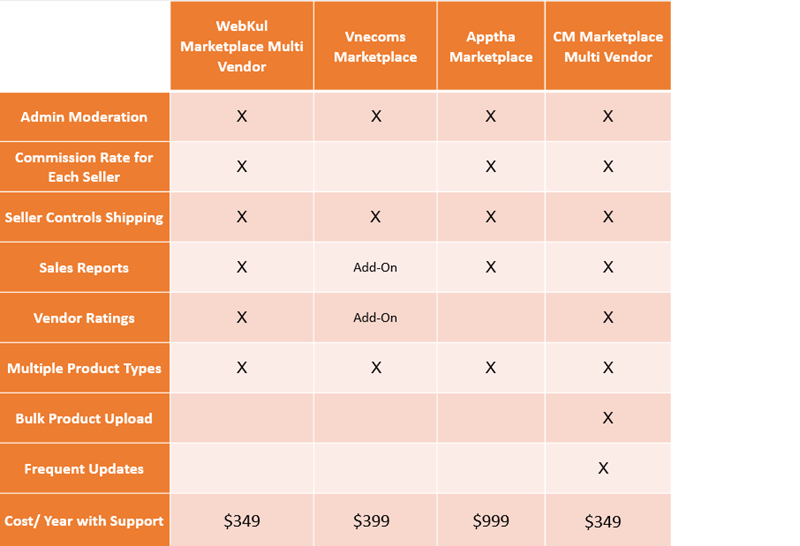 MarketPlace Multi Vendor Extension Additional Modules
Marketplace PayPal Vendor Payments – Supports the ability for the store manager to transfer money to vendors directly using PayPal. Each vendor just needs to add their Paypal account email to their profile page. The module supports automatic and manual money transfer modes
Marketplace Vendor Subscription – Supports adding a subscription plan for vendors. The plan restricts how many products each vendor can create based on their subscription plan. Admin can set how much each plan costs. The subscription plan is created as a virtual product and vendor needs to purchase this in order to activate the subscription.
Marketplace Questions and Answers – allows customers to ask the vendors questions about their products from the product page, vendors can answer the customer privately or publicly (meaning the question and answer will be published on the product page after the admin has approved it). All questions and answers are manageable through the Admin panel.
Magento®Multi Vendor Marketplace module Demo
Magento® MarketPlace Multi Vendor Module Image Gallery
Screenshots from the Marketplace Plugin Supplier Dashboard- Click to enlarge
Multi Vendor Marketplace module Frequently Asked Questions
Please check the user guide to learn more about this extension.
Version 1.0.36 06th Dec 2017
Add ability to supplier grid to export data to csv / xml.
Supplier profile management has been updated.
Version 1.0.35 15th Oct 2017
Module configuration default values has been updated.
Fix supplier products search result page.
Version 1.0.33 21st Sep 2017
Available customer groups during supplier account creation in admin panel has been limited to only those allowed for supplier.
Supplier billing list in admin panel has been updated, there was an issue which caused that non-supplier related data were displayed.
Version 1.0.32 30th Aug 2017
Bestsellers report in vendor panel has been updated. There was difference between report result visible in vendor panel and exported csv file content.
Version 1.0.31 29th Aug 2017
Fixed minor issue which causes that payment methods page is not loaded in admin panel when any payment method was trying to fetch shipping methods.
Version 1.0.30 21st Aug 2017
Fixed issue which causes error when admin user click on abandoned cart in report which was linked to removed customer.
Fix issue that supplier shipping methods were visible when customer get back to first step in checkout even if supplie
shipping method was disabled in configuration.
Minor fixes in supplier navigation.
Low stock reports has been fixed in supplier panel.
Version 1.0.29 8th Aug 2017
Fixed issue which causes error during checkout which was related to shipping methods price re-calculation.
Version 1.0.28 30th July 2017
Supplier billing reports grid refactoring.
Ability to create manual payment in supplier billing reports.
Version 1.0.27 16th July 2017
Frontend events has been updated.
Back button in supplier edit admin view has been fixed and it is redirecting us to supplier grid.
Extension Version 1.0.26 1st July 2017
Supplier shipping methods are no longer displayed in cart and checkout if supplier shipping method is disabled.
Extension Version 1.0.24 28th May 2017
Product sku has been added to product list in order detail page, shipment detail page, shipment create form and invoice create form.
Supplier panel order list csv export fix.
Redirection loop when non-supplier customer is trying to load supplier panel has been fixed. Bulk files line separator update.
Extension Version 1.0.23 28th May 2017
Sample file for supplier products import fix.
Bullet and numbered list option has been added to product description editor in supplier panel.
Supplier panel products list view performance improvement.
Extension Version 1.0.21 17h May 2017
Updates for shipment creation process in supplier panel.
Extension Version 1.0.20 10th May 2017
Printing label fix.
Shipping calculation fix.
Ability to set commission on category level.
Showing images in ordered product report in supplier panel.
Extension Version 1.0.18 28th April 2017
Vendor dashboard navigate update
Add select list in configuration for supplier shipping methods group label
Extension Version 1.0.17 13th April 2017
Order detail view updates in supplier panel.
Update supplier shipment tracking code, ability to update it to add missing/wrong tracking code.
Shipment view updates in supplier panel.
Install and upgrade scripts update.
Shipment view update in supplier panel.
Extension Version 1.0.15 11th April 2017
Update supplier shipment creation, when supplier creates shipment for order, email to customer is being sent.
Update supplier invoice creation, when supplier creates invoice for order, email to customer is being sent.
Invoice creation date is displayed in supplier panel order view.
Supplier billing view updates in admin panel.
Extension Version 1.0.14 6th April 2017
Tracking code is no longer required during shipment creation in vendor panel.
Update supplier name displaying on product page.
Fix issue which occurs during printing invoice in vendor panel.
Fixes regarding supplier rating functionality.
Extension Version 1.0.13 12th Mar 2017
Vendor portal reports refactoring.
Extension Version 1.0.12 7th Mar 2017
Fixed issue in vendor portal reports.
Minor fixes in vendor portal.
Extension Version 1.0.11 23rd Feb 2017
Update module dependencies.
Version 1.0.10 22tnd Feb 2017
Fix issue with auto approve simple products.
Fix issue with exception messages.
Version 1.0.9 27th Dec 2016
Fix compilation issues.
Change supplier shipping method name – needed for correctly works with Authorize.net
Version 1.0.8 31st Oct 2016
Fix: Supplier shipping methods validate when supplier dont have shipping methods.
Fix: Vendor portal issue – don't show product name in order.
Fix: download reports best sellers.
Add "in stock" for grouped products in create / update forms.
Supplier now can upload logo.
Refactoring and minor bugs fixes.
Version 1.0.7 28th Sep 2016
Supplier rate view fixes, performance updates, checking customer authorization.
Version 1.0.6 22nd Sep 2016
Supplier shipping methods display changes in checkout.
Supplier shipping methods cost calculation fixes.
Previously selected supplier shipping methods are restored during new order placing.
Validate if for each supplier shipping method is selected when supplier shipping method is selected before placing an order.
Validate if sum of selected supplier shipping methods is correct before placing an order.
Refactoring and minor bugs fixes.
Version 1.0.5 5th Sep 2016
Module dependencies update.
Suppliers can name their custom shipping methods.
Supplier shipping methods are available in checkout cart shipping estimation.
Supplier shipping methods are available in checkout process.
Minor bugs fixes and code quality improvements. eCommerce
Version 1.0 2nd June 2016
Release of Magento 2 version