Once upon a time, if you wanted to teach you'd have to do it in person. In the age of the internet, you can now teach, and learn, anything online.
If you want to create and sell courses online (or offer them free of charge), a learning management system (LMS) can help.
One option for creating an easy to use LMS is through WordPress eLearning plugins. WordPress plugins allow users to customize many aspects of their site, including course management.
Creating online courses that users all over the world can access is simple with WordPress plugins, as long as you choose one with features you want. When choosing a learning management system, it's important to look for one that meets both the requirements of the site administrators and is easy for students to use.
At CreativeMinds, we've taken the extra steps to figure out some great plugins for eLearning. We also prepared a special package containing all our great plugins which can be utilized for eLearning creation and management.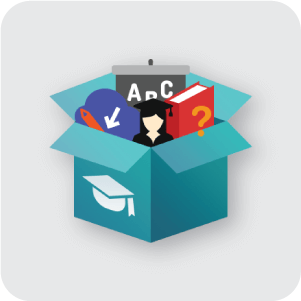 Essential eLearning Plugin Package
Check out our awesome WordPress e-learning Plugin packages and learn how to utilize them for educational purposes! Packages include students community support, knowledge sharing, discussion facilitation and curriculum building tools.[
Video
]
If you're looking to create online courses, check out these plugins. Don't forget to consider our recommendation.
Top WordPress E-Learning Plugins
The CM Video Lessons Manager is the ultimate solution for those looking for a way to create and manage online video courses with WordPress. Its host of comprehensive features makes sharing and monetizing your courses simple.
Share Your Passion (And Make Money!)
When you're passionate about a subject, there's nothing better than being able to make money from sharing it with others. With the CM Video Lessons Manager plugin for WordPress, you can do just that.
Design your own video lesson courses, host them on Vimeo or Wistia, and embed them in any page or post in WordPress.
With the Video Lessons Payment Add-on you can then charge users for access, and generate money from your expert courses.
Track Student Progress
Make your teaching and management more effective and efficient by monitoring your student's progress.
With the CM Video Lessons Manager plugin you're provided with the tools to track student progress.
You can see how each student enrolled on your course is progressing through the video lessons, with metrics for time spent watching and how this equates to a percentage.
This helpful feature allows you to identify students who may need extra help or more time to progress through the course.
eLearning Dashboard for Students
The plugin also comes with an eLearning dashboard designed for students. Here they can monitor their own progress through your video lessons and courses.
In addition, the eLearning Dashboard also allows users to easily access any videos they've bookmarked to come back to at a later date. The dashboard allows students to keep track of all their video lessons in one place.
Easy Course Management
CM Video Lessons Manager gives you complete control over your video courses and how they're presented to students. Easily customize the appearance and tweak all general settings to fit your needs.
Ideal Solution for All Educators
Whether your passion is pottery or poetry, the CM Video Lessons Manager allows you to easily create and manage video courses. It's the ideal solution for educators to create a learning environment that is easy for teachers and students to navigate.
CoursePress allows you to easily create and share courses with quizzes, video, and audio. This plugin gives you a lot of different options. You can make courses that are primarily videos, allow users to upload and download content, and create a discussion board where students and facilitators can exchange ideas.
CoursePress lets you make free and paid courses. The nice thing about this plugin is that it offers users a preview of what the course will look like, so they can decide whether it is worth purchasing.
To create many courses, you will need the paid version of this plugin, CoursePress Pro (discontinued), as the free version only lets you create two courses. One drawback users mention about this plugin is that it is not extremely customizable. If you're looking for something with a large range of customization, this may not work for you.
Questions and Answers is a perfect WordPress plugin for educators. Teachers can use the eLearning tool to build a community discussion forum or knowledge base and let students interact.
Some ideas of what you can accomplish:
Topical Forums – One forum for each discipline, such as Coding or Physics
Exam Delivery – Students can send private attachments to supervisors
Also including notifications, access control and slick interface, this learning plugin comes in a lite edition or premium starting at $39.
WP Courseware by Fly Plugins allows you to create courses about anything. This e-learning plugin is used by some big names like CNN, Verizon Wireless, and University of Kentucky. Prices for this plugin range from $99-$175, depending on the number of sites you will use it on.
This plugin has a drag and drop function that makes it easy to create courses. It also comes with many nice features, including a student progress visualizer, course outlines, and customizable email notifications. It allows you to create a wide variety of quiz types, including multiple choice, true and false, open ended, or you can make students upload a file as their answer.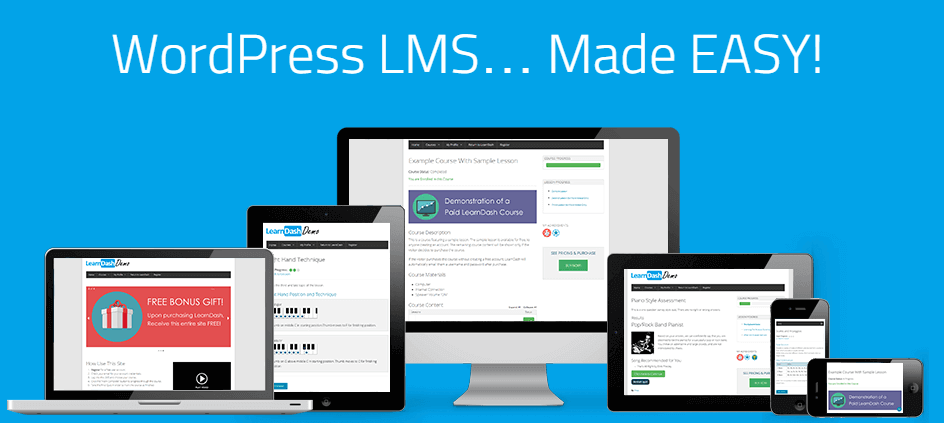 This WordPress plugin is another great e-learning plugin. Courses created through Learn Dash are mobile responsive, so students can access them away from their computer. It allows you to create quizzes with 7 different types. Use video, audio, and images in quiz questions and answers.
With this plugin, you can schedule times for your courses to be offered. It also gives you the option to allow users to pay by subscription or per course.

This plugin developed by WooThemes allows users to create courses and quizzes for your courses. You can set course prerequisites, register users, and charge for your courses, right from your WordPress dashboard. With Sensei, you get analysis of who is taking your course and how well they are doing.
Sensei also offers extensions to get more out of their plugin! These include creating certificates, learner name displays, and grade sharing on social media platforms, among others. The plugin boasts seamless integration with WordPress sites.
Prices for the Sensei plugin range from $129-$279.
Course Catalog is a premium WordPress eLearning plugin to create a comprehensive LMS solution.
It has an apt name. The tool allows you to build a comprehensive catalog of courses, each with its own unique page filled with description, images, galleries and a schedule. Students can browse and enroll to different courses.
One of its strong points are the visuals: there are three catalog templates to choose from.
Via add-ons, it's even possible to charge students, show calendars and much more. Its ideal for schools and college websites, as well as for individuals looking to sell their courses.
It is also part of a sturdy eLearning bundle for WordPress. You can check the live demo of the eLearning dashboard.
Teachpress is a course management and BibTeX compatible publication management system. It is optimized for professors and researchers.
It has integrated modules for enrollment, documents, and assessments. Publications can be uploaded in BibTex format to your WordPress site. This plugin also provides an RSS feed for publications.

Educator is a course management system that allows users to create courses, lessons, and quizzes. It supports many payment methods such as Paypal, credit card, or checks.
The plugin allows you to specify lecturers that can edit courses and lessons. Other perks include email notifications, membership options, and quiz and course grading.
Adding an additional plugin can integrate the Educator plugin with WooCommerce, a WordPress e-commerce platform.

StudyPress is a plugin that allows you to create multimedia learning content which is then posted to your WordPress site in the form of slides on posts and pages. With StudyPress, you can create an unlimited number of courses.
This plugin has a lot of great features, including the option to add different types of quizzes, automatic grading, and student ratings of quizzes and lessons.
10. Learnpress

This WordPress plugin is made for ease of use. It allows you to create and sell online courses. The plugin is free and offers free add-ons, but does have some premium add-ons that require payment.
The plugin can work with any theme, but LearnPress offers a theme designed to work with their plugin.
Conclusion
As you've seen in this post, there are many options for those who want to create a WordPress site that supports e-learning.
We've highlighted many choices, now it's up to you to choose an e-learning tool to suit your site.
Finding the Best WordPress Plugin
Check CreativeMinds WordPress plugin catalog for high-quality products to boost your WordPress LMS site.