Creating eLearning course material using Video lessons is becoming more and more popular. So, how to sell a video course?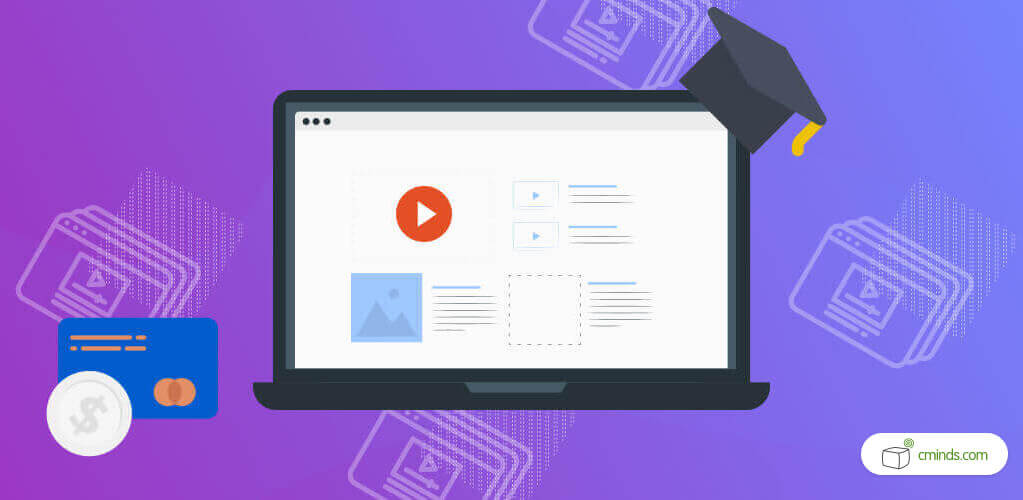 The difficult part is how to create the right infrastructure to support an e-learning environment that is organized, stable, and traceable?
Selling Video Courses Online With CM Video Lessons Manager
Our plugin CM Video Lessons Manager will help you pack all of your video lessons into an easy to use Elearning environment where different lessons are grouped into courses.
This will enable your students to navigate through each of your courses and lessons, sign up and get enrolled. You'll also be able to set a price for watching the video course material using a payment system such as PayPal or other commonly used payment processors.
Once a user has enrolled to one of your online courses, you'll be able to track their progress using the plugin's log & statistics module.
Plus: Course Catalog
Additionally, our Course Catalog LMS plugin helps you enroll students in any sort of course.
Each course gets a unique page with all necessary information: teachers, schedule, description and more with this WordPress class registration plugin.
Naturally, you can integrate both, by locking videos inside courses managed by the Course Catalog. We'll talk about that in a minute.
Sell Video Course: Everything You Wanted to Know
1. Organize Your Online Video Courses
Let's assume you have all content set and ready on Vimeo.
The Video Lessons Manager plugin works with Vimeo Pro accounts using the private channels feature, which can only be accessed when using a private key. This will keep the videos available only to your website, using your private key.
To make your Vimeo account channels available on your WordPress site, all you have to do is enter your Vimeo private key in the plugin settings. When you're done updating the plugin settings, all of your Vimeo account channels will be available.
2. Use Plugin Taxonomies
The plugin has two taxonomy levels. One is channels and the other is categories. You can assign several channels into one category to create a course structure. For example, a category can be a general topic and each channel can be a lesson within that topic.
Alternatively, a channel can be a course, and a category can be the "faculty" or "university" in which the course is taught. Each channel may contain one or more videos.
3. Configure The Students ELearning Environment
Videos can be restricted to logged-in users only. This will enable more options and more control over user actions, as some of the plugin's functions are only available to logged-in users.
Students will be able to search for videos according to their title or description, create bookmarks of videos they have watched, add notes to videos they have watched and track their progress.
The progress report contains the total amount of time they have spent watching the videos, and goes down to the resolution of a single video! This will help students estimate how well they have utilized their registration and how much they have progressed with the course material.
4. Master The Administrator Dashboard
The Administrator can view all student reports, both as individuals and in groups. The report contains the same information that is available to the students, and provide statistics on the overall course engagement with info such as number of videos watched, amount of time each video was watched by users and more.
5. Choose Payment Options
The administrator can define a price that would be paid per each channel and the interval it covers. For example, the admin can define the amount of $10 for watching the videos on the channel during a two weeks time.
Implementing this functionality can be achieved in many ways.
Video Lessons Payments
One is to use the Payments add-on.
It is straightforward: charge for individual videos or whole classes by adoption a one-time payment or subscriptions requirements can be applied site-wide.
Mark some videos as free of charge and restricting other course material to subscribed customers only, dripping content for paying students.
Selling Video Courses Via a Digital Wallet
Another option is to use the CM Micropayments plugin, a virtual digital wallet that simplifies the usage of in-store currency.
CM Micropayment comes with a built-in PayPal payment gateway and can also be integrated with Easy Digital Downloads, which expands it's payment options even further with more than 40 different payment gateways.
6. Set Up a Comprehensive Learning Management System
Right, you have a complete video eLearning site and you are ready to sell video courses! Time to step up the game.
Use the Course Catalog plugin and create unique pages for your courses. Set schedules, enroll students, manage payments.
Then, simply grant access to the Video Lessons content to your enrolled students. With this, you can manage all students directly from Course Catalog, which involves a Student Dashboard add-on for the admin to manage students' progress.
You can also add the Course Catalog page (or specific course pages) inside the Video Lessons dashboard.
You choose the set up that works for you.
Sell Video Course Result: Conclusion
No matter if you are using the only Video Lessons Manager or chose to boost the website with Course Catalog, the logic is the same.
When entering the course page, students will be asked to pay for having access to the course material. Simple as that, you have your video eLearning portal.
For a hands-on experience, check our live eLearning Dashboard demo.