Have you ever wanted to create your own website like Google Maps or Yelp? The Locations Custom Fields Manager Add-on For WordPress can make this happen.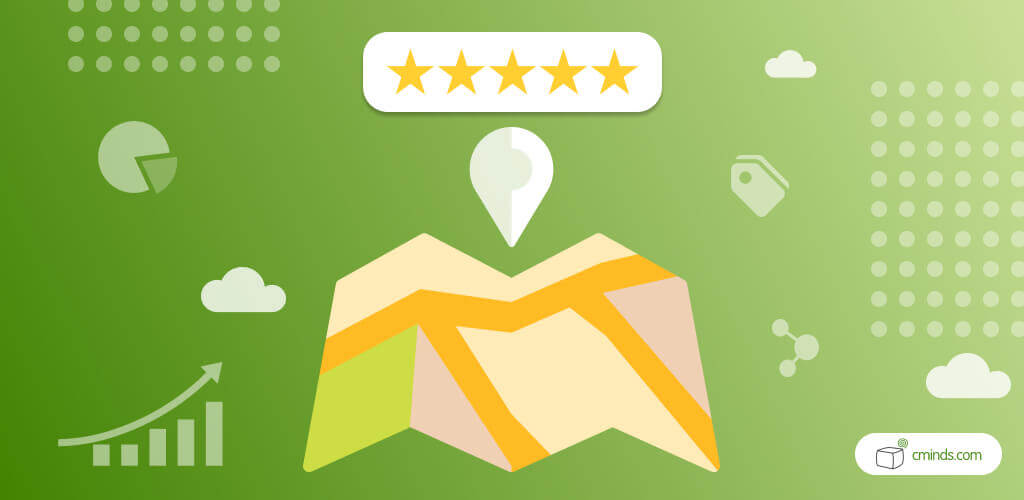 The Location Manager Custom Fields Add-On for WordPress by CreativeMinds creates a website that has similar qualities to Google Maps and allows users to leave descriptions and reviews for locations.
The add-on expands on the functionality of the Google Maps Multi Markers and Store Locater Plugin and lets the admin create an unlimited number of custom fields.
There are three main uses for this custom fields add-on. Those three use cases are reviewing businesses and restaurants, and creating a travel review where you can alert users to helpful tips and hacks to make their experience more enjoyable.
The third use case is similar to journaling, as users can explain their best memories or experiences and attach them to certain locations, almost like a snapshot of your experience.
This Location Manager Custom Fields Add-On for WordPress helps with adding custom fields for each location page created with the Location Manager plugin by CreativeMinds, which is needed for this add-on to work.
Custom fields can be of three types: small text fields, multi-line text fields and ratings. This flexible system allows for fields like "price", "impressions", "quality", "safety", "service", "mobile phone" and much more.
In addition, users have the ability to enable fields like features, highlights, fun factor, cost-benefit, parking spot, open hours, humidity, danger level, and more.
The three different kinds of custom fields that users can create with this add-on all serve different purposes.
There is the single line text option, which is the best choice for adding simple information and descriptions.
Another option is the multi-line text, which is a good choice for any time you need to add longer texts, like full location descriptions, full reviews, and more.
The third option is the 5-grade scale, which is a five-star ranking system for leaving any type of review. This is a visual representation of the review.
You can also filter all your locations based on the rating fields you added. That way, the users can choose to see only restaurants with high scores on "service" or amusement parks with low "thrill" values.
Also, you can create fields like "fun factor" or "beauty" and then filter all of the locations based on the values of these custom fields that you created.
With Locations Custom Fields Manager, even big collections of locations can be organized in the best way possible.
There is also no limit to the number of custom fields that can be created with the add-on. Users have the ability to use the add-on to create and tailor the custom fields to their specific needs.
This Locations Custom Fields Manager add-on also adds more depth to the locations which have been identified to review or add content for. This add-on lets users add notes, review experiences, add histories and more options.
All of these options can easily be added, uploaded, and fully organized to each individual location. It's also possible to highlight the information that is most important to you or is most relevant to your audience.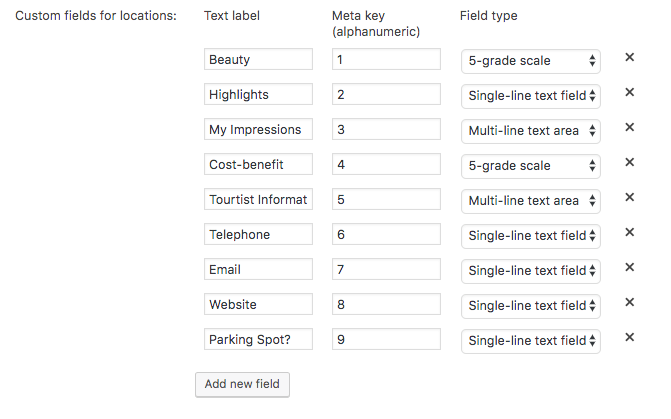 Locations Custom Fields Use Cases
Restaurant Review – This allows users to easily add the 5-grade scale fields of "cost-benefit", "quality", "service" and a multiple line field for "review" to inform your readers about the venues you've visited. Just like Yelp or Google Maps!
Traveling Blog – Simply add the text field "tourist tips" to help fellow travelers learn from your specific experiences. Then, add the fields "accessibility" and "best time to visit" for the complete service.
Journal – Add the text field "best memories" to locations that made a good impression on you. Adding a personal experience can add more context and credibility to locations in which other people are considering visiting or learning about it.
And much more!
Another good use for this add-on is in conjunction with Google Maps. The Routes Manager plugin allows users to combine both routes and trails on fully customized map locations.
This add-on allows for extra details to be added to specific locations and map markers.
Custom fields can also help with localization and global languages so that all information added in custom fields and shown on a map can be viewed in multiple languages.
This add-on helps add a more global feel to maps and increases the reach of potential customers and users who will see the content that has been added in different languages.
Also, the Locations custom Fields Add-on is a good option for any type of online directory. Business directories need to have location information and tend to show business locations on Google Maps as well.
Individual business listings would also need to have custom fields for location information to show locations on a single map. Product directories would also need specific custom fields for product location information.
Why Do I Need This Locations Custom Fields Add-On?
One of the main benefits of this Locations Custom Fields add-on is that it allows the user to make the locations way more customized to what your preferences are and you can do this by adding custom data to review rankings and map descriptions.
Conclusion
In conclusion, the Locations Custom Fields Manager Add-on for WordPress by CreativeMinds is a very helpful add-on for anyone who wants to create a review environment online.
There are several ways to achieve a helpful review atmosphere, from adding star ratings for individual locations to adding detailed information about user experiences to inform other potential visitors online.
There are many helpful uses cases for the Locations Custom Fields add-on. This add-on serves a specific purpose for the Locations Manager plugin and creates small text fields, multi-line text fields, and ratings options for an unlimited number of locations.
This Locations Custom Fields add-on for WordPress is an ideal choice for adding more functionality to specific locations and maps. There are several different ways to add custom fields and an unlimited amount of options for users.