There's more choice than ever when it comes to picking a content management system (CMS). It may be a veteran, but the WordPress market share continues to grow year on year. Here's what you need to know about WP's unwavering popularity and continued success.
WordPress Market Share: A (Very) Brief Summary
Reigning supreme. WordPress continues to be the internet's most popular CMS. It's used on 28 million live websites. The competition isn't even close.
Not just a blogging platform. It's made big moves in other markets too, including eCommerce.
But don't just take our word for it. In this blog, we've gathered together the latest stats, facts, and everything you need to know about the WordPress market share.
WordPress Market Share Tops 40%

W3Techs is the leading source for CMS usage statistics.
Its latest figures show that WordPress is now used on 42.4% of all websites. That equates to over one third of the entire internet. That's hard to even comprehend, and the stats only become more impressive when you narrow the data.

If we zoom in to focus on just websites with a known CMS, the WordPress market share stands at 65.2%. It's not quite a monopoly, but it's heading that way.
WordPress vs. the World: Eyeing Up the Competition
There's been a lot of noise about new content management systems over the years. W3Techs full table of content management system statistics demonstrates the number of CMS' competing for market share.
The names include Magento, Shopify, Joomla, Squarespace, Wix, and Drupal. But, to be be frank, WordPress leaves them all in the dust.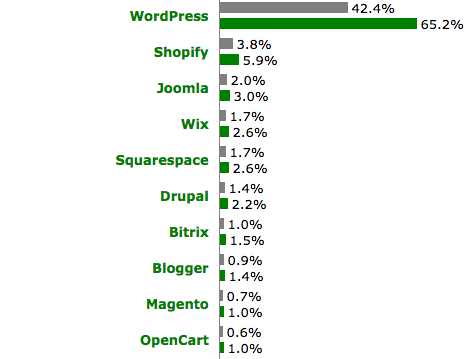 The CMS with the next biggest share is Shopify. The platform is used by 3.8% of websites as of August 2021, giving it a 5.9% share of content management systems. Next to the giant that is WordPress, even Shopify is a tiny little dot on the horizon.
WordPress is not just for blogs…
WordPress was the original blogging platform, so you'd be given for thinking that its user base is personal blogs and small scale websites. We're here to change your perception.
BuiltWith compiles data that gives us further insight into the WordPress market share. The tool lets you see how many websites in the top 1 million, 100k, and 10k for traffic volume were built with a particular CMS, and the WordPress market share stats might surprise you. Let's take a look:
355,218 sites in the top 1 million, making the WordPress market share 35.52%.
36,160 in the top 100k, making the WordPress market share 36.16%%.
3,639 sites in the top 10k, making the WordPress market share 36.39%.

WordPress isn't just the favoured platform of small bloggers. The stats show that it's also widely used by websites that accumulate huge volumes of traffic, even making it into the top 10k worldwide.

How Much Has WordPress grown?

WordPress dominance is even more impressive when you look at how much it has grown over the years.

BuiltWith very helpfully provides historical usage data, so we can track the WordPress market share over the years. This data highlights the growth of the platform from 2011 to 2021. We can see that the WordPress market share has expanded year on year, with an increase of between 2% and 8% each year.

"How does this compare with its competitors?" We hear you ask.

Well, WP's closest competitor, Shopify, has seen a much smaller growth in market share since it was established in 2014. It started with a 0.1% share which grew to a healthy 3.2% by the start of 2021, but it's still nowhere close to WordPress.

Meanwhile, the third biggest CMS, Joomla, actually dropped in terms of market share between 2019 and 2021. Its market share fell from 2.6% to 2.2%.

Other platforms seeing a drop in market share during this period include Squarespace, Drupal, and Magento.

Why WordPress Continues to Dominate

You might be wondering why WordPress continues to be so popular. The truth is, there's no definitive answer.

A large part will be familiarity with the name. WP turns 18 in 2021. It's synonymous with blogging, and almost with the internet itself.

Having said that, WordPress has rightfully earned its fame and popularity. Speaking purely for ourselves, we love the platform because it's highly versatile and easy to use, even for complete beginners. Updates and improvements are regular – the WP team is always looking for new ways to improve what they offer.

The Future of WordPress' Market Share

Does WordPress show any signs of slowing down?

Simply put, no. In fact, between January and August 2021 its share has increased again – by around 3%. There's no current indication that things are about to change, but you can never say never.

WordPress Remains the World's Most Popular CMS

While it's always good to keep an on the competition – it's safe to say that WordPress is still the internet's most popular content management system.

It's a great way to build a website, whether you're building a blog or the next big thing in eCommerce. WordPress has earned its crown by being user friendly, versatile, and adapting to the internet's many trends and changes.