Get to know Telegram – the IM service you can integrate with WordPress.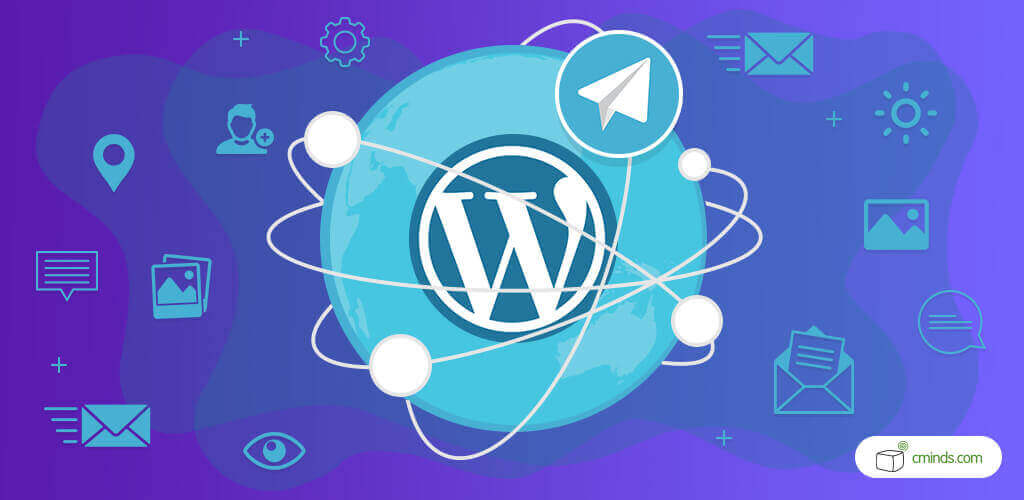 Telegram is an instant messaging and voice over service, where users can easily send photos, videos, audio, and all other types of files in the application. The Telegram app is currently available for iOS, Android, Windows, Linux and macOS.
Unlike similar applications, Telegram is also a fast and secure software to use because it is encrypted. Telegram is also very easy to integrate with WordPress, and it's one of the fastest-growing applications in the past year.
In addition to instant messages, Telegram also allows replies, hashtags, mentions, and more, just like other social applications. Connecting your Telegram application to WordPress means you can get notifications on your phone when things happen on your website. Also, you can chat with your website users on Telegram.


Now that Telegram is used by over 400 million people worldwide, with nearly 1.5 million people signing up each day, there are also Telegram WordPress plugins being developed and released for WordPress users. This integration is also expected to help the newest feature, group video calls, which is expected by the end of the year.
Also, the Telegram app uses bots to increase the instant responsiveness of the application and improve task automation. The activities that bots perform are simple and include things like replying to messages or comments.
Bots are a helpful way to increase the automation of repetitive tasks such as instant messaging, customer service, and many more functions online.
With Telegram, bots perform many essential and easy tasks, as a way to make the app much more user-friendly and keep communication flowing effectively.
1) Telegram Bot Plugin
The Telegram Bot Plugin for WordPress from CreativeMinds is a helpful plugin that extends the overall functionality of the Telegram messaging application. The plugin can send automatic messages, alerts, emails, and SMS based on Telegram conversations.
In addition, the plugin can store all messages from groups in WordPress and output the info using a simple shortcode, messages can be sent to Telegram groups, emails can be sent to multiple addresses using certain keywords and much more.
This plugin can be used to display all recent group messaging in WordPress, backup all messages from a Telegram group, update the entire team via email when someone mentions certain keywords with additional anti-spam features as well. Certainly a great addition for anyone planning to use Telegram extensively.
This Telegram plugin is just $59 for one website and $119 for up to five websites. It also comes with a year of full updates and support options, as well as documentation.
2) WP Telegram
WP Telegram is considered a top Telegram plugin for WordPress. The plugin also has a dedicated support channel on Telegram, so the integration goes both ways between Telegram and WordPress.
This plugin is fully compatible with WooCommerce for e-commerce websites, which allows users to monetize your Telegram channel. Users can also get notifications through Telegram when sales or new products are posted to the online store.
One unique feature is that users have the ability to schedule a specific post on Telegram, which is a useful tool that not all social applications have. In addition, the posts published to your website get automatically sent to their Telegram channel.
Other features include being able to quickly filter the posts by categories or custom taxonomy terms as well as have a message template with emojis and scheduling options.
3) Telegram Bot & Channel
The Telegram Bot & Channel is a unique plugin because it allows the bots to be controlled. Telegram bots are just accounts that are operated by software. The A.I. features of these accounts can be controlled by this plugin.
Some of the features of this plugin include sharing posts on Telegram channels, groups, and private messages. Posts can be scheduled on specific dates at a time in Telegram. Also, the plugin lets message responses be sent anytime, or an away message can be sent.
Unlike other plugins, this one allows users to create a Telegram bot for your WordPress website. Other features include using the search, play, connect, and rewind functions within Telegram.
4) Telegram Notifications for WooCommerce


The Telegram Notifications for WooCommerce plugin is an add-on for WooCommerce. This plugin is ideal for e-commerce store owners since the primary function is to get notifications about order arrivals through Telegram.
The premium plugin is just $18 and includes a quick and simple installation, with translation options and full WooCommerce support.
This plugin exists to work with WooCommerce and notify admin of customer orders when purchases are made. The amount of notification is also unlimited. This plugin has constant updates with new customizations and more.
5) Replain
Replain is a Telegram WordPress plugin that is available completely for free, and exists to simplify the interactions users have with their customers. Any messages sent are automatically forwarded to Facebook Messenger and Telegram, so responses can happen much quicker.
Additional features include connecting unlimited operators with clients on Telegram. It's also able to create template answers to use for responses when clients ask questions. Also, the plugin is fully customizable so you can change the look and feel of the page and app.
It's also possible to place a button or link next to text or images to make it easier for users to redirect to Telegram and begin one-on-one chats.
Conclusion


Telegram bots are a simple way to complete minimal tasks in the most efficient way. Using an application to automate tasks improves time management and customer service success overall. Using Telegram together with WordPress is ideal for increasing business success online.
The bot plugin completes repetitive and necessary tasks so that the users and admin do not have to spend time doing them every day. Interacting with a bot usually means that a user won't even have to type anything since choices will be provided.
The plugins in this list all include functionality to make the integration between Telegram and WordPress much easier. Some of them are free and some of these plugins cost money, although they are all highly rated and user-friendly. Also, they all have good support options.
Easily send messages to Telegram, add support for your e-commerce store, control bots, and many other functionalities with Telegram bot plugins for WordPress.