Dictionaries are an important tool for any language. Dictionaries are helpful reference tools which are in either book or electronic form that lists words in a language in alphabetical order and gives their meaning, or gives the equivalent words in a different language, often also providing information about pronunciation, origin, and usage.
Dictionaries are also a way to help define terms on a website for users. A dictionary was actually created back in 1604, and is still a helpful contribution to a website. WordPress actually has a wide variety of dictionary WordPress plugins which can be used by all types of websites and in any industry.
Having a dictionary section, which is usually called a site index, will have all the terms and abbreviations related to your business and products, so your customers can easily find answers to certain topics.
Top WordPress Dictionary Plugins


WordPress dictionary plugins are an essential part of a WordPress website, as the language that is defined on your website needs to be defined or explained. Customers visit your website to view your products and services, and dictionaries and tooltips are a way to improve written communication between your website and the customers.
The WordPress dictionary plugins in this list are top-rated and the ideal choices for anyone who wants a dictionary plugin on their WordPress website. The plugins are all diverse with different features, cost-effective, and great support options.
1) WordPress Tooltip Glossary Plugin
The WordPress Tooltip Glossary Plugin from CreativeMinds is a great way to build a dictionary, encyclopedia, or glossary of terms with pop-up tooltip info boxes on related terms in pages and posts.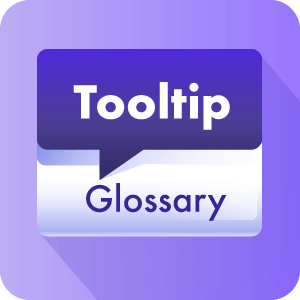 Users can even create image tooltip, and there are several helpful addons as well. The plugin also supports multiple glossaries, as well as specify definitions by custom type or specific post type. The combination of tooltip and glossary makes it a strong option as the best WordPress dictionary plugin.
Dictionary terms are automatically linked internally to both category specific index pages and throughout your site content. This is important for any SEO effort.
The free/lite version is available for download at WordPress.org. This top dictionary plugin contains all the basic features of the plugin. For example, automatic glossary, tooltips, UTF-8 languages support and more.
There is a pro version of the plugin which costs $29 for one website and $59 for up to five websites. They allow tooltips with images, Google and Wikipedia integration, visual and enhancements, among other highlights.
2) Name Directory


The best thing about the Name Directory plugin is that you can build your own glossary. The plugin also supports having multiple directories on one WordPress website. Each directory can be embedded on pages and posts with a helpful shortcode.
Each directory can be made completely unique so admin can completely customize the layout and functionality to format the titles, descriptions, names, functions and much more.
Name Directory is completely free from WordPress.org and is regularly updated. Also, the plugin supports translation and localization for multiple languages, and additional languages can have translated contributed by request.
3) WP Glossary
WP Glossary is a simple plugin to easily build a glossary on your website and link all the terms on posts and pages. One nice feature is that the glossary exists on your WordPress website, so your customers will not have to go to an external website to see the glossary.
Once activated you add glossary terms (custom post type) and link to those terms from inside your own content using the powerful WordPress shortcode functionality.
4) WordPress Tooltips



The WordPress Tooltips plugin is a great plugin that allows users to explain dictionary terms via tooltips. Admin can place words, word expressions or sentences in a tooltip or a glossary.
This tooltip plugin is free from WordPress.org, and is highly rated with excellent support options. The plugin supports glossaries with a simple shortcode to be added to any page or post. Admin can add image, video, text, audio, social links and radio into the tooltip, so it's not just words or a glossary link.
Keywords are a big part of this plugin as well, as the tooltip can detect your keywords and suggest a link to a relevant keyword. Tooltips also have the auto detect features so that the tooltip will never move out of screen, so they will always be readable.
5) Glossy
Glossy is an easy way to show word definitions via a tooltip. Admin can set the tooltip settings to allow the tooltip to be shown inline or by default. Admin can fully customize the look and feel of the tooltip.
Glossy is a completely free plugin from WordPress.org. Another great feature of Glossy is the multiple different shortcodes, as well as determining how to the tooltip will be shown on posts and pages.
Glossy also provides a shortcode attribute for changing the inline setting on a per-term basis. There is also an add-on called the Tippy plugin, so the tooltip can have more advanced features in WordPress.
6) AZ Glossary Taxonomy Index


The AZ Glossary Taxonomy Index is an amazing plugin to create multiple glossaries on WordPress websites. The glossaries take information and place it into categories, tags and custom post types.
This is also one of the only plugins which boosts SEO and improve search engine rankings for individual pages. The default settings are to create an alphabetical glossary in order, and the theme and feel of the glossary and pages are completely customizable.
Conclusion
There are many different WordPress dictionary plugins available to use. Having a dictionary plugin is an essential tool for customers who visit your website and need to have terms explained or need a way to better navigate your content.
The majority of these WordPress dictionary plugins are free for all users, and simply create a helpful glossary on any page or post on your WordPress website. Dictionaries are incredibly helpful for visitors to your website, and allows definitions to be displayed on mouseover thanks to the creation of tooltips.