WordPress plugin pricing is a notoriously difficult issue. Plugin developers want to set a fair price for something they spent a great deal of time creating. On the other hand, customers are looking for value. How do plugin developers balance the two?
Background on the Pricing Debate
The discussion on the best way to price plugins has amassed a great deal of attention within the WordPress community. It largely began when Chris Lema declared "WordPress Plugin Prices Are Too Low" citing saved time as one of the biggest reason prices should be higher. This post garnered an intense discussion in the comments section and posts on other sites reacting to Lema's ideas, many of which are referenced in this post.
Importantly, discussions like this bring the plugin pricing debate into the light. They show plugin developers aren't exactly sure what the "ideal" pricing model is. These discussions also show WordPress users looking to purchase premium plugins are likely to run into some different pricing models. This post can help users learn what's out there.
Our Survey
This topic is a complicated one, but it's important. We decided to look at plugin pricing across the board in order to figure out what is common and what is not so common. To understand how top plugin companies price plugins, we looked at various plugins from these top companies:
(To see a list of these plugin companies and more, visit ListWP)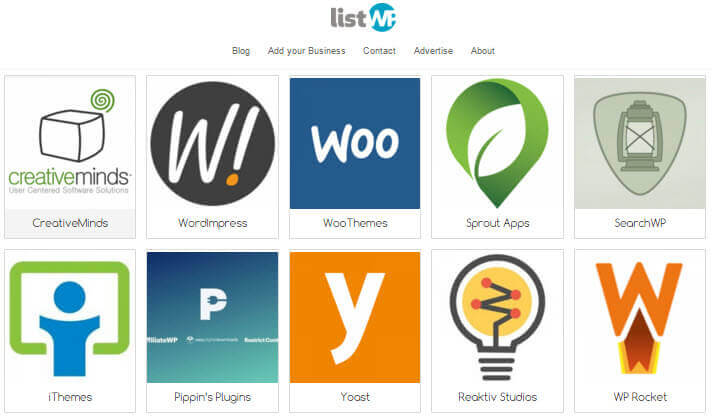 In total, we surveyed 14 different plugin companies. We scoured these sites to find information about pricing, support, refunds, and more. For some sites, the information was difficult to find, while others are completely upfront about pricing.
What We Checked
In this survey, we checked the following issues which are explained in more detailed throughout this post:
The Price Consensus
The first aspect of plugin pricing we looked at was the lowest price for a plugin. For this, we looked at the cost for the lowest number of licenses, 1 or 2, depending on the company.
Most sites don't offer the same price for each of their plugins. In this survey, we found only 1/14 (around 7%) plugin developers offered each of their plugins for the same price. 33% of plugin companies only offer one plugin.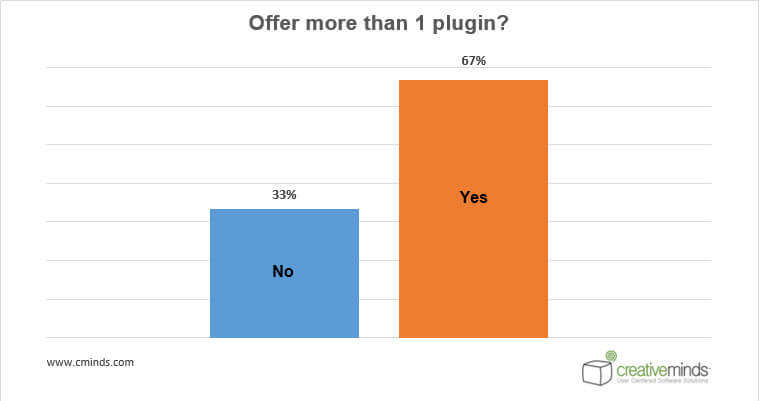 Pricing each plugin the same is rare because plugin price depends on the specific plugin, what features the plugin has, the number of features, and how complex they are. This will determine how much time it takes to build the plugin, document it, and maintain it.
To illustrate this point, let's look at a simplified example from a post by WP Business Tips:
The first plugin is one PHP file and took a few hours to write. It is simple and has one function.
The second plugin transforms an entire website, took years to develop with the help of many people, and has many complex features.
Which one costs more? The second plugin, of course. It should because it provides more value to a consumer. A plugin like the second one can help make a mediocre site into a great one. It can save developers a large amount of time. The first plugin can't do that.
In summary, plugins aren't priced the same because each plugin is different. There is no consensus as to what price a plugin should be.
Recently, we compiled data on how WordPress users choose plugins. From this research, we found a large amount of users surveyed (49%) are willing to pay more than $60 for a plugin.
WordPress users aren't just looking for the cheapest option. They're looking for the plugin that comes with the features they want and other determining factors like security, support, and ease of use.
Plugin developers have found out for themselves that increasing a plugin price doesn't always result in decreased sales. Phil Derksen's plugin pricing experiment shows increasing a plugin price won't make customers run for the hill. In his case, it increased sales. Higher plugin prices might not sound like a crazy idea after all!
Prices for premium WordPress plugins from the top plugin developers surveyed tend to be between 40-$59 for one or two site licenses.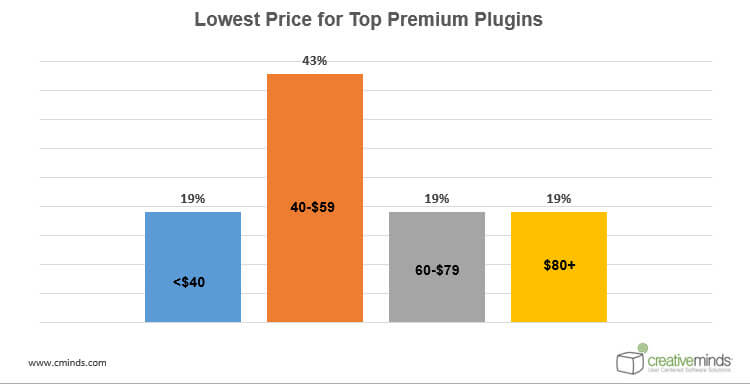 Popular Plugin Pricing Models
There are many different models plugin developers can use to sell their product. Tom McFarlin highlights the most popular ways of pricing plugins in his post on the dangers of the app store model for plugins:
Freemium: With the freemium model, developers offer free/premium (or called lite/pro) versions of a plugin. The idea is that getting users exposed to the plugin through the free version will cause a significant number of them to opt for the paid version.
Transaction: Pay a one-time purchase for a plugin.
Subscription: Pay for the plugin or support/upgrades for a certain period of time. This time can be monthly, yearly, etc.
Our consensus:
The most common pricing model (75% of developers) is a combination of the freemium and yearly subscription models.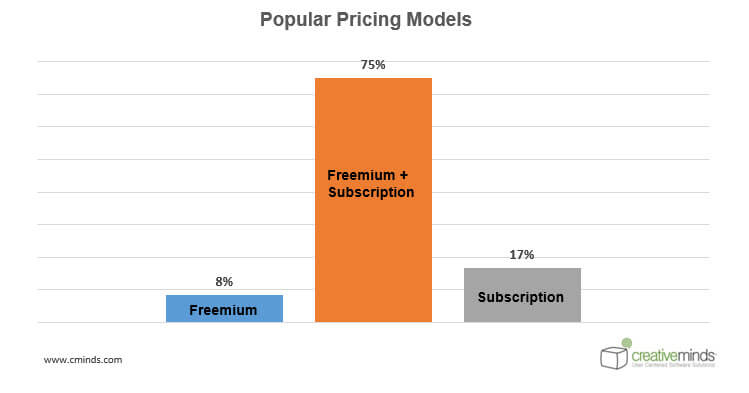 The freemium model is extremely popular, in part due to the popularity of WordPress.org. Our plugin research shows a significant amount of users 35% find plugins on WordPress.org. This is tied with another 35% finding plugins through organic Google search.
The subscription model helps businesses sustain themselves by maintaining a profit from previously sold plugins. This means they can continue to provide support and updates, and afford to work on the next new plugin.
Installation and Licenses
Most plugins follow a similar pricing structure:
-They offer one price for Basic/Lite/Personal use plugin. This comes with one site license.
-Users have the option to pay more for extra licenses in bulk and receive a discount. This is the price for the Professional/Business/Commercial version.
The majority of bulk prices are for 3, 5, or 10 licenses. The price for 5 licenses ranged from 79-$179.
For the majority of plugins, the professional version offers all the same features, just with more licenses. For others, the difference between a basic and professional version isn't just the number of licenses. Both Gravity Forms and Sprout Invoices offer more features with their professional versions.
Many plugin companies offer what is called a developer license. These are geared toward WordPress developers who want to use the plugin on many sites they work on. Developer options either offer unlimited installations or just a large number of licenses.
50% of companies surveyed offer unlimited site licenses. 14% of this number consists of developers who offer unlimited licenses as the sole option. The price for unlimited licenses ranges from $100-$400, depending on the developer. This number is significantly higher than the average price for one installation.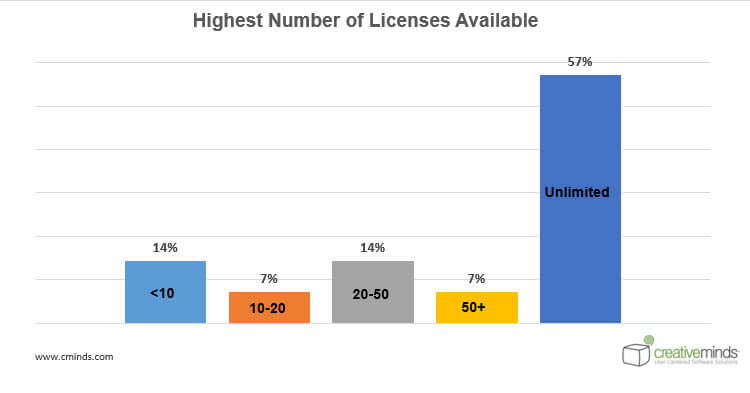 Different Users, Different Price
An important point to remember when thinking about plugin pricing is there are different types of WordPress users looking for plugins. Plugin developers understand this and have a range of prices based on various types of users. Out of the plugin developers surveyed, 93% offer more than one price option.
Offering several different plugin packages is important for appealing to a wide array of users, not just those who are able to fork over the most cash.
A WordPress developer wanting to use a plugin on many sites will likely aim to purchase a developer license with unlimited site installations. The price for a plugin package with unlimited installations is often more than the price for one installation. In comparison, a blogger who owns a single site will not need unlimited licenses and will likely opt for the most basic (and cheapest) premium plugin with only one site installation.
Different customers have different budgets based on business size, how long they've been around, etc., which all contribute to how much cash they can afford to fork over for a plugin.
So, while a plugin may save a developer time and money, a WordPress user who runs a personal website won't save much in terms of time and productivity over time. It makes sense for these users to spend $40 on the basic version of a plugin instead of $200 for the developer one.
Free Now, Pay Later Model
The yearly subscription model isn't the only option out there. There are several popular plugin companies that use a "free now, pay later" model. They offer the base plugin for free and charge for extensions that give many important functions. Easy Digital Downloads does this. So does Woocommerce.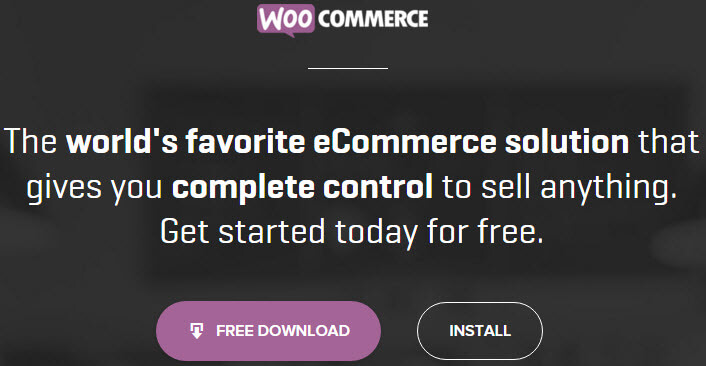 For Woocommerce, extensions can range from free to $249. If you're looking for many extensions, it can easily get expensive.
The nice thing about this model, though, is users can pick and choose what features they want the plugin to have. This way they don't have something full of extra features they don't want or need.
Also, all add-ons are part of the same, larger plugin. This can makes support easier, as you won't need to go to different developers for questions about different parts of the plugin.
Support/Upgrades
Analysis of many top plugins shows almost all plugin developers (92%) use the same support model. After the customer purchases a plugin, they receive support for one year. After the year, a license must be renewed to continue support.
Soliloquy used to approach support a different way. Their approach was to make users pay for "support tokens" in order to submit a support ticket. With the plugin purchase, users are given one token to get them started.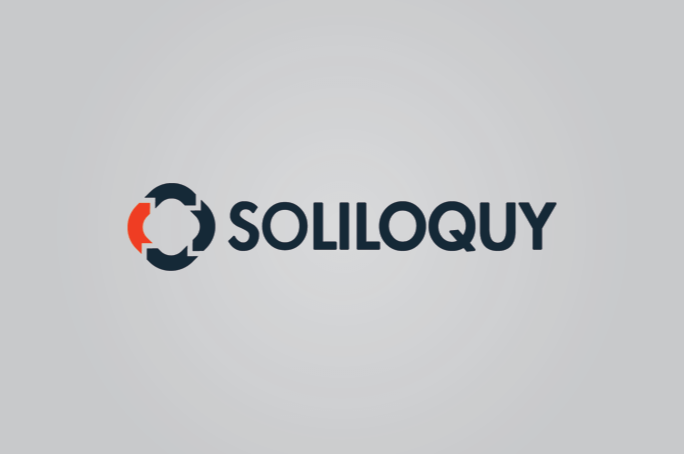 This new support system spawned from the idea that users who pay for support every year but don't use it are punished. Also, "the 20% of users that create 80% of the tickets get an incredible deal at the expense of supporting other users and developing and improving the plugin."
Soliloquy decided to try this model to reduce the time they spent answering the same users' questions and increase the amount of time spent improving the plugin and creating others. Soliloquy has since changed their support system.
Another way plugin developers price support is by offering better support for higher license levels. For example, Gravity Forms offers a developer license with priority support.
Upgrades tend to operate the same way as support. Customers receive plugin upgrades for a year after purchasing the plugin and then must renew if they want to continue receiving the newest version.
An exception to this common model is Relevanssi, which offers a "permanent" lifetime license with unlimited support and upgrades for $219. Their other packages provide support and updates for a year.
A Word on Lifetime Plugin Licenses
Some plugin developers choose to offer lifetime licenses that don't require renewal. Only 14% of developers surveyed currently offer lifetime support and upgrade licenses.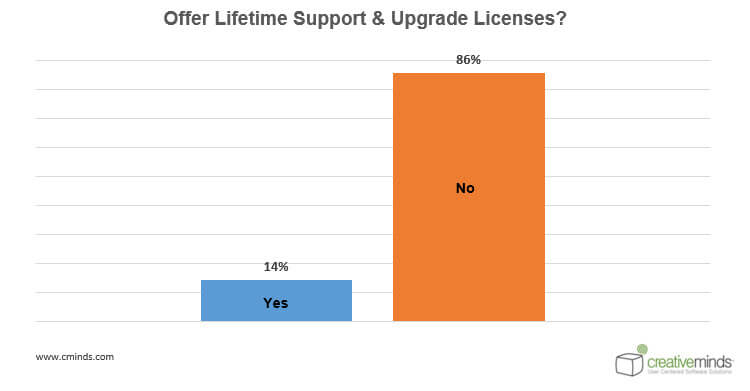 In addition to Relevanssi, Affiliate WP by Pippin's Plugins has the option for $449. Although lifetime licenses reduce the hassle of having to renew every year, they aren't popular with developers.
David Peralty of Gravity Forms describes the problem with lifetime licenses on his site:
"There are plugins selling lifetime licenses that will run out of interested buyers over a period of time, and they'll lack any way to take fans of their software and turn them into a continuing revenue source. They also require constant infusion of new customers to maintain their bottom line, where subscription offers allow companies to predict income so that they can allocate expenses."
Many plugin developers choose not to offer an option with unlimited support/upgrades because this pricing model isn't the most sustainable.
In fact, several plugin developers got rid of lifetime options. For example, Fly Plugins used to offer support and updates for the life of the plugin. In 2014, they switched to a one-year subscription model.
License Renewal Discount
For the majority of plugins, licenses must be renewed after a year. Offering a license renewal discount is a common way developers encourage customers to continue with their product or encourage new customers. Developers tend to offer renewals at a fraction of the original plugin price.
Renewals ranged from 50-75% the original price in this analysis. The most common price was 60% of the original plugin price.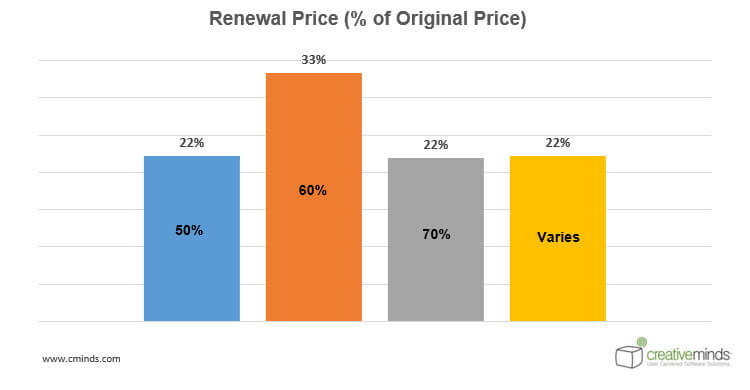 Certain developers, like Woothemes, offer a renewal discount for a specific period before the license period is up. After this, plugin users must pay full price for renewals. Others like Sprout and Yoast offer varying discounts. Other sites were unclear about their renewal discount.
Plugin Suites
Developers can offer plugin suites, bundles, or memberships to access more than one plugin at the same time. At the moment, plugin suites are fairly rare and most often available through sites with a large amount of plugins. Only 25% of companies surveyed offered some sort of plugin suite.
iThemes offers a suite of their plugins, including favorites like BackupBuddy and iThemes Security, for $247. These plugins come with unlimited site licenses and must be renewed yearly.


CreativeMinds also has a plugin suite, including all current plugins and 5 future released plugins for only $220. This is the first plugin suite to offer plugins that haven't even been developed yet.


Yoast offers specialized plugin bundles consisting of plugins that have related functions. For example, they have an SEO bundle that includes five different Yoast SEO plugins.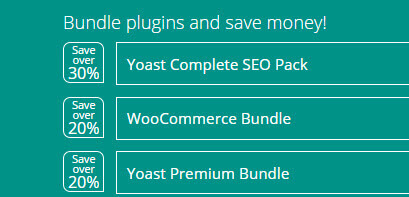 The Membership Model
Plugin developers are coming up with new, sustainable pricing models that stray from the usual pay-per-plugin model. One example is the membership model, where customers pay a certain amount to access all plugins from a developer. This is essentially one big plugin suite.
WPMUDEV is an example of a developer that pushes the membership model, making it the obvious choice for customers who want access to several plugins.
People are encouraged to become members, paying monthly, quarterly, or yearly to have access to all of their plugins. Plans start at $24.50/month. Members get better 24/7 support and private messaging.
If a user doesn't want to become a member, they pay $19/month for each plugin they want. This means it is more cost efficient to go with the membership if you want more than one plugin from WPMUDEV. For a comparable monthly price, you can have access to all of WPMUDEV's plugins, not just one. All plugins from WPMUDEV, whether under a membership or pay-per-plugin, have unlimited site licenses.
For WPMUDEV, this model seems to work, as they currently have over 300,000 members!
Case Study: WPMUDEV
Plugin developers can learn a lot from other companies' pricing mistakes. Here's an interesting related case study:
In 2013, WPMUDEV made some drastic pricing model changes. They moved from yearly, quarterly, and monthly pricing options to only monthly. This changed the yearly price for new users to $1,188 from the previous $420. That's a huge difference!
People were understandably upset. They felt like WPMUDEV's plugins were no longer available to the everyday WordPress user (going back to that important idea of appealing to different users). In response to these comments, WPMUDEV went back to offering quarterly and yearly options for customers to save money. Now, customers seem to be a lot happier!
For more on WPMUDEV's pricing change, there was a blog post but it's no longer available in 2019.
This example is not the only tale of pricing gone wrong. Finding the right pricing model for a plugin can involve a lot of trial and error. Not every change hits the mark. This is the nature of plugin pricing.
Conclusion
If thinking about plugin pricing makes your head spin, don't worry. It can be a complicated matter influenced by many different factors.
Here's an overview of the main points we gathered from this survey:
The most common pricing model (75% of developers) is a combination of the freemium and yearly subscription models.
The majority of plugin developers use a yearly subscription model and offer a free version of the plugin
The average price for a plugin with one site license is 40-$59
The majority of plugin developers offer an option with unlimited site installs
Support and upgrades tend to only be available for one year and user need to renew the license to receive more support and upgrades
Renewals ranged from 50-75% the original price in this analysis. The most common price was 60% of the original plugin price.
Few developers offer plugin suites
Plugin pricing models aren't static. Companies change their pricing based on sales, company values, and the larger WordPress environment. Also, what works for one company may not work for another. The goal is to use a model that works with both customers and the developer.
As mentioned earlier, plugin pricing depends a lot on a developer's customer base. If most of the customers are big developers or companies, they can afford to spend more on plugins that will increase productivity. If a customer base consists more of every day bloggers, they might not be able to spend much on a plugin.
Developers should aim to be clear about their pricing models and why they work. This reasoning can help to reduce the fears of customers during pricing changes. When customers are accustomed to one price, it can be jarring to transition to another.
WordPress users should also make sure to do their research into a developer's pricing strategy before making a purchase. This way, users know exactly what they're getting into, how often they need to pay, and more.
In the future, we may see plugin developers experiment with new pricing models, like the membership model. Only time can tell!