The world of Ecommerce is always expanding, and to keep pace Magento 2 is releasing a newer version this September. Magento 2.2 will be the latest update to the most popular Ecommerce platform on the internet, and is going to mainly include new features that improve upon its Business-to-Business (B2B) functionality.
This focus on B2B features makes sense when you consider the rapid growth of the B2B market. For example, back in 2013, B2B Ecommerce had grew to twice the size of the Business-to-Consumer (B2C) market in the United States. In 2019, the gap should expand even further: $1.1 trillion for B2B and $380 billion for B2C – almost three times the size! The data comes from Forrester Research.
On top of that, by the year 2020, B2B Ecommerce should generate $6.7 trillion across the globe, as reported in a research by Frost & Sullivan. The US market alone will be responsible for $1.12 billion in the following year, estimates Forrester, Inc.
Overall Highlights
Aside from B2B functionality, Magento 2.2 features will also include:
• General Bug Fixes
• Improvements to Magento Security
• Upgrades to the Magento Developer Toolkit
• Enhancements to Website Reporting Tools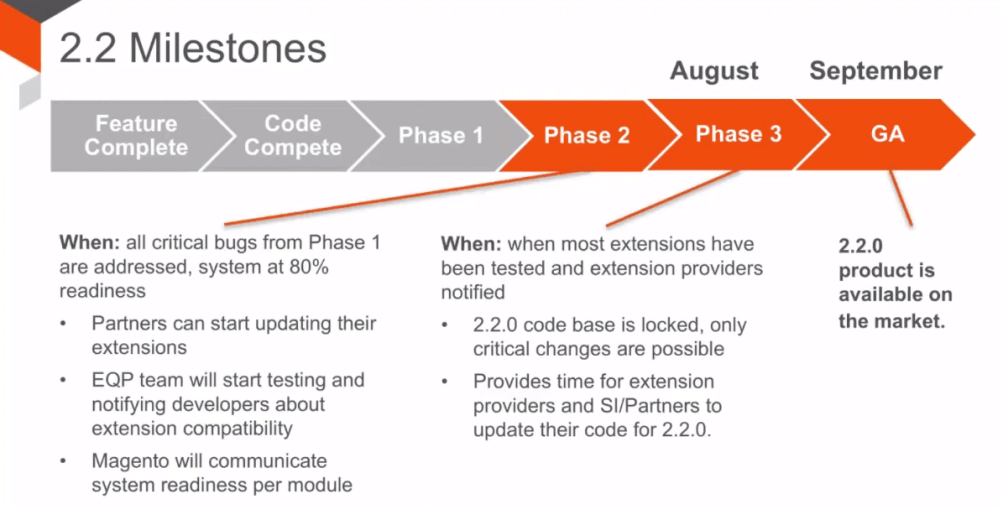 Take Note: While there are some who will say that updating to a new version of software shortly after release can be more harmful than helpful, with Magento 2.2 you certainly don't want to wait.
Outdated software is more prone to incompatibility problems with extensions and other performance failures. Not to mention, whenever a new version of Magento's software is released, old security breaches are highlighted in patch notes that can make out-of-date webstores especially vulnerable to malicious attacks.
Since this latest update comes with a range of helpful new tools to improve a webstore's Ecommerce, and it's safest to update your website as early as possible, here are the main B2B features you can look forward to with Magento 2.2:
Magento 2.2 Features for B2B Ecommerce


1. Advanced Account Management Tools
New account management features have been added with Magento 2.2 for both webstore managers, and their customers.
A customer self-service tool gives B2B customers the ability to request and manage their own company accounts. At the same time, webstore merchants are given extended features to better categorize and organize customer information. This includes the power to import and export customer lists, and the ability to designate sales representatives to selected accounts.
2. Shared Buyer Accounts and Catalogue Control
The ability to have multiple buyers share a single account, and the option for store owners to define customer catalogue access, have been long sought after features between countless Magento stores.
Previously, users would need to seek extensions for these multi-buyer solutions like this Multi User extension from CreativeMinds. But with Magento 2.2, the management of account roles and buyer permissions are implemented into the platform from the start.
This means unique restrictions can be set between individual buyer accounts, such as what product listings an account can access. This catalogue control alone is invaluable for Ecommerce websites that sell to both B2B and B2C buyers.
3. Receive and Manage Quote Requests


Like the previous feature, quote requests could only be made by customers with the installation of a third-party Magento extension. But with the release of Magento 2.2, quote management and customer negotiation capabilities will come with the platform by default.
These Magento 2.2 features enable your B2B customers with the ability to request quotes directly from their shopping carts. Customers can then include supporting comments and documentation with their quote requests if desired, and track their status once issued.
On the merchant's end, quote requests made to webstores can be easily monitored and customized through a quote management panel. Here quote details, history logs, and communications data are all recorded to assist with customer negations.
4. Drive Negotiations with B2B Customers


As mentioned, Magento 2.2 features quotes to encourage customer negotiations that improve buyer relations and increase the sales of users.
Essentially, quote summaries give merchants the information they need to optimize the returns from proposals and calculate potential discounts. Merchants can then respond to proposals with price changes and shipping offers, along with recommendations for alternative products.
This way, an effective dialogue can be supported with customers along with the comments and attachments available with quote requests. Quote expiration dates can also be set to close deals quickly and encourage customer action.
5. Encourage Speedier Purchases
Magento 2.2 features a slew of changes to reduce the time involved with a webstore's purchasing methods.
For one, it lets B2B customers make orders by entering one or more stock keeping units (SKUs) at a time. Once input, Magento will automatically validate the SKU and notify customers whether that inventory is available. Customers will also have the option to upload CSV files to quickly complete their ordering processes.
On the other side, merchants can create requisition lists for the products that are purchased from their store most often. Unlimited requisition lists can be created as needed, and later assigned to selected customers to streamline orders.
6. Enable Customers to Make Payments on Credit


Before this update, PayPal and credit card payments were the only means to make transactions on Magento without installing extensions. With the introduction of Magento 2.2 however, a payment on credit option will now be available.
Magento merchants can configure their store's credit options to manage the purchasing conditions for their B2B customers. Minimum and maximum order limits, and credit restrictions for chosen countries, are among some of these adjustable credit payment settings.
Furthermore, Magento merchants will be able to monitor customer credit data and specify limits between those individual accounts. This means trusted buyers can exceed the credit limit for purchases compared to other, less familiar customer accounts. Customers will also be able to track the status of their personal credit information.
7. Improved Shipping Options


The last of the new Magento 2.2 features available to improve your B2B operations concerns the management of shipping options.
Aiming to reduce overall shipping-related costs, new Magento 2.2 features will enable merchants to automate their primary shipping processes. Included with the update are the management tools to organize the loading and dispatching of store products from anywhere, and the ability to apply unique product allocation rules per each shipping location.