Frontend Products and Inventory Management
The Magento® 2 Supplier Product Inventory Management Extension by CreativeMinds allows approved suppliers to add and manage products on a front-end dashboard of your site.
Managing Inventory Dashboard

This inventory management extension has the ability to benefit both admin and suppliers.

Admins have the ability to manage suppliers and uploaded products, while store suppliers can upload products from a front-end dashboard without gaining access to the store admin panel.

Frontend dashboard grid showing all vendor products
Managing Product Attributes

Admin can assign attribute sets available for each supplier or vendor, while maintaining the admin's exclusive ability to approve or dismiss uploaded products, as well as being able to moderate supplier products which need further editing.

Vendor's Edit / Add product screen showing attribute available
Vendor Reports

Reporting features allow admin and suppliers to generate detailed reports on sold items and sales achievements. This helps admin track supplier performance.

Vendor dashboard showing revenue report and graph
Magento® 2 Stock Management Extension Uses
Inventory Management – Give suppliers,vendors or employees limited management access to upload products from a front-end dashboard
Stock Management- Help make sure a supplier product is always in stock
Maintain Admin Capabilities including product approval and moderation
Save Admin Time – Allow suppliers to upload their product information directly to your Magento® 2 store
Update Product Inventory – Let suppliers update stock data to prevent misunderstandings
Sales Reports– Admin and suppliers can see revenue reports to track performance
Supplier Management Panel – Each supplier has a private dashboard where uploaded products can be viewed and managed
Supplier Product List – Suppliers can view and manage their products from the front-end dashboard
Vendor Assignment– Admin can assign a vendor or supplier with a product
Compare CM Supplier Product Upload to Other CM Extensions
Compare between CM MultiVendor Marketplace and CM Frontend Uploader
Supplier Frontend Product Uploader Related Resources:
Related Products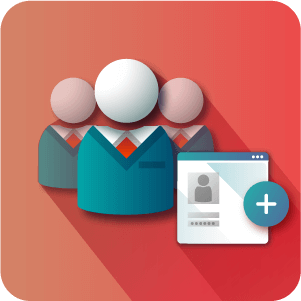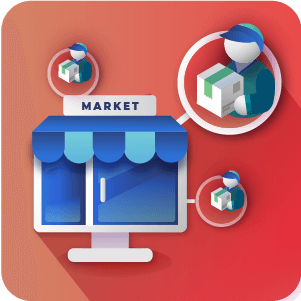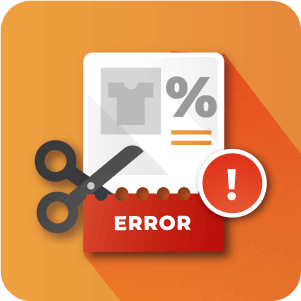 Frontend Products Inventory Management – Admin Features
Please check the user guide to learn more about this extension.

Supplier Registration– Enable/Disable option for suppliers to register in a separate form
Vendor Profile Approval– Admin can set to approve vendor's profile after registration, or have it approved automatically
Auto/Moderated product Approval– Admin can decide if created products are approved automatically or need approval from admin panel
Customize Product Upload Form– Product upload/edit forms can be easily customized in the admin panel
Product Labels– Admin can change the labels of the existing product metadata
Supplier Reports– Admin has a report of all the products added by the supplier
Product Supplier– Admin can change a product's supplier/owner
Supplier Tax Group– Admin can define tax group for supplier's products
Product SKU– Admin can define if suppliers can define products SKU or it will be auto-generated
Number of Images– Admin can define the maximum number of images that can be uploaded per product by a supplier
Product Type– Admin can define what type of product can be created by supplier
Downloadable Products– Admin can define type of downloadable product files types and it maximum size
Filter Sales Reports– Filter sales reports by suppliers, product categories, customer groups, and more
Frontend Products Inventory Management – Supplier Features
Product Uploader– Suppliers can add new products (simple, configurable, downloadable and virtual), each containing a product description, metadata and images
Stock Management– Suppliers can view and manage their products from a frontend dashboard
Product Preview– Preview products on frontend before they go live
Supplier Login Page– Separate registration and login page for suppliers
Supplier Notifications– Supplier can receive approved product notification and order notification
Cloning Products– Supplier can clone their product
Sales Reports– Supplier can track sales performance
Frontend Uploader Extension Additional Modules
Frontend / Marketplace Vendor Subscription (User Guide) – Supports adding a subscription plan for vendors. The plan restricts how many products each vendor can create based on their subscription plan. Admin can set how much each plan costs. The subscription plan is created as a virtual product and vendor needs to purchase this in order to activate the subscription.
Frontend / Marketplace Inventory Updater – With this addon, vendors can point to a CSV file which be used on a daily basis to update their inventory in their installation.
Frontend Products Inventory Management Demo Request
Frontend Products Inventory Management Image Gallery
Frontend Products Inventory Management Frequently Asked Questions
Please check the user guide to learn more about this extension.
Is there a limit to how many supplier accounts can upload products to my store?
No. Anyone who has a customer account can upgrade to a supplier account and upload products to your store, that is of course assuming they have your admin approval. You can approve as many supplier accounts as you like and even add them yourself manually.
Does the extension let suppliers access my Magento admin dashboard?
Absolutely not! Each supplier account has it's own front end dashboard from which the supplier can upload and manage products. There is no need for the suppliers to log into the Magento admin dashboard at all.
Will I be able to approve or dismiss products uploaded to my site?
Yes. In the admin panel you can determine which suppliers you trust and that can freely upload products and which of suppliers require admin moderation and approval.
The built in notifications system will notify you whenever a new uploaded product requires moderation and approval and will also notify suppliers when their product has been approved, moderated or dismissed.
To learn more about this feature see this Help article.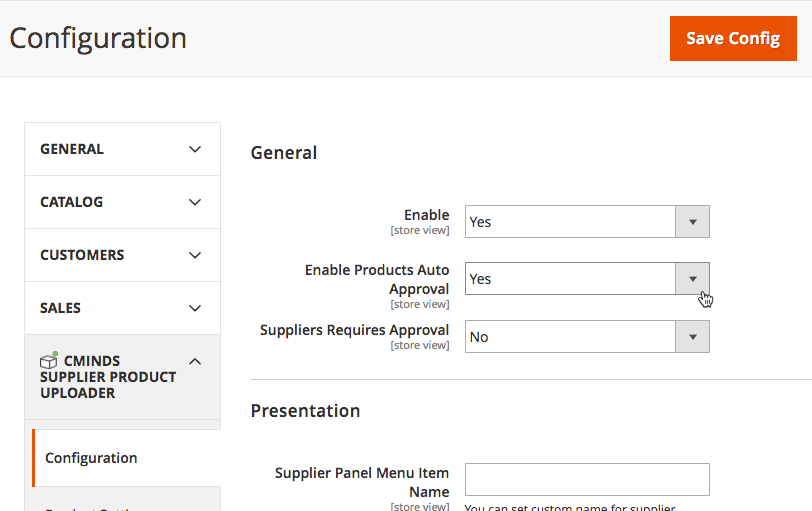 Can a customer buy from multiple vendors in one order?
Yes, customers can buy from multiple vendors in one single order. In this case, the shipping cost is calculated as the total sum of shipping costs from all vendors in the current cart. For example if you have three products in your cart, 2 from one vendor, and 1 from another vendor, total shipping costs will be the sum of shipping cost set up by one vendor for his products, plus the shipping cost set by the second vendor for his product.
Can Suppliers be notified by the Extension when an order for their product(s) has been made on the store?
Yes. When products are ordered that belong to a vendor they can receive an email notification that they have orders waiting. This can be disabled or enabled by the vendor but the default setting is for it to be enabled globally.
To learn more about this feature see this Help article.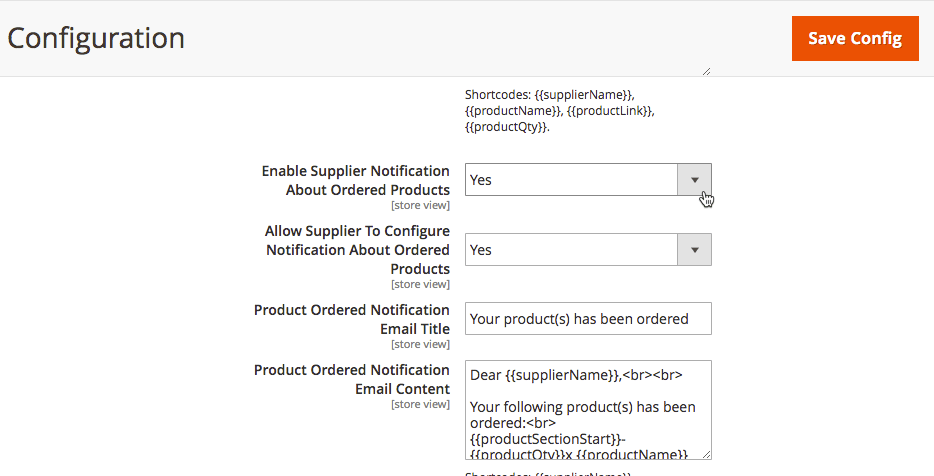 Is it possible to have suppliers who provide digital content manage uploads/downloads with this Extensions?
Yes. Suppliers are able to add and manage digital products on the store. By default the extension allows only Simple products to be uploaded but other product types including Downloadable products can be Allowed through the Configuration settings.
To learn more about this feature see this Help article.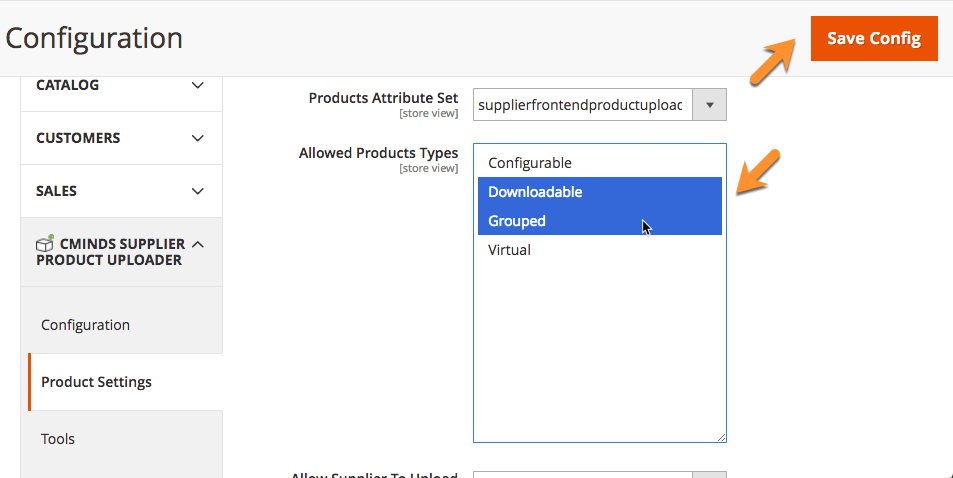 What types of products can a supplier upload?
Suppliers can Upload any types of products you want to allow. Simple, Configurable, Virtual, Downloadable or Grouped. The kind of products that are available is set in the Configuration settings for the Extension.
To learn more about this feature see this Help article.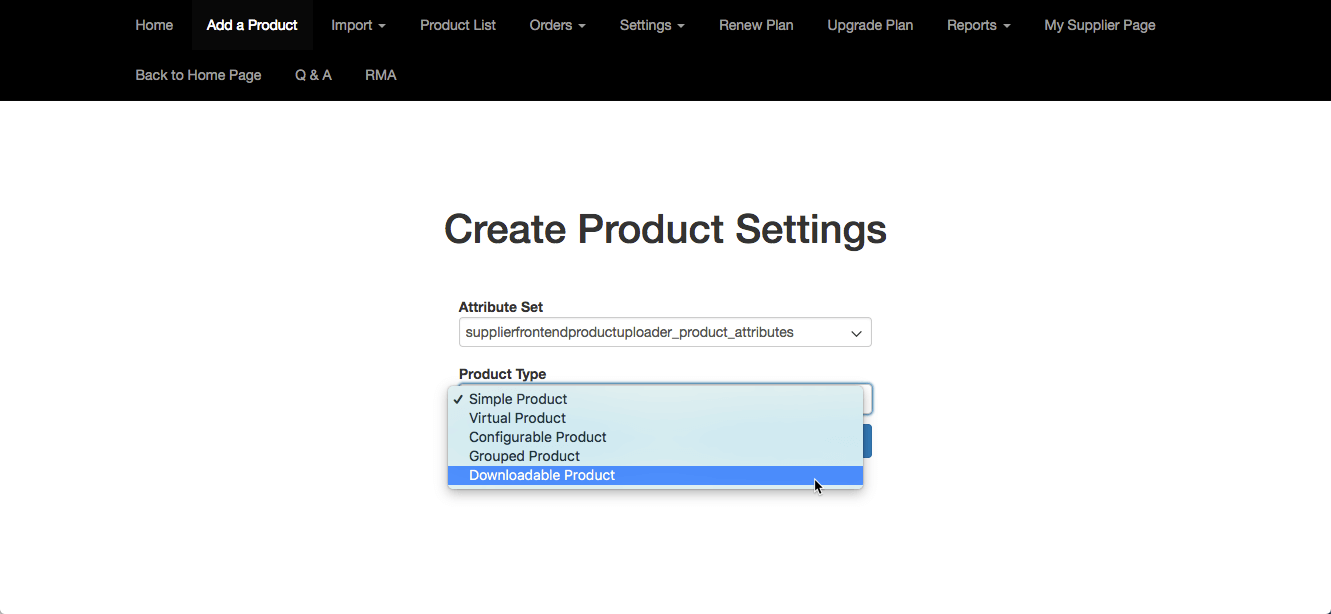 Version 1.1.9 22nd May 2019
fix: text editor issue fix for above Magento 2.3.0.
fix: cminds supplier redirection for supplier domain url.
fix: Resolve issue in set visibility when Approve/Dis Approve product from supplier products grid from backend.
fix: resolve issue in set visibility to Catalog,Search for associated products.
feat: MSI changes from version > 2.3
add sources to product edit, create, clone.
add suggest source functionality.
add admin list for suggested sources.
fix: Backward compatibility fix
rudimentary code removed
fix issue with source suggestion
added compatibility support with 2.2.x magento versions
added admin menu item dependency on config option
fix: when upload product image from vendor panel.
fix: Supplier custom field issue on register page.
fix: Supplier custom field blank on vendor page.
fix: Supplier Page shows blank when add custom profile fields.
fix: Cminds icon change in configuration and position change.
Version 1.1.7 1st Apr 2019
The issue for setting the visibility for the associated products is fixed.
The issue related to visibility of the Product, depending if it is approved or disapproved, is fixed.
Version 1.1.6 27th Feb 2019
The style fixes were added.
The "Back Url" on the Customer Edit page from the admin side now works properly.
The new feature Export to CSV on product ordered grid in Reports section was added
Version 1.1.5 13th Feb 2019
Remove support for php5.5.
The support for php7.2 was added.
Version 1.1.4 5th Feb 2019
The multi currency support was added to the extension
The fixes to the bugs were added ( (now the Grouped Products can be successfully cloned))
Version 1.1.3 30th July 2018
Added code fixes while saving the product on the vendor panel
Fix: Set data only for Admin store while approve product for frontend
Fix: An exception Notice: Undefined index: attribute_set_id code refinement as suggested
Version 1.1.2 27th July 2018
Version 1.1.1 15th June 2018
Fix special price on product edit page
Fix creation of downloadable product
Fix cloning of grouped product
Fix error on editing grouped product
Fix saving attribute set for the configurable product
Version 1.1.0 31st May 2018
Menu item "Manage Suppliers" on the admin side in moved to the M2 Supplier Frontend Product Management extension
Version 1.0.46 18th May 2018
Added bug fix for the extension on the Magento 2 Enterprise Edition
Version 1.0.45 17th April 2018
Improved the performance and safety of the code execution
Version 1.0.44 05th April 2018
Customer can complete checkout even if no email sending program is installed on the server or website.
In Magento 2.1, supplier cannot create product if the product exceeds the limit for images.
The button in the admin panel "Save and Continue Edit" on the supplier page redirects back to the edit page.
Version 1.0.43 23rd Feb 2018
Supplier products after creation / edition approved product flag is reset and set to pending if configurations says that supplier products require approval. Previously disapproved status was set what was misleading.
Version 1.0.42 09th Feb 2018
Update default configuration.
Version 1.0.38 11th Jan 2018
Admin is able to see all supplier shipping methods, can also edit and delete them.
Configurable products management in vendor panel has been updated.
WYSIWYG editor has been updated in product create/edit form in vendor panel.
Sample product import file download in vendor panel has been updated.
Vendor products association with website has been updated during product create/edit in vendor panel.
Version 1.0.36 6th Dec 2017
Creating downloadable products in vendor panel has been fixed.
Cloning ability for downloadable products in vendor panel has been fixed.
Products import functionality in vendor panel has been updated.
Minor issues fixes and improvements.
Version 1.0.35 6th Nov 2017
Product in vendor panel is being saved on default store.
Fixed issue that in some circumstances special price equal to 0 was set.
Fixed issue that in some circumstances special price date from equal to current day was set.
Fixed issue that in some circumstances qty has been not properly saved.
Performance updates.
Many major issues fixes and improvements.
Version 1.0.34 1st Oct 2017
Product created in vendor panel are saved only in admin scope, in others used are default values.
Version 1.0.33 30th Aug 2017
Minor layout fixes in vendor panel.
Version 1.0.32 23rd Aug 2017
Single notification is being sent to each supplier about his ordered products after order place.
Version 1.0.31 8th Aug 2017
Pagination in supplier product list view has been updated.
Version 1.0.30 3rd Aug 2017
New tools section has been introduced in admin panel for supplier module, which currently adds ability to set all categories as available for suppliers by single click.
Version 1.0.29 16th July 2017
Configurable products creation and edition process has been fixed in vendor plier panel.
When no associated products exists proper information is displayed in associated products view in vendor panel.
Removing associated products has been fixed in vendor panel.
Sku generation for associated products has been fixed in vendor panel.
Clicking on category label triggers checkbox check in vendor panel product edit/create view.
Back button in supplier product edit admin view has been fixed, it is redirecting to supplier products grid.
Supplier products grid columns naming has been updated.
Version 1.0.28 21st July 2017
Filtration by supplier name has been fixed in supplier products grid in admin panel.
Version 1.0.27 5th July 2017
Supplier category restrictions minor fix
Version 1.0.26 1st July 2017
Introduce new cache type for vendor panel.
Vendor panel navigation is being cached.
Filtering by status in vendor panel issue has been fixed.
Displaying categories in cloned product edit view has been fixed.
Supplier category restrictions has been fixed.
Version 1.0.24 22nd June 2017
Fixed compatibility with flat catalog category.
Fixed compatibility with flat catalog product.
Displaying only allowed categories during product creation/edit in supplier panel has been fixed.
Extension Version 1.0.19 28th April 2017

Supplier panel navigation updates.
Install and upgrade scripts update.

Extension Version 1.0.18 25th April 2017

Fix installer script issue on Magento 2.0.13.

Extension Version 1.0.17 13th April 2017

Fix which makes that supplier product statues and quantity are reflected properly in admin panel.
Install and upgrade scripts update.

Extension Version 1.0.15 11th April 2017

Fixed issue with magento url key duplication during product approval.
Fixed issue that product has been approved even if there was an error during approval process.
Email templates has been updated, for example product name and product url has been added to supplier ordered and approved email template.
Email subjects are now fetched from configuration.
Improved email placeholders parsing.
Supplier product grid performance improvement.
Setting quantity for grouped products in supplier panel has been fixed.
Supplier email and name columns has been added in supplier products grid in admin panel.
Approval and disapprove functionality refactoring, it has been moved to separated service.
New configuration option has been added, supplier product can require approval after being edited.
Vendor panel navigation has been updated.
New configuration option to give ability for supplier to configure notification about ordered products.
New validation rule has been added to supplier create/edit form to check if category has been selected.

Extension Version 1.0.14 6th April 2017

Fix issue when product has been not auto approved when auto approve functionality was enabled for configurable products in vendor panel.
Fix issue with saving proper quantity value when auto approved functionality was disabled for grouped products in vendor panel.

Extension Version 1.0.13 28th Feb 2017

Fix issue with upload video.
Fix issue with show product photos on edit product page.

Extension Version 1.0.12 26th Feb 2017

Fix issue with linking products to supplier during their creation.
Fix issue during product cloning in vendor portal.

Extension Version 1.0.11 24th Feb 2017

Add feature to upload youtube video for products.
Fix issue with attribute set on edit product page.

Extension Version 1.0.10 23rd Feb 2017

Update module dependencies.

Version 1.0.9 27th Dec 2016Version 1.0.8 31st Oct 2016

Fix: Supplier shipping methods validate when supplier dont have shipping methods.
Fix: Vendor portal issue – don't show product name in order.
Fix: download reports best sellers.
Add "in stock" for grouped products in create / update forms.
Supplier now can upload logo.
Refactoring and minor bugs fixes.

Version 1.0.7 28th Sep 2016

Supplier rate view fixes, performance updates, checking customer authorization.

Version 1.0.6 22nd Sep 2016

Supplier shipping methods display changes in checkout.
Supplier shipping methods cost calculation fixes.
Previously selected supplier shipping methods are restored during new order placing.
Validate if for each supplier shipping method is selected when supplier shipping method is selected before placing an order.
Validate if sum of selected supplier shipping methods is correct before placing an order.
Refactoring and minor bugs fixes.

Version 1.0.5 5th Sep 2016Version 1.0.5 5th Sep 2016

Module dependencies update.
Suppliers can name their custom shipping methods.
Supplier shipping methods are available in checkout cart shipping estimation.
Supplier shipping methods are available in checkout process.
Minor bugs fixes and code quality improvements.

Extension First Release 2nd June 2016