About the Essential Content Marketing Tools Plugins Package
Improving your content marketing abilities is essential to keep your users engaged and also have a better ways to draw thier attention. Our set of content marketing WordPress plugins will help online marketer to use additional ways of communicating with their potential customers and converting them to action.
The bundle includes the following WordPress plugins:
1+2 – Ad Changer Client and Server

WordPress Plugin Ad-Changer Server

Create, manage and display your mobile responsive ad campaigns across multiple WordPress websites. Post your ads across multiple websites, pages and posts.Track stats and generate custom reports.

3 – Popup Banners Pro

Create high converting popups and fly-in campaigns. Includes banners, text and forms and the ability to track campaign stats. Create fully customizable popups for multiple websites and schedule popup campaigns with date and time.

4 – Welcome Message and Disclaimer

Creates and tracks welcome popups and disclaimer messages placed on your WordPress site pages. Add multiple popups to specific posts and pages or schedule multiple campaigns.

Welcome Message and Disclaimer WordPress Plugin Tutorial

5 – Onboarding Plugin

Create an onboarding tutorial widget for your WordPress users and improve your user experience and onboarding time. Assist site users, answer questions, and increase conversion rates.

Introduction to the CM OnBoarding Plugin for WordPress

6 – Content Related Product Recommendations

Shows product recommendations and product reviews based on the content of your post. Choose where on the page to display relevant products on your website.

How to show Related Products on your WordPress blog

7 – Notification Bar Pro

Adds a notification layer to your WordPress site header so your WordPress users will get updates, promotions and call to action alerts. Users have access to performance reports and graphs.

Add Notifications Bar to your WordPress Site
Essential Content Marketing Tools Bundle Frequently Asked Questions
What is the benefit of this bundle?
How many times can I install each plugin?
How do I download the plugins and get new updates?
Once you have an active subscription to the plugin suite, you will be able to log into our customer dashboard where you will see all the updates and downloads. Learn more in the general support guide.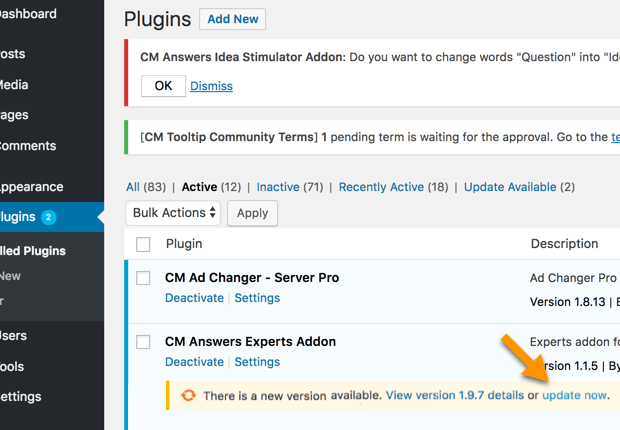 Can I have additional add-ons included to compliment the plugins already in the bundle?
Contact our pre-sale team we may be able to include some add-ons for some of the plugins at a discount if you buy them together with the bundle.
Why is the Ad Changer Client and Server 2 plugins?
It's two because it works by connecting two or more websites, one from which you manage and Serve the ads and one or more Clients where the ads are displayed.
A seperate plugin is required for the server side and for the client side.
Are all of these plugins designed to market within my site or are any of them for marketing from my site through external sources?
Most of them aim to market within your own site, all except the Ad Changer Server and Client plugin which broadcasts ads to one or more other WordPress sites using yours as the Server / Management site.
How are the "Welcome Message and Disclaimer" or "On-boarding" plugins useful for content marketing? Arent they just for helping new visitors?
They are very useful for content marketing. Yes they were originally designed with welcoming and on-boarding new visitors and users but what you put within the welcome message popup or the on-boarding widget is totally up to you.
Treat them as a handy place to store key words and phrases to try to boost your rankings within the google search results… Up-sell or cross sell other products or hot deals that you have on promotion. They act as convenient new places for you to place important content on your site, especially if you find some of your pages are becoming crowded.