A couple of months ago I was running a promotional campaign for one of my clients that has a Magento® CE based online store. They started a promotion to get customers back to their store, giving a 15% off coupon to loyal customers who hadn't shopped for a while in their store.
They asked me to set up a Magento promotional coupon code that can only be used by registered users who belong to the specific customer group (loyal customers), and be able to limit its use to one time only.
This was a very easy setup to do on Magento, you just go on admin to promotions->shopping cart rules, add a new rule, assign it to the specific customer group and limit the use per customer and per coupon to 1.
After a while the promotion started and customer service got a lot of complaints from customers. They would often ask, why is my coupon not working?
The standard Magento coupon setting has it that no matter what, for whatever reason a coupon is refused, customers see the same error message: "Coupon code "coupon-code-number" is not valid."

This is a big problem, because the customer never knows why a coupon code isn't working. They don't know whether it is because they need to be logged in to use the coupon, or if a coupon has been used already, or whether it is because they are not eligible to use the coupon according to the conditions specified in the shopping cart rule.
This can cause a big headache for customer service and make for an experience of confusion and disappointment for the customers.
Since we started running email marketing campaigns and social media campaigns to a big number of our clients, this issue came up again and again. We needed a solution.
For that reason we decided to develop the Custom Coupons Error Message extension for Magento®, which addresses this issue and solves it once and for all.
This extension allows you to set up custom error messages for all the different reasons that a coupon may not be applied.


If a customer enters a wrong coupon code, he/she can now get a custom error, "this coupon does not exist." If he is not logged in or does not belong to the correct customer group, he can get a similar relevant error message. If the coupon code expired, he/she can get a specific error message and understand why the coupon cannot be applied.
Furthermore, if you notice that a coupon promotion doesn't seem to be working well, you can see a statistics report module for each coupon according to the number of times a specific error message has been displayed. This shows admin the problems customers are having with each coupon code.
This can give administrators answers to questions like "what's happening with my promotion" and "why am I not getting sales?" Now you can see if it is because custom coupon conditions are set too high, or because people do not understand how to use the coupons. It could also be an error with the assignment to a specific customer group.
This report gives insight into the effectiveness of marketing campaigns and helps admin catch errors they may have made when setting up promotions.


The Results?
Since we started using the Coupon Code Error Message extension, we removed some of the guesswork with coupon code errors. With this extension, Magento stores can use custom coupon codes for specific customer groups and define specific conditions while keeping customers informed if a coupon doesn't work. They no longer have to leave customers guessing.
Our clients got better conversion rates for their coupon promotions in Magento. This extension also saved time spent talking with customers about coupon errors. Customer service teams stopped working so hard to support every marketing promotion and more eCommerce coupons were applied successfully, resulting in higher sales.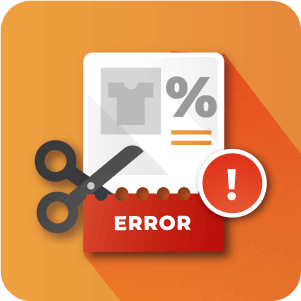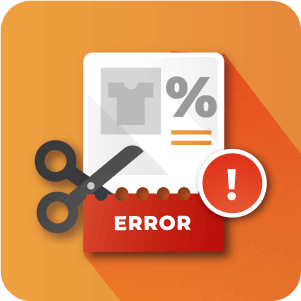 Other Magento Extensions That Should Interest You