In 2020, over 455 million websites use WordPress.com. That means that the WordPress market share is 35% of all websites in the world! This is an increase of 2% compared to 2019 and a 4% rise from the previous year. Also, over 20% of all self-hosted websites are currently using WordPress.
WordPress is the most popular content management system available on the web today. The platform currently holds a 62% market share for websites that were built using a content management system. Over 400 million people visit WordPress powered websites each month.
If you're a WordPress developer, you already know that WordPress is an ideal tool to use when building a website. But you might be wondering how your potential clients and fellow developers are using WordPress, so it's important to look at the WordPress statistics.


State of the Word – WordPress Yearly Surveys
Matt Mullenweg, founder and CEO of WordPress, addresses some of these questions in his state of the word survey held each year. The numbers as well as the presentations can be found online for the years 2011, 2012, 2013, 2014, 2015, and 2016 , and 2017, and 2018, and 2019 This allows people to track the progress of WordPress as a CMS.
The 2019 presentation gives you a great overview of how people are using WordPress, as well as core WordPress development changes.
Who Uses WordPress?
Not surprisingly, the range is wide. WordPress is a very versatile platform, so it is an ideal choice for both large and small businesses, as well as individuals. Large corporations, well-known blogs, small businesses, and individuals flock to WordPress to create fully functioning and aesthetically pleasing websites.
WordPress started as a blogging platform. Yet, there are now fewer people using WordPress solely for blogging. 69% use it only as a CMS, 20% as both blog and CMS, and 6% only as a blog. Also, the average load time for WordPress has dramatically decreased to just four seconds. In addition, the average time to type is now just 53.01ms.

W3techs.com provides information related to the usage among high traffic site verses low traffic sites and also provides some of the names of big companies who use WordPress. As you can see below, WordPress accounts for many of the high traffic website usage.

Another great resource for finding out which sites use WordPress is Builtwith.com WordPress stats. This shows how WordPress usage has grown over the years (from 2011 to 2020), and the ranking of the websites using WordPress.

Which Version is Used Most?
According to data from W3Techs.com, the latest WordPress version is used by nearly 75% of websites running on WordPress. This is a decrease from previous years, where the newest version was used by nearly 90% of WordPress users.

Monthly WordPress Usage Statistics
WordPress.com gathers and releases various statistics about WordPress usage, including monthly pageviews and posts published. In January 2020, over 409 million people viewed over 24 billion pages each month through WordPress.
This same month, WordPress users published over 80 million new posts through the CMS.
Where WordPress is Used
WordPress is used in over 178 countries. 2018 was the first year that non-English downloads surpassed English downloads. That is now a consistent trend for WordPress downloads worldwide. There are also 57 different languages available for WordPress.

WordPress Search Traffic
Google Trends is a good resource to check the search volume. WordPress is the clear winner for search traffic once compared with other CMS. Once researching Google Trends, you can easily see that, compared with other popular search terms from other domains, WordPress popularity is growing. These results can also show you live who is finding your content through search.

WordPress as a CMS Platform
According to w3techs, WordPress is also the most popular CMS in use by a landslide, with 35.8% of websites using WordPress, representing a whopping 63.1% of the CMS market.

BuiltWith.com can provide more detailed number and charts related to the usage and growth of WordPress:
This shows 48% of the top one million websites use WordPress as a CMS as of April 2020.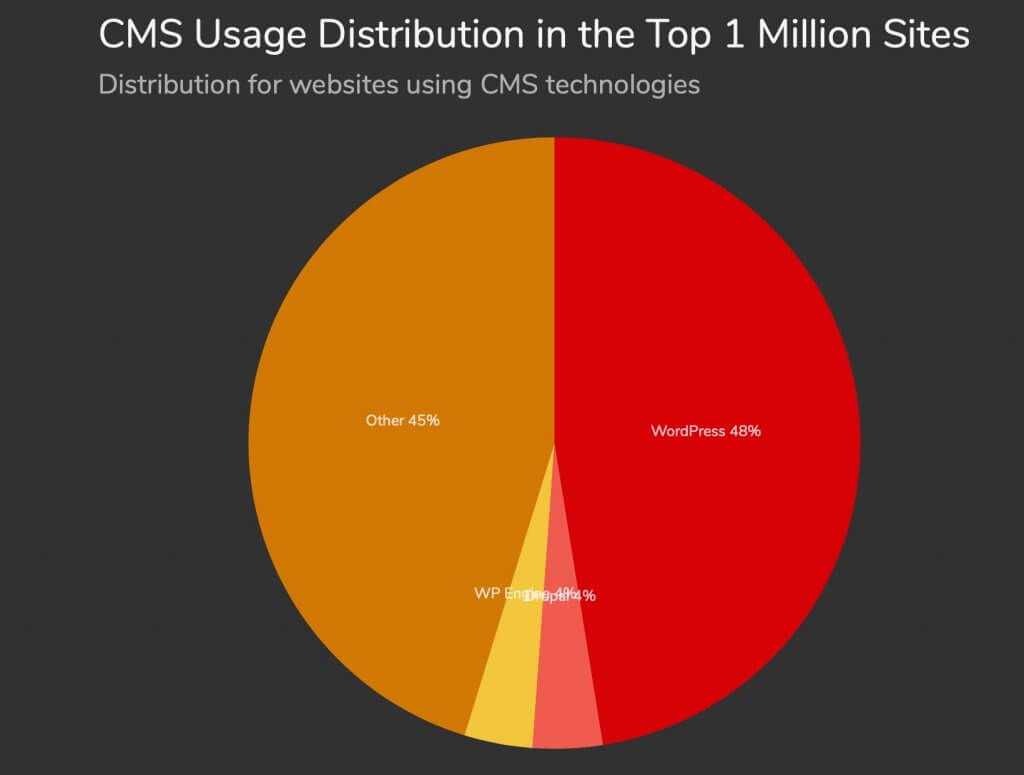 What Devices Are People Using to Access WordPress?
WordPress, like any other platform, is seeing the rise of activity from all types of mobile devices. In the past year, WordPress has made a real effort to be much more mobile responsive to all devices. This is reflected in the need to make the platform responsive and friendly to mobile devices.

79% of access to WordPress is through smartphones or tablets and Gutenberg is now available on mobile as well. In fact, Mullenweg stated that of the 34 core blocks in gutenberg, 10 of them are already usable on mobile devices.
WordPress Live Numbers
For a fun interactive count of WordPress software downloads, you can visit the live download counter for wordpress.org.

and check out the WordPress.com interactive activity map.

Plugins and Themes Stats
One of the best things about WordPress, aside from ease of use, is its flexibility. The wide range of plugins and themes built by developers are what give users this flexibility.
In 2016, there were 1.5 billion plugin downloads in the WordPress.org repository alone. As of April 2020, there are over 55,800 free plugins available through WordPress.org.
Through HackerTarget, you can find out which plugins are most often used and to what extent. Here are the 2020 results.

The numbers are also available for themes and shows which themes are popular within the top 500k sites found in Alexa.

Using the Wayback Machine Archive, we conducted a small survey on the growth of the free available plugins and the number of plugins downloaded over the last few years, from which it is possible to see the vast growth in both numbers.
The number of plugins according to this chart is growing every year by about 20%.

Conclusion
Many people around the world are making a full time living using WordPress and there are a lot of opportunities for developers to help businesses build sites with high functionality.
As a developer, it's always good to know how your WordPress statistics and clients use WordPress. These statistical resources can help you provide better support for your clients. The things people liked most about WordPress were ease of use, community, and flexibility, which have all been improved each year.
We've given you a lot of numbers and we hope you've found these resources helpful in understanding the people behind WordPress sites. Now go get nerdy with them and make us proud! We would love to hear if these stats match up with your personal experiences with WordPress.