This use case took place in 2012 and the platform is not available anymore. The client used versions of CM Registration, Site Access Restriction, and custom development hours.
---
Over 1500 high-school students and over 70 teachers from more than 46 schools are now involved in authentic bioinformatics research via Rutgers University's DNA Sequence Analysis Program (DSAP), a user-friendly, interactive learning, teaching and research web application, planned and built by CreativeMinds in collaboration with the principal contractor for the project, ZV Ventures.
The problem
DNA sequence analysis is a basic tool underpinning all research in molecular biology. All life-science students therefore have to master it, and teaching them requires significant resources. Until now, the process was mainly carried out at the undergraduate level by teaching assistants (M.Sc. and Ph.D. students).
Rutgers University wanted to encourage high schools to teach this essential tool, with the aim not only of better preparing high-school students for university studies in the life sciences, but also of firing students with enthusiasm for life-sciences research and showing them that they too could contribute and make a difference.
Such a teaching program would have to meet several requirements:
Cater to potentially thousands of high-school students and their teachers nationwide.

Provide intuitive, easy-to-navigate access to extensive teaching resources in a variety of formats.

Enable students to work collaboratively and help each other, preparing them for the teamwork involved in modern life-sciences research.

Link students with researchers in the field, who would provide the clones for study, help guide the students, and authorize the quality of their work.

Enable their teachers to review their work and provide online help.

Enable participants to submit their work to the research community and receive feedback and advice.
The solution
The university decided to offer high schools an online e-learning web application, and received a grant from the National Science Foundation for its development. Rutgers chose ZV Ventures as the main contractor to develop the web app, and ZV turned for help to CreativeMinds. In collaboration with ZV Ventures, CreativeMinds developed for Rutgers the DNA Sequence Analysis e-learning web app.
Via the DSAP web app, students participate in a real molecular-biology research project. They can publish their results, allowing scientists worldwide to access their analysis.
The system helps the students work systematically, step by step, to discover the sequence of the DNA clones being analyzed, and then submit them to the National Center for Biological Information (NCBI).
The system has been an outstanding success. Hundreds of high-school and undergraduate students have become proficient in clone sequencing, have had the opportunity to participate in real research projects and have submitted clone information to NCBI.
Over 1,500 high-school students are currently learning and engaged in the research process, through the DSAP web app developed by ZV Ventures and CreativeMinds.
Some features included in the solutions
Peer-to_peer communication between researchers / students and between the students themselves on specific issues
Students who have managed to finish all their work can help other students who have unresolved issues
Online contextual help is provided for each step of the process
Advanced statistical analysis helps the administrators and the teachers understand where students have difficulties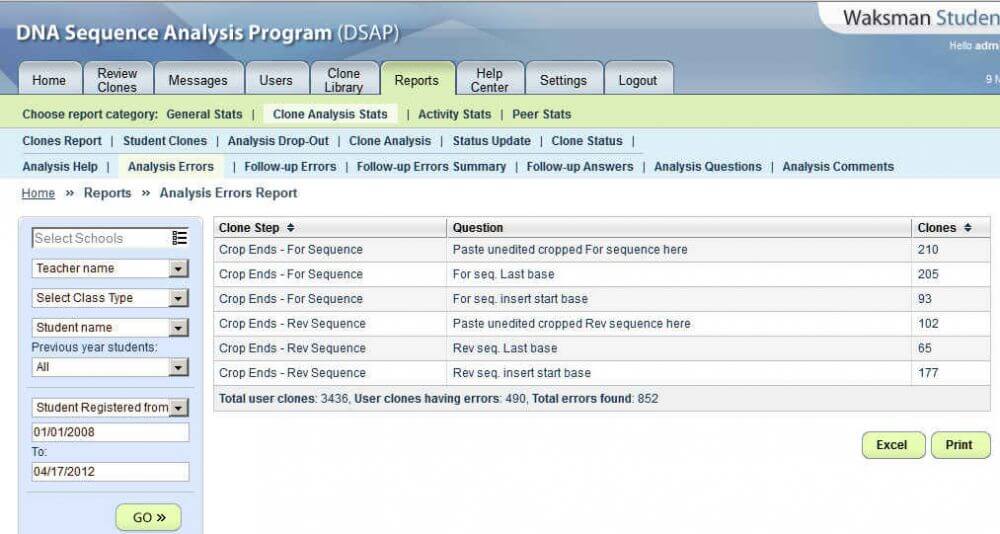 Built-in before and after quiz system enables evaluators to estimate the impact of the learning process
Dashboard for the students and the teacher which includes all learning activities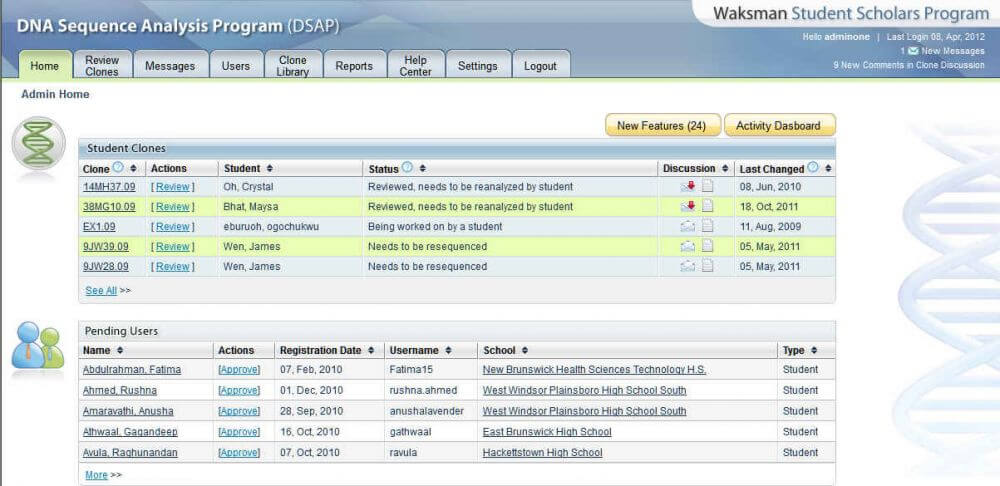 The help center has useful information in a variety of media formats: