This use case took place in 2012 and the platform is not available anymore. The client used custom development hours from CreativeMinds.
---
Aternity redefines end user-experience management for Global 1000 enterprises by delivering the industry's first Frontline Performance Intelligence (FPI) Platform, effectively transforming every desktop – real or virtual – into a self-monitoring platform that is user-experience aware.
Equipped with comprehensive application and desktop coverage, advanced, real-time analytics, and massive scalability, the Aternity FPI Platform provides complete visibility of the end user behavior and application performance of cloud-based applications "From the Edge on In".
In 2011, as part of a major upgrade of the FPI Platform to Version 5.0, Aternity decided to completely redesign the user experience of their product. They looked for a company specializing in user experience redesign, with the proven skills to craft an easy and intuitive navigation, and optimal workflow, across the many functions offered by the Aternity FPI Platform. After researching suitable companies, they chose CreativeMinds.
CreativeMinds was responsible for the total redesign of the interface and user experience of this product.
Initial Preparation
An in-depth analysis of the previous product, and of Aternity's marketing requirements

An examination of case studies regarding other products in this market.

Extensive client interviews with Aternity's customers.

Understanding the types of usage which need to supported by the product, and the target audience matching each of these case studies.
At all stages of the redesign process, CreativeMinds ensured client understanding, feedback and approval via multiple meetings and discussions with Aternity. At the end of the process, CreativeMinds presented an entirely new concept for the product and a detailed functional design to support the new features and workflow.
Positive Feedback
The Aternity team were delighted with the "great results," commenting that CreativeMind's expertise "made a major different to the way we designed our product, from functional design up to graphic design, and… had a strategic impact also on the way we distributed knowledge to our customers and partners" (Philippe Cohen, VP Products and Site Manager and Eran Carmel, Director of Product Management at Aternity).
Screens Taken Before Redesign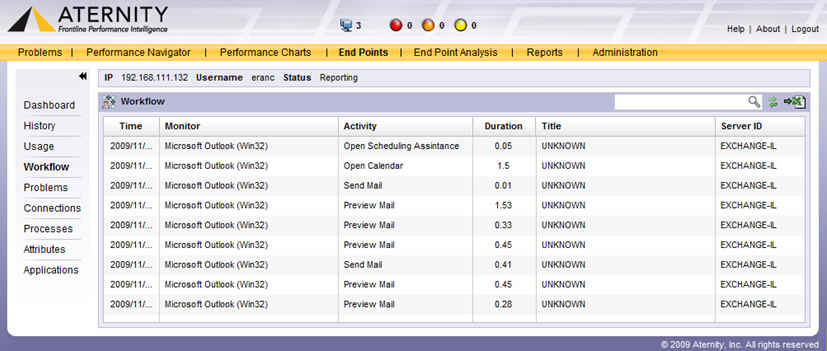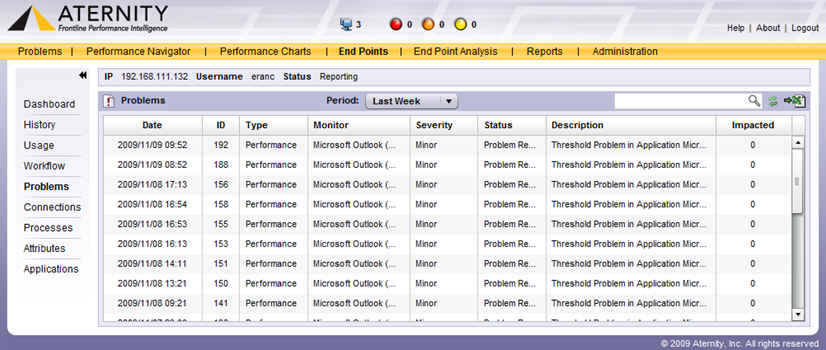 Screens taken after the redesign