One of the best options out there for building your ecommerce business is Magento. If paying someone to build and manage your website for you isn't your thing, online tutorials can be a great source of information.
They can be accessed anywhere there is an Internet connection. The minimal time and money commitment makes online tutorials perfect for beginner and advanced users.
Magento can be a bit overwhelming for the beginner user. Even though it is one of the most popular ecommerce platforms, good resources for learning Magento aren't exactly plentiful. Luckily, there are certain sites that offer Magento tutorials. Here, we have sifted through the online tutorials for you and picked out the best. So, grab your coffee and start learning!
Free Online Tutorials for Beginners
Level Up tutorials is a general tutorial site that is one of the top resources for Magento beginners. Not only do they have 69 video tutorials to show you the basics of Magento, the site is also free to use! The tutorials walk you through each step of building and managing a Magento site. Popular beginner tutorials include "How To Install Magento Sample Data" and "How To Install Magento."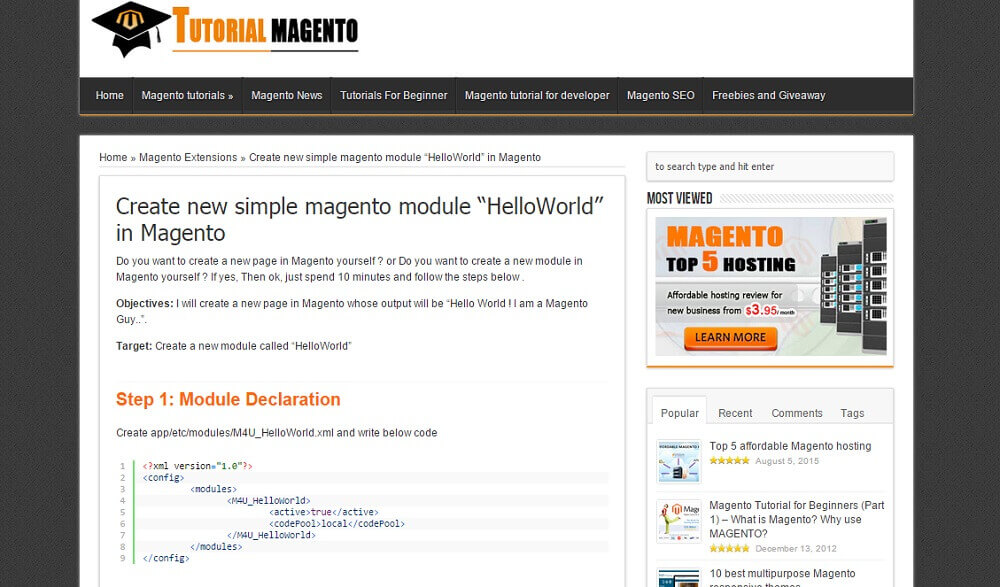 Tutorial Magento is a site that offers free written tutorials on Magento. One of the most popular tutorials teaches users how to add a Hello World module to their site. Check out the Tutorials for Beginners tab to access 11+ pages of tutorials geared toward beginners. Whether you are figuring out where to start or want an answer to a specific question, this is a good site to explore the world of Magento.
Another popular way to learn just about anything is through YouTube. If learning Magento is your goal, YouTube has several tutorials to get you started. Remember to sort videos by most views, as videos with the most views tend to be more useful and trusted by users.
For a good intro to Magento, check out Jarek Francik's popular video "Install Magento and start an on-line store within an hour!" CreatingaWebstore also has some good Magento tutorials, including a step-by-step installation guide and a guide to installing themes. Want to learn how to install an extension? There's a tutorial for that.
Siteground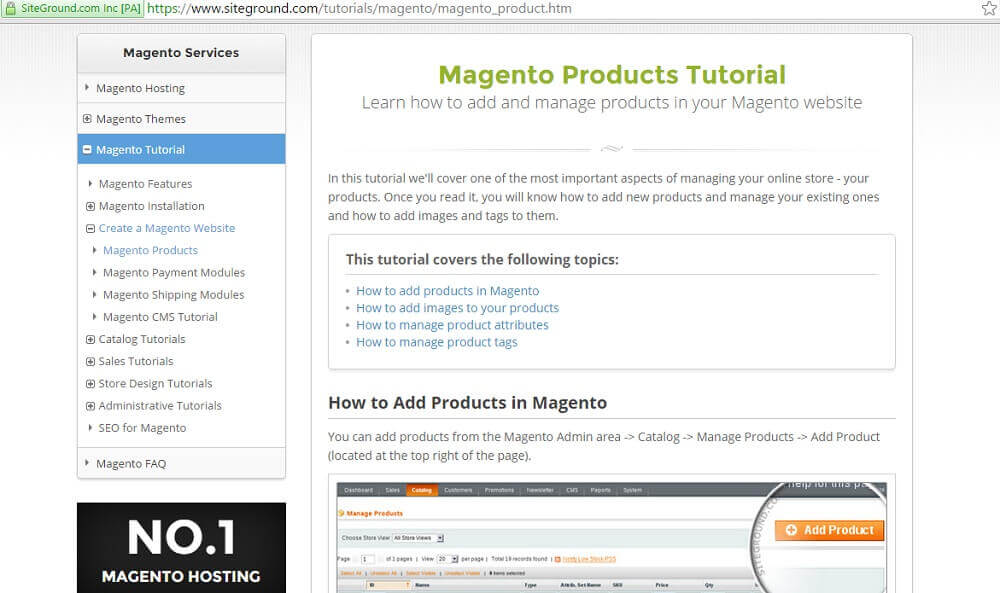 Siteground is a popular website that offers hosting and resources for Magento learners. Their free written Magento tutorials are easy to follow and navigate. They include an overview of exactly what you will learn in each tutorial. These tutorials answer basic questions from how to install Magento to how to design your store and use add-ons. A nice tutorial shows you how to get your site up and running by adding products. The site also offers free video tutorials on a variety of Magento topics.
Online Tutorials You Must Pay For
Tuts+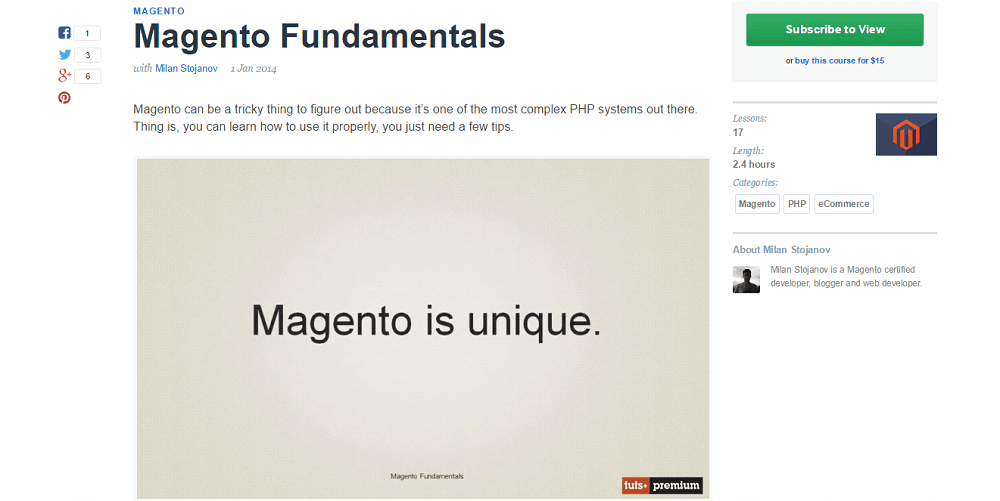 Tuts+ is one of the most trusted sites for online tutorials. You can either view their free written tutorials, or sign up for Tuts+ for only $15 a month and access every tutorial the site has to offer. Free written tutorials include "From Beginner to Advanced in Magento: Introduction & Installation" and "A Comprehensive Approach to Magento SEO: The Basics."
If you're willing to spend the $15 a month, take advantage of the Magento Fundamentals course. The course involves six different chapters and is taught by a Magento developer. Tip: Make sure you know the basics of web development before you start this course, as the course assumes this.
Udemy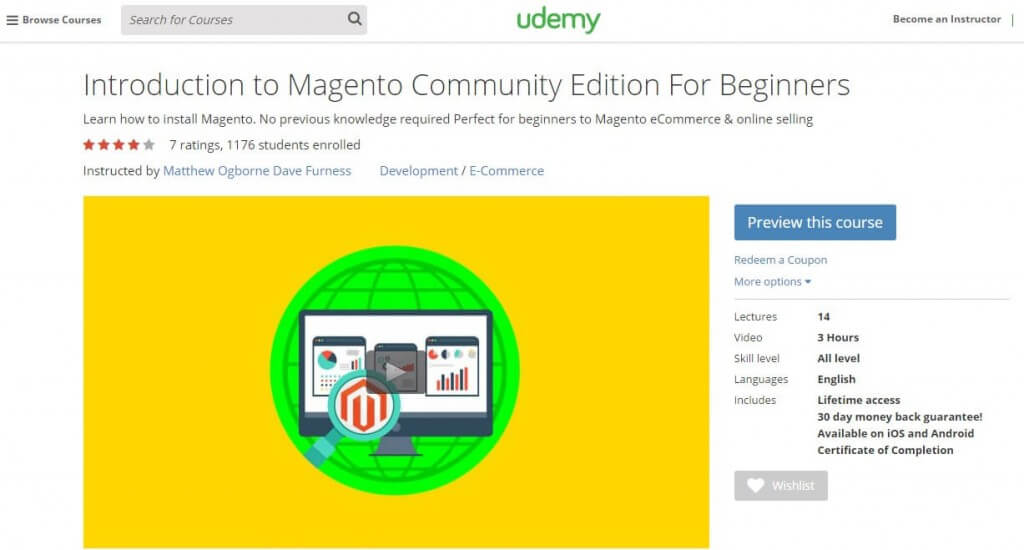 Udemy is an online learning site where you can pay to take courses on a wide range of subjects. They have a small number of Magento video tutorials. Udemy is a good option if you're looking to get your hands on information about different platforms.
To gain access to the Udemy courses, you must pay per course. The price for each course varies. One of the most popular and easy on the wallet is a $9 course called Introduction to Magento Community Edition For Beginners. Tip: Make sure to check out reviews of the course before you commit to paying for one.
Magento U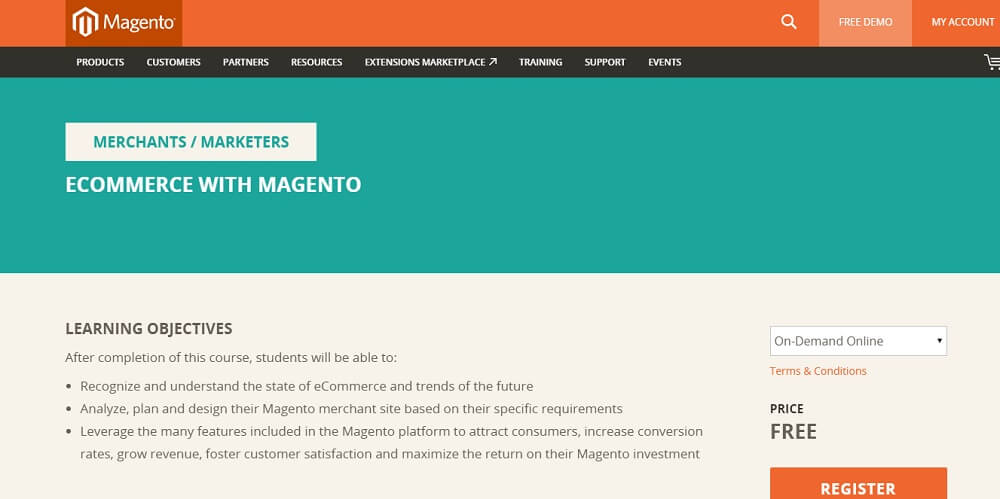 Magento offers courses for both beginner and advanced learners. They offer a couple free on-demand videos. Check out the free eight hour course "Ecommerce with Magento." This course is geared toward people who are new to eCommerce or are looking to switch to Magento from their current platforms.
If you're looking to learn more and don't mind paying, $119 gets you access to the "Merchant Track" course. This is designed for someone looking to create a Magento store from the beginning. If you're looking for training straight from the company, this is the place to get it.
Note: Make sure you check the prerequisite information for each course so you can get the most out of them.
Advanced Users
If you already know Magento basics and want to learn more, several websites offer tutorials for more advanced users. You may be able to find what you need simply by searching YouTube, or you may want to check particular sites. Below, some options are briefly outlined.
Fromdev is a general technology website that has a small amount of free, written Magento tutorials. Check out How To Set-up Multiple Magento Web Stores.
BelVG.com Certification Videos
BelVG is a Magento extension company that produces tutorials for developers which answer advanced questions related to topics that appear in the Magento certification exam.
MageStudyGuide for Certification Exam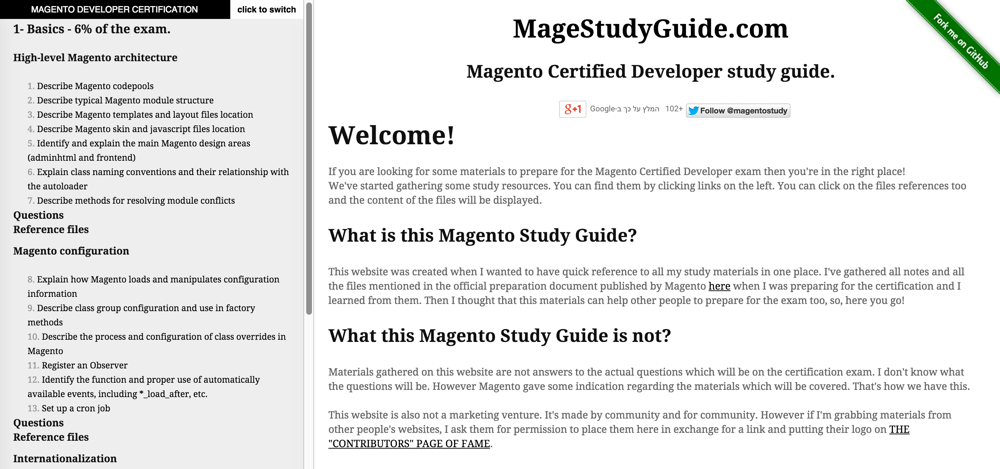 This website was created for a quick reference to all the Magento certification study materials in one place. It is a very good resource for developers who want to pass the exam.
Best Bets for Beginners
As you can see, there are many free options for Magento learners. Here are some of the best places to find free online tutorials:
Level Up Tutorials-These tutorials are the most widely used and beginner-friendly. You can find all you need to learn the basics of Magento.
YouTube- A great free resource that allows you to filter by most views. As you will see, Level Up Tutorials has the most popular YouTube channel for Magento tutorials.
Creative Minds Magento Tutorials
Here at CreativeMinds, we offer resources to help you learn Magento. These include video tutorials on our YouTube channel and written tutorials on our website. For a good beginner guide to Magento extensions, including CM Magento extensions, check out our article "Down to The Basics: How to Install a Magento Extension."