Currently, Magento is the most popular e-commerce platform in the world. According to Magento's website, more than 250,000 merchants around the globe choose Magento as their e-commerce platform.
Magento attributes this success to the platform's high level of usability and customization. It's also helped by an army of Magento innovators, over 150,000 trained developers worldwide. These innovators have created a robust repository of tested extensions that add a wide range of functions.
To get a clear picture of Magento's success, we decided to delve into some statistics.
Magento Usage
Builtwith.com follows the number of websites using Magento between March 2016 and February 2017. In this approximately one year span, the number of websites on the entire internet using Magento increased by over 48,000.
Another way to visualize Magento's popularity is by seeing how often it is searched in Google using Google Trends. This live graph compares the interest in Magento to other e-Commerce platforms.
For many years, Magento was the most popular of these platforms, but was surpassed slightly by Shopify last year.
BestPlugins.com shows Magento downloads greatly increased since the platform was released in 2008.
Magento vs. Other E-commerce Platforms
Recent 2017 data from Builtwith comparing e-commerce platform shows Magento powers 28% of websites across the internet and 16% of the top one million websites.
While more companies used to choose Magento than other platforms, Woo Commerce, the e-commerce tool by WordPress, has caught up. Magento is still far ahead of other platforms, including Shopify and BigCommerce.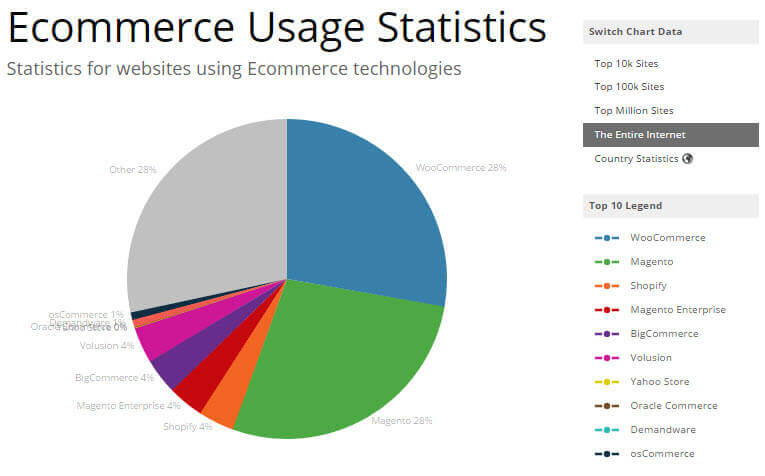 According to Magento, they are one of the top 3 providers to the top 500 Internet retail companies. Between 2013 and 2014, the amount of top 500 companies they served doubled. This growth is unsurpassed by IBM and Oracle, showing that Magento continues to grow in popularity.
Magento continues to increase in popularity. According to Ecommerce platform migration statistics, it is the top pick for existing businesses that want to migrate to a new platform. More businesses are choosing Magento.
Where is Magento Used?
According to BuiltWith, Magento is used all over the world. Most Magento users are based in the United States, then the United Kingdom and the Netherlands.
Looking at Google Trends, it is also possible to see where Magento searches are being made. This does not necessarily correlate with the location of where the platform is used but could also indicate where development is being made.
Magento Performance
According to Magento's website, the platform managed 101 billion dollars in transaction volume during 2016. This amount is expected to grow rapidly by 2020, according to Magento: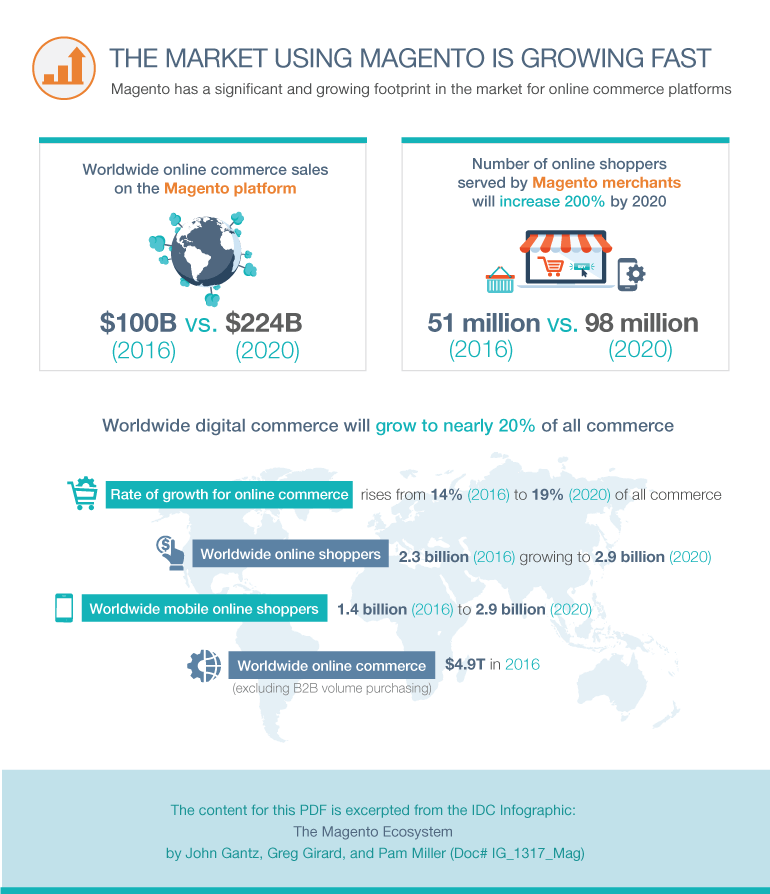 This platform is capable of managing a wide range of businesses, from those with large transaction sums and those with not as much.
The company has 300+ technology partners, which indicates the popularity of Magento and provides more performance options.
Another way to measure performance is to survey the average response time of Magento websites. Magento benchmark data compares the server response time for small and large merchants using Magento 1 and Magento 2. The industry norm is about 2 seconds.
The following graphs from the report compare Magento 1 and 2 response times when performing different functions: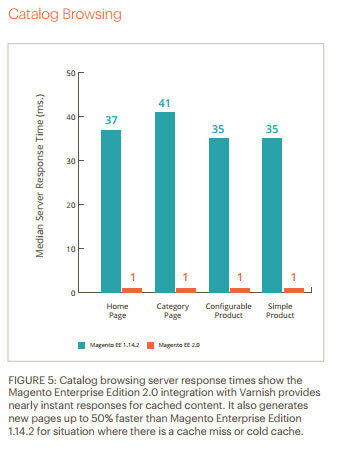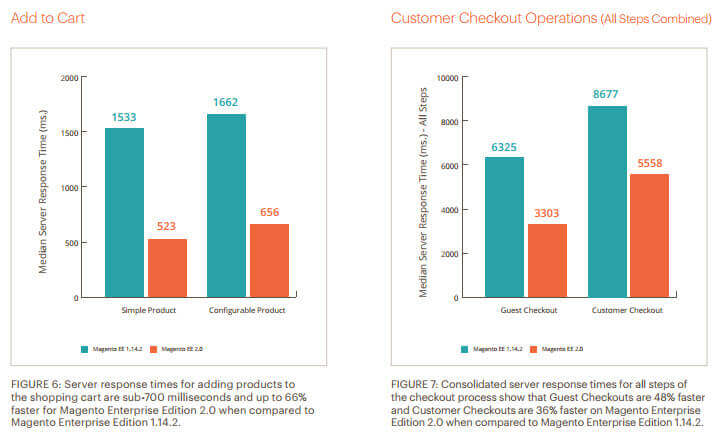 Those data are for shops that handle approximately 500 orders per hour. In comparison, server response time data for large merchants that handle approximately 2,000 orders per hour: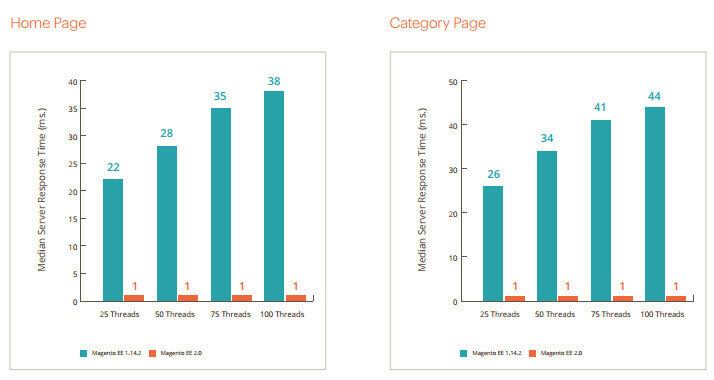 According to the Magento whitepaper, Magento 2 is also able to handle significantly more orders per hour.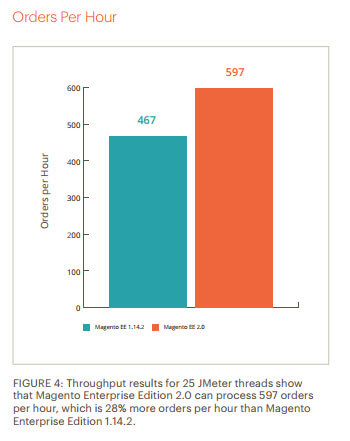 Checkout Statistics
A common problem for e-Commerce business is abandoned shopping carts. This is when a customer adds items to their shopping cart, but leaves the site without buying the items.
Screenpages.com analyzed data from March and May of 2015 to quantify customers' checkout process. The data shows 3.74% of site visitors actually make it to the basket page. Of these shoppers, 10% exited the website from the shopping cart, while 41% completed the purchase.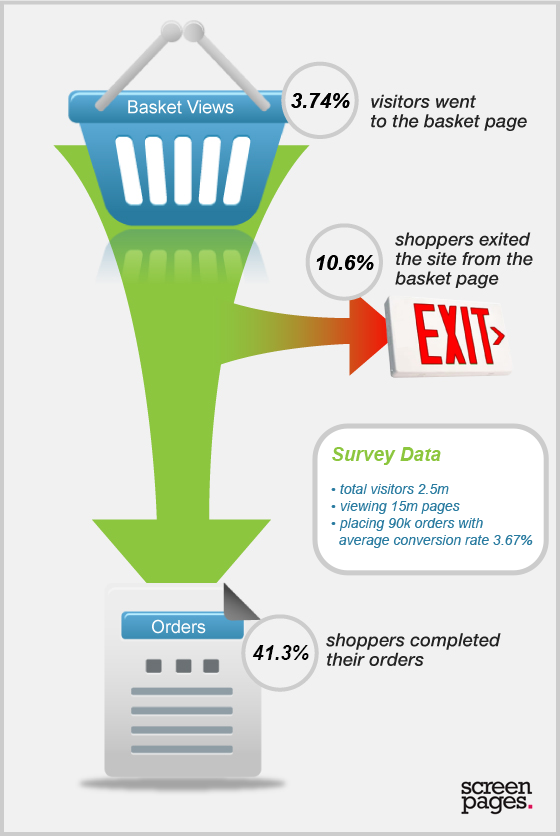 Increasing the number of definite sales on Magento sites will depend on bettering the product or service, in addition to doing everything possible to make the website user friendly.
What is Magento used for?
Not surprisingly, Magento is used mostly for shopping sites, according to builtwith.com. Magento makes it easy for retailers to sell their products and for customers to buy them.
Conclusion
Whether you are choosing an e-Commerce platform, or want more information about Magento for yourself or your clients, we hope you found these statistics useful.
As shown in these statistics, Magento is the top used open source platform. It is trusted by some of the biggest companies. Companies continue to choose Magento over other options available.
People who choose Magento tend to be happy with their decision. According to a survey, merchants attribute 10-80% of their sales uplift to Magento's features. Users consistently report good experiences with the platform and Magento's popularity reflect this.
Magento platforms can handle a wide range of traffic and operate with high performance. Website responsiveness is better than the industry norm, making Magento sites great for viewing on mobile devices.
Here you have the numbers. What is your experience with Magento? Do these statistics hold true for your business?