Monthly Magento Maintenance Service Details
Are you spending too much time fixing and maintaining your Magento store? Do you need a reliable yet flexible service to set up extensions, adjust themes, add custom features and troubleshoot errors?
Our certified Magento specialists help you prevent error messages, slowdowns and other issues preventing your eCommerice from working properly. We can also improve your site by adding features based on your needs.
Rest easy that your eCommerce is in the hands of professionals. Get in touch with us now!
---
Monthly Magento Maintenance Packages
Feature

Basic

Advanced

Deluxe

$249

/ Month

$449

/ Month

$849

/ Month
Unlimited usage
| | | | |
| --- | --- | --- | --- |
| Help desk support | | | |
| Magento extension updates | | | |
| Magento extension installation | | | |
| Magento theme updates | | | |
| Magento backup support | | | |
| Magento security auditing | | | |
| Magento performance monitoring | | | |
Additional Package Hours – Can be used for feature development, bug fixes, site optimization, consulting, code review, integration work and custom modifications.
Magento monthly available hours
4
8
16

$249

/ Month

$449

/ Month

$849

/ Month
---
Who Benefits The Most
Entrepreneur – Setting up an eCommerce, booking site or service listing all by yourself? Let's set up the technical foundation and grow together
Small Businesses – You might not be able to hire a full-time Magento specialist (and also might not need one). We can offer fast paced and personalized support
Big Businesses – Let's solve your problems so you can work smoothly. We can create and adjust any Magento tools so that your team can save time
---
Which Package Should I Choose?
That depends on the complexity of your needs.
Get in touch with us and we'll provide the precise duration and description of what will be achieved.
How Magento Support Packages Helps You
Boost Performance – Is your eCommerce slow? Are customers having a hard time loading product pages? We'll evaluate it and come up with a plan
Solve Conflicts – Experiencing constant crashes and errors? We can troubleshoot for you
Fix Theme – The store visual is off? Elements are misaligned or broken? You might need a theme adjustment
Update Theme or extensions – Continuously update your extensions and your theme to the latest version making sure no conflicts arise and your site keep running as it should
Develop New Features – Add new features to your store. We can prepare a plan and each month work together to develop new functionalities
Fixing Common Magento Errors, such as
Access Denied
Magento logging out too soon
500 Internal Server Error and 503 error
Categories not showing on the Front-End
Shopping cart price rules not working
How CreativeMinds Support Work
It's simple! Once you purchase the service, just send an email to our support team so we can arrange the best way and time to perform the service.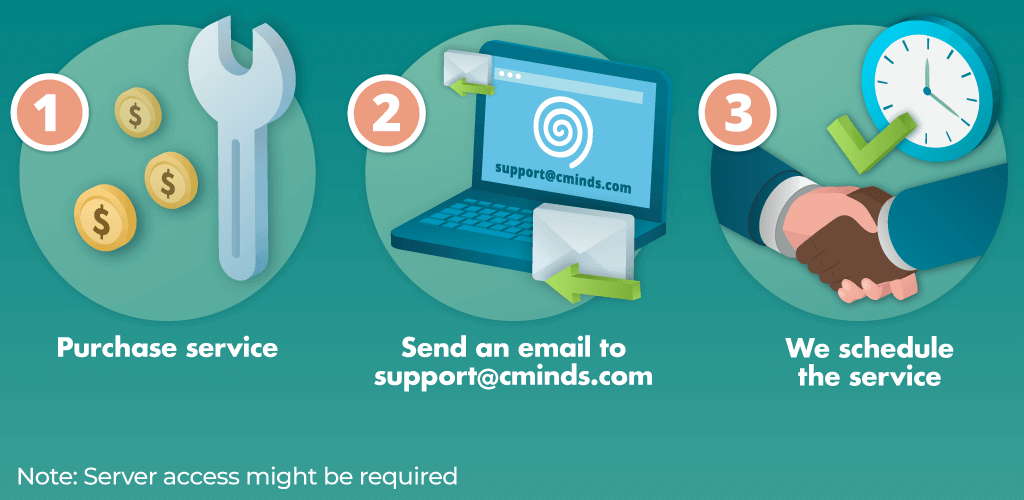 Note that, due to the nature of the service, we might require full FTP and server access.
Why CreativeMinds Support
There are many reasons why you should hire us. Are you not sure or have a question? Get in touch with us!
Expertise – Our team is formed by Magento specialists. We know what we are doing
Security – The integrity of your site and data are always the main concern to us
Priority – Your support tickets will be handled first, ensuring we can work together smoothly
Communication – Our team is ready to communicate and solve all questions in English
Magento Maintenance Services and Monthly Support Questions
I've just purchased a monthly plan. What do I do? When will the service be performed?
You should have received a receipt with your purchase information. Please send an email to support@cminds.com and we'll kick-start the project.
Which package should I choose?
That depends heavily on which issues you would like to be handled.
If you need basic support without security and performance audits, the Basic package will be enough. If you would like specialists to increase your security and optimize your store, consider the Advanced and Deluxe plans.
But don't worry: we can suggest a package for you. Please send an inquiry using the form below to know more.
Can I change from one package to another?
Yes, we can discuss upgrades and downgrades for subsequent months.
However, it's not possible to change a plan after the month has started.
Can you work on more than one site?
The package includes maintenance of a single Magento eCommerce.
Different stores have varying levels of complexity and purposes, so require individual attention. We can discuss including more than one store to a custom plan, but it's possible that it will require another package altogether.
How experienced is the CreativeMinds support team?
Our developers are Magento specialists with extensive PHP, database and eCommerce knowledge.
Our two-tier support system helped them achieve a 78% "great" and 10% "ok" score for regular support tickets between February and April of 2019. Important to note: with this package, your tickets will be handled with priority.
Learn more and meet our team!
Do I need to give CreativeMinds server access?
Most likely yes, as virtually every support task requires fine-tuning internal settings and it's not efficient to relay these changes as suggestions to the customer. This includes an admin account on Magento and access to server files via FTP.
If you are worried about your main admin account, we can help you setting up new admin accounts which you can delete in a later moment.
Finally, we are happy to provide you with an overall list of changes we performed so you can keep track of them.
Other Related Magento Services
Magento Maintenance – Terms of Service
This service requires constant communication
We can suggest priorities for projects each month, but ultimately we will follow your required priority. However, some core updates must be performed before all else
Each package has a certain amount of additional hours. For further services, it's necessary to purchase extra hours
We will need to access your server (both FTP and Magento Admin) and might need to modify existing settings