Advanced Newsletter Subscription Extension
Our Magento® Newsletter Extension is a marketing tool that allows you to collect valuable analytics about newsletter subscribers, such as browser language, date of subscription, page of subscription, and more.
The data collected from the Magento newsletter extension can then be sorted and filtered using various parameters, giving valuable insight on your overall marketing strategy and performance.
It allows you to explore customer segments and get to know your target audience to better market your Magento® store.
Use the Magento® Newsletter Extension to gather customer data such as:
A user's location
Page URL where the user was referred to the newsletter
Date of newsletter subscription
Date of first purchase a subscribed customer made in your Magento® online store
The Newsletter Extension for Magento® is a marketing tool that tells you what website pages are converting users into newsletter subscribers and which ones need to be improved.
Store marketing personnel can use this Magento® newsletter extension to learn about different customer segments, including which customer groups are engaged with the store brand and which need more work to be engaged.
Additional Resources
Related Extensions
Newsletter Data Extension Features

Please check the user guide to learn more about the newsletter extension.
Newsletter Referral Source  – Save information about the sources of pages from which the customer has subscribed
Date of First Order – Save the date of each customer's first order and sort records according to a customer's email address.
Date of Subscription – Save the date of when the customer subscribed.
Date Filtering- Filter and sort data by date of subscription.
First Order Filtering- Filter and sort data by first order date.
Page Source Filtering- Filter and sort data by page source.
Subscriber Analytics – Understand which pages or marketing campaigns convert newsletter subscribers
Customer Insight – Understand customer segments and be able to target them accordingly.
Subscriber Management – Better manage your newsletter's subscriber list.
Newsletter Extension Image Gallery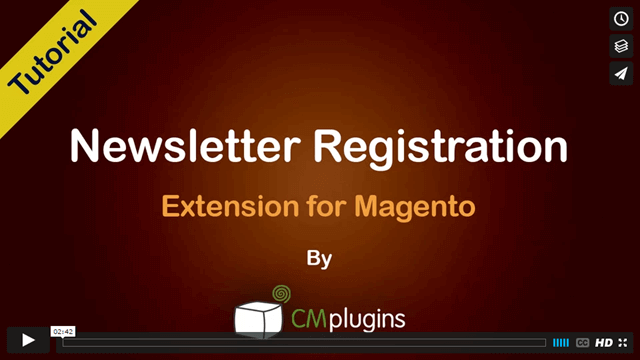 Advanced Newsletter Extension Frequently Asked Questions
Please check the user guide to learn more about this extension.
Whats the advantage of knowing the page of subscription?
By sorting your user's data in accordance with the page of subscription parameter, you can see which of your site's pages are better at converting visitors into subscribers/ customers. This is a good indication to how you can improve other pages and increase your conversions.
How can I use the information collected by the extension?
All data about new subscribers is added to a user list where you can filter your subscribers according to different parameters. Next, you can use this information when you want to deliver a performance report, build a marketing strategy or start a promotional campaign.
Version 1.2.1 17th May 2017
added missing IP data in subscription details

Extension First Release 1st April 2014