With many options out there for e-commerce platforms, it can be tough to pick the right one for your business. Magento 2 is the latest version of the leading professional e-commerce platforms. In fact, it's estimated that 1 in 4 businesses and over 300,000 online retailers are using Magento 2, including major name brands.
We've taken a look at how Magento version 2.0 compares to popular e-commerce carts like Shopify and ZenCart. Now let's look at BigCommerce, another popular ecommerce solution.
Magento is an open-source, PHP-based ecommerce software that powers over 300,000 online stores worldwide. BigCommerce powers over 150,000 websites that sell items online and process payments.
Which platform is the best for e-commerce users? This article weighs the different features and target audiences of e-commerce platforms, including popularity and pricing options.


Basic Differences between Magento 2 and BigCommerce
Popularity
The popularity of each platform among e-commerce stores and the general public is quite different. Of the top million ecommerce sites, 14% operate through Magento, while only 4% of the top million sites use BigCommerce.
Of the top 10K ecommerce sites, only 1% use BigCommerce, while Magento Community and Enterprise editions occupy a combined 20%. As far as successful, large-scale online stores go, Magento has BigCommerce beat.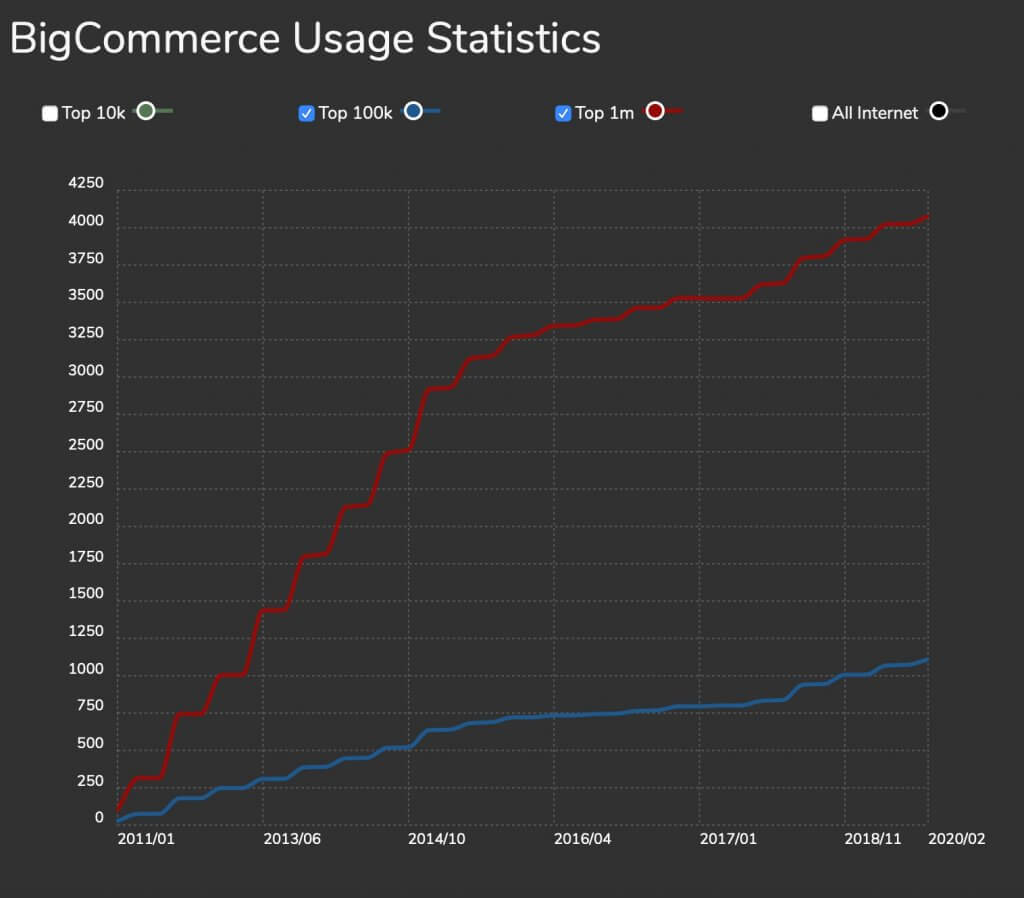 Hosting
One of the biggest differences between these two shopping cart platforms is hosting. Magento is self-hosted, meaning store owners will need to pay a third-party company for hosting. This can be as little as 3.95 USD a month from companies like SiteGround and HostGator. It's also an added expense to take into account and an ideal option for more advanced e-commerce users.
On the other hand, BigCommerce is a hosted solution, so choosing this shopping cart platform means you won't have to worry about finding and paying for hosting. Everything is taken care of by BigCommerce, and this is also an ideal choice for more beginner users of e-commerce.
Hosting costs can figure into the overall expense of creating and maintaining a Magento website. On the other hand, self-hosting means business owners can choose what features they want in a hosting plan and what they want to pay for hosting.
Pricing
Depending on your budget, pricing differences between ecommerce platforms can play an important role in making a choice.
BigCommerce Pricing:
Here's a quick snapshot of the BigCommerce pricing scheme:


BigCommerce stores that sell more than 125,000 USD per year are automatically enrolled in the pro plans. The price you pay also depends on the number of orders. Lower price plans come with limited features. For example, the standard plan does not include an abandoned cart saver, fraud monitoring, product filtering, and more.
Additional, the pro plan starts at $299.95/mo for less than $400k in online sales, +$150/mo for each additional $200k in online sales.
Price plans also come with different credit card processing rates, so on top of the monthly charge to use the software, businesses need to factor in this additional cost. The standard plan is 2.9 percent + 0.3 USD per card transaction. If your store makes a lot of sales, this transaction fee can quickly rack up.


Magento, on the other hand, is free to use and users only need to pay for hosting to get their ecommerce stores up and running.
Magento Pricing:
-Community Edition: FREE
-Hosting: $4-$100+/month
-Enterprise Edition: Customized price depending on needs
Magento users must also factor in the services of a developer to set up and manage the store.
Overall, the cost of running a Magento site can be significantly less than BigCommerce once the monthly price of the software and transaction fees are factored in.
Design
Good design of an ecommerce website is another contributor to the success of an online store. Both ecommerce platforms come with free design templates. BigCommerce has 7 free, sleek templates and many more paid ones from $145 to $235. Since Magento is open-source, there are a lot more themes available from Magento Connect and third-party sites.
Magento allows for customization of pretty much any aspect of design. This means you can create a store that looks exactly how you want it to look. On the other hand, BigCommerce only allows for certain design options, so the site you make will have a lot less customization ability.
Both include responsively designed templates for a mobile-friendly shopping experience. Since more and more customers are choosing to shop via mobile devices, responsive design is a big plus for both platforms.
Ease of Use
Another important factor when deciding on a cart system is how easy it is for beginners to use. BigCommerce is much more beginner-friendly than Magento. Magento is well-suited for developers, but is a bit difficult for beginners to navigate.
BigCommerce has a clear, clean dashboard that makes it easy for users to get their site up and running in no time. After opening up the dashboard, users are greeted by step-by-step instructions. The platform comes with a website builder that allows user to create and manage the store without web coding knowledge.
Features
Both ecommerce platforms come with built-in features and the ability to integrate features with add-ons.
Bigcommerce has marketing tools, several payment gateways, social selling, and more built in. Magento is by far the most robust in terms of features. Built-in Magento features include catalog management, product browsing, and customer accounts.
With the new checkout upgrades in Magento 2, customers can quickly and conveniently check out in one-page.
BigCommerce comes with over 100 different add-ons, with paid options requiring monthly payment. Because Magento is open-source, there are way more add-on extensions available at many different price points. This means store owners can add pretty much any feature imaginable.
As discussed previously, BigCommerce is simple to use. Advanced users or store owners desiring advanced functions may have a hard time creating a store exactly as they want it.
SEO


SEO is important for any ecommerce website, as 93% of online purchases begin with an online search.
According to a ranking of the best ecommerce platforms for SEO based on the top SEO ranking factors, Magento is number one with BigCommerce in fourth. Out of every SEO capability evaluated in this study, Magento wins. Use this ecommerce platform to increase store traffic and visibility.
Community Support
Support for an ecommerce platform can mean the difference between a successful store and an unsuccessful one.
BigCommerce University is available for users looking to learn how to increase sales with this platform.
With a high number of users, Magento comes with a robust community. Magento has forums full of developers who are able to answer questions and are striving to make Magento a better platform. In addition, users can find support from the extension developers they purchase from.
Marketplace Functionality
When thinking of building a new e-commerce store, it's important to decide if you want to create a marketplace where multiple vendors sell products. This can be a great way to increase sales and grow a business.
If you're looking to integrate existing marketplaces like Amazon, Ebay, Google Shopping, and others, BigCommerce comes with these capabilities. There is no option, though, to create a marketplace within a BigCommerce store.
In contrast, there are several multi-vendor marketplace extensions for Magento that can be integrated to create a thriving marketplace with advanced functionality like dropshipping, admin management, and frontend vendor product uploading.
Conclusion


Here's a comparison of the pros and cons for each ecommerce platform:
BigCommerce Pros:
Stylish free and paid templates
Easy to use
BigCommerce Cons:
Lack of customization
Can be pricey
Magento 2 Pros:
Free
Large developer community
Scalability
Great for SEO
Marketplace functionality
Advanced features through add-ons
Magento 2 Cons:
Can be difficult to use
Must find and pay for hosting
The right e-commerce platform depends on what fits the size, budget, and features of a company. That being said, the right platform for company A may not be ideal for company B.


When choosing between possible e-commerce carts, such as between Magento and BigCommerce, it's important to weigh the features, cost, design, and more.
If you're looking for a small to mid-level solution, BigCommerce might have just what you need. On the other hand, if you're looking for an enterprise solution or one with extreme flexibility and the option to customize as the business grows, Magento is your best bet.