Magento is a sturdy and powerful eCommerce platform. It allows any person or small team to create a profitable online store in a short amount of time, but it can be daunting to kickstart the project if you have limited technical knowledge. So let's talk about how to install Magento!
In this post, we'll present the basics of installing Magento on your localhost or website.
Table of Contents
What's Magento Again?


Magento is an eCommerce platform built on open source technology with inbuilt features such as cart management, wishlist, marketing and promotions tools, customizable theme support and more. Originally released in 2008, it has received numerous updates over the years and, up to today, can easily be expanded through extensions.
There are currently over 240,000 active websites operating on Magento.
On top of that, Magento holds a market share of 19.64% in the highest ranking 1 million websites, according to Alexa.com. This means that not only is Magento wildly popular, but some of the most profitable websites on the internet call this platform home.
Read more: 6 Facts You Didn't Know About Magento.
Preparation: What You Should Know Before
1) Choose Version, Edition and Method
Magento comes in different editions and versions, so it's essential to take that into account. Some considerations:
Version: Magento 1 vs Magento 2
The Magento 2.0 Release Candidate (RC) was launched back in 2014, six years after Magento 1. Although Magento 1 is still supported and has a big user base, it will eventually be discontinued.
For a list of differences between both, check this post in the official Magento forum.
Edition: Community Edition vs Enterprise Edition
The Community Edition is available for free download and is more aimed for developers who know their way around Magento or alternatively for small businesses who want to hire a developer on their own behalf. This edition of Magento is an open source solution and gives you access to community support, as well as all basic Magento functions, such as adding product categories, user groups, coupons etc.
The Enterprise Edition is a paid, tailor made solution that provides higher performance and scale-ability for fast-growing and large businesses. It also gives you access to expert support as well as hundreds of extensions and features that you can use to power your store and generally give you more control over your website.
This guide covers the Community Edition, as it can be installed manually.


For more information:
Method: Installing on your Own Server vs Shared Hosting Provider
Depending on where you are going to install Magento, you might have different options.
Installing it on your own server demands technical knowledge: you need your own server, familiarity with WAMP/XAMP or LAMP stacks and have to be comfortable using command lines and the composer. Magento has provided a handy guide with the different needs according to the user expertise level – read it here.
If you opt for a popular web hosting provider, you may have the option to install Magento automatically. This is also called the "one click installation", provided by services such as Softaculous. This method is straightforward and, more often than not, the interface is crystal clear, requiring minimal technical background.
2) Check Pre-requisites
According to Magento, the bare minimum requisites are:
Profile on magentocommerce.com website
Access to your hosting account control panel
FTP client to upload files
How To Install Magento: Step-by-step


1) Download The Community Edition File
You can find the file for both Magento 1 and 2 here: Official Magento Download Page.
2) Upload package to your web root
For this step, you need the FTP access mentioned before.
Unpack the file you have just downloaded and use the FTP software to upload them to your server. Note that all Magento files should be uploaded to public_html.
3) Create a database
Create an empty database, as that is necessary for Magento. Be sure to save the database name, username and password in a safe place.
4) Install Magento
Now, open the web browser and access your domain name. This step varies slightly depending on which version (Magento 1 or Magento 2) you are installing.
After agreeing to Magento terms, the Setup proper will start. It has a series of steps: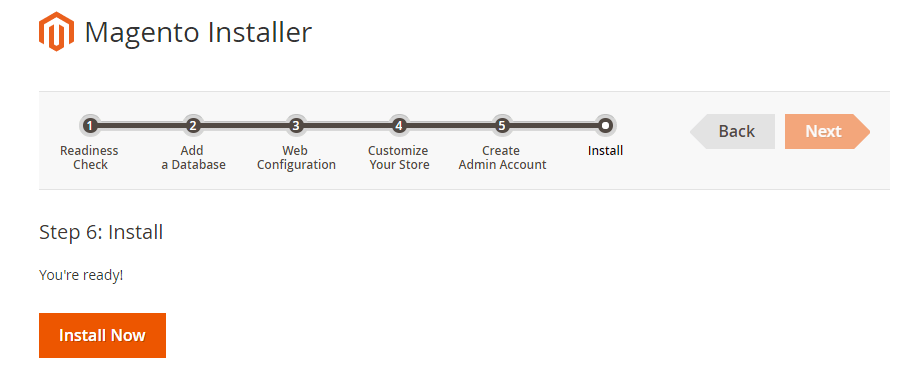 Verify system requirements – The service will check if your system meets the minimum requirements to run Magento.
Setup the database – Use the data from the database you've created before.
Web Configuration – Define the store web address and the admin panel address. It's recommended to not use the default "admin" for safety.
Configure Language, Time Zone and Currency – These options can be changed at anytime afterwards.
Create Admin Account – Remember to take note of this information in a safe place.
Install & Finish – Simply click the button to complete the installation. You should be greeted with a result screen.
Conclusion and Next Steps
That's all, your Magento installation is ready to go!
For more specific information check Magento's Installation Guide.
Alternatively, you can get in touch with us and hire one our developers to help you in any of these steps. Talk with us now!.
You may consider acquiring Magento extensions to further boost your online store.