Not long ago, Magento developers updated their eCommerce platform to version 2.0. Over half a year after its official launch, the web community has seen a number of ready-made themes that are compatible with Magento 2. Both free and premium, they introduced the new, revamped functionality to merchants, extending their eCommerce potential.
From full-page caching and new file structure to multi-shopping option and visual editor, you can elevate your store to a completely new level. Today, we'd like to offer one of the premium Magento 2 themes dubbed "F2" for your consideration.
This innovative product by TemplateMonster is also available in a free version, which looks somewhat similar to its premium alternative at first sight. Smart layout structuring, sticky navigation, sleek animation, full responsiveness, – both versions are focused on the user experience. But take a look inside the premium package, and you'll find many more eCommerce-oriented features. In addition to the default functionality of Magento 2, the theme runs on custom-made extensions. Find out how they can add usability to your store and provide more capabilities for its visitors.
Before reviewing the theme, we'd like to share more cool news with you. TemplateMonster is offering a 30% discount for F2, exclusively for our clients. In that way, you'll have an opportunity to build or redesign your Magento 2 store with minimal cost. Are you interested? Learn more about F2 below to make a final decision. You can find the promotional code at the end of this article.
TM Mega Menu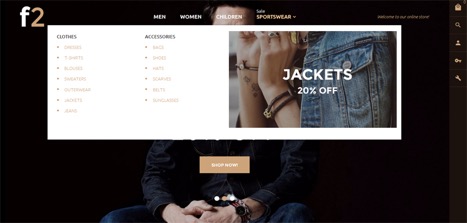 While the freebie comes with a simple dropdown menu, the premium version of F2 features a more advanced extension for navigation, i.e. a mega menu. It allows you to arrange items in columns instead of overloading your menu with multiple submenus. You can also add badges and labels to certain product categories, set an image for any of them, and much more.
For convenience, the entire process of configuration takes place in a drag-and-drop interface. It means you can manage elements with the help of a mouse. No need to bother with code. As the menu is fixed to the header, it's always at hand while scrolling the pages. The extension is responsive so that any user can use it regardless of the device.
* * *
TM Ajax Catalog Filter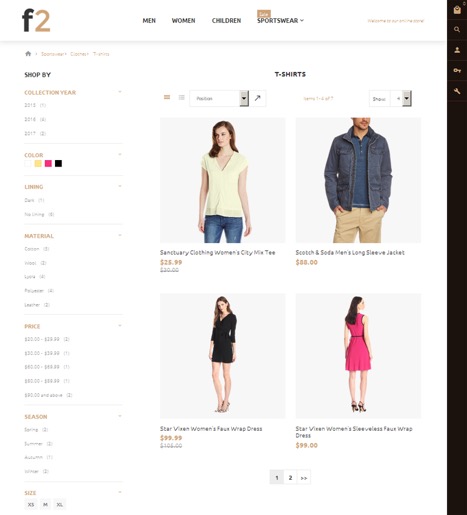 F2 is packed with an extension to personalize a shopping experience at your store. Buyers can filter your inventory by multiple criteria including category, year, color, material, size, and others. It's possible to use multiple filters in a single category. To narrow down the choice even more, customers can also sort items by their position, name, and price.
What's also cool is the ability to choose a view mode (list or grid) and the number of products to view on a single page. As this extension is based on Ajax technology, customers can adapt your catalogue to their needs without reloading the page. Thanks to dynamic pagination, you can divide your catalog into many pages, all of which will have the same URL.
* * *
TM Film Slider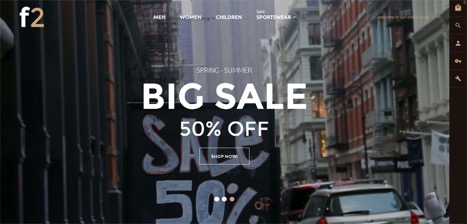 To draw attention to the specials of your store, make use of this solution. It's not one of those standard sliders that seem to be everywhere. Using this innovative extension, you can create multi-layered and skillfully animated slideshows with ease. Each pixel of your slides will be rendered flawlessly on screens of any resolution.
In terms of configuration, you can set necessary slider dimensions, add cool transition effects between slides, choose between different types of navigation controls, etc. To enhance the information value of your slideshow, you can overlay images with large captions and some text.
* * *
TM Ajax Compare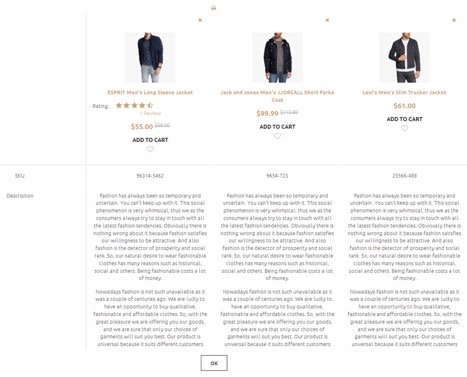 This F2 feature is designed to facilitate your buyers' decision-making process. It enables them to compare several products by the SKU, description, material and other attributes. Items are added and removed from the comparison list without page reloading. They are shown in a pop-up table that buyers can also optionally print out.
* * *
TM Ajax Wishlist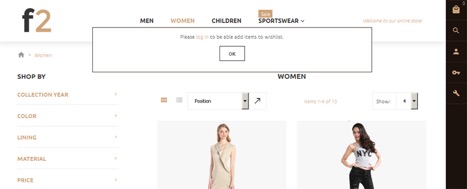 Logged-in customers can add favorite items to the wishlist using this Ajax-powered option. In that way, they can browse all their favorites in a single place. Similar to the previous functionality, it requires no page reloading to add items to the wishlist. Buyers can access this option next to the image on a single product page, whereas a category page reveals it on hover.
* * *
TM Ajax Search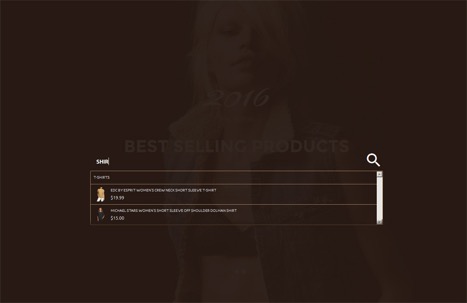 To find a particular item at lightning speed, customers can use a live search. Powered by Ajax, it displays results instantly, while typing in a query. When each new character is added to the search box, results narrow down, and vice versa. What makes the search even more convenient is that results are shown in a full-screen mode without page reloading.
* * *
TM Newsletter Pop-up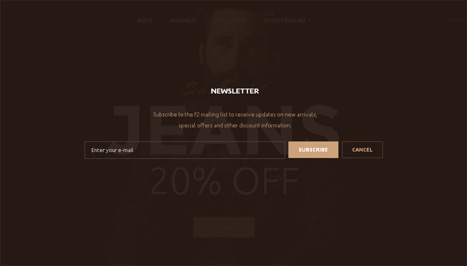 Here is an effective tool to increase your subscriber base. As soon as customers enter your store, a newsletter form comes into view in a pop-up window, dimming out the rest of the interface. You can fine-tune the form in multiple aspects, e.g. configure the pop-up timeout, set its width, change button colors, etc. It's also possible to display social icons in the form, which allows you to grow your social media communities in addition to subscribers.
* * *
Multiple Pop-ups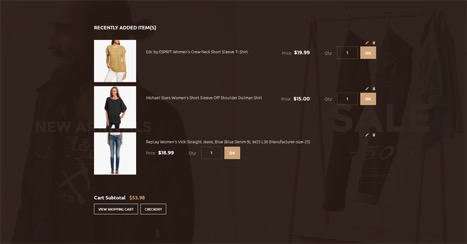 In addition to the newsletter form, many other options appear in pop-up windows. They include a shopping cart, search form, wishlist, login form, language switcher, etc. Customers can access all of them in a sticky sidebar on the right. Use of pop-ups provides an opportunity to save on the page space, making it clutter-free.
* * *
Custom Pages
F2 comes packed with custom pages that you can use out of the box. Both category and single product pages have clean, spacious layouts that bring products into focus and provide a user-friendly experience for shoppers. There are also pre-designed pages for a shopping cart, privacy policy, contact details, orders and returns, and other important information.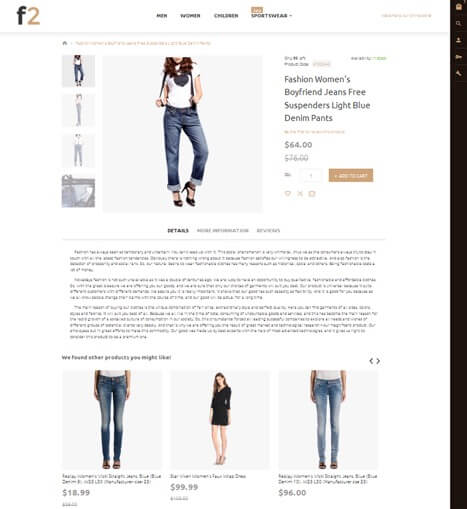 Take a look at the single product page of F2. It features a gallery of images for viewing a product from different angles. Next to the gallery, there are add-to-cart, login, wishlist, and comparison options. Tabs are used to let customers switch between a detailed description, table with the main attributes, and reviews. To widen customers' choice, the page is also equipped with carousels that show relevant items.
* * *
As you can see, F2 is a powerful theme for Magento 2 stores. With all the premium extensions included in its package, you can also save $265 that you'd have to pay if you bought them outside of the theme. Also remember to use the 30% discount that allows for an additional saving. It's definitely a good deal. Good luck with your eCommerce project.
Promotional code: TM30CMINDS
Copy the code above and paste it on the payment screen. Your price will be accordingly reduced.
AUTHOR'S BIO: Nick Campbell, the author of this article, is fond of writing posts on various subjects, particularly web design, eCommerce, social media, marketing, business, and education. He has been involved in the content creation sphere for more than three years. Nick is primarily focused on covering modern trends in a specific industry to help his readers keep abreast of the latest news. If you don't want to miss any brand new developments in the aforementioned topics, follow Nick Campbell on Twitter and Google+!