We have a new custom skins add-on to enhance the functionality of our tooltip glossary plugin. This new custom glossary skins add-on is called Tooltip Glossary Skins and it is designed help people customize the look & feel of our tooltip from a basic square box appearance to a more stylish tooltip and cool widget.


This custom skins add-on plugin extension works well with all editions of our very popular tooltip plugin, including even the free version of the Tooltip Glossary plugin that is downloaded from WordPress. Tooltip Custom Glossary Skins is easy to install, use and customize. The addon extension settings include many customizable options for every part of the tooltip glossary.
This add-on extension includes jQuery sliders which are easy to set, change and customize according to color, size and theme of the tooltip. Users can pick where on the page to position the skim template, as well as choose from a variety of colors or customize their own. The color, width and size of the borders, backgrounds and font are all choices users can make for their individual tooltip glossary skins.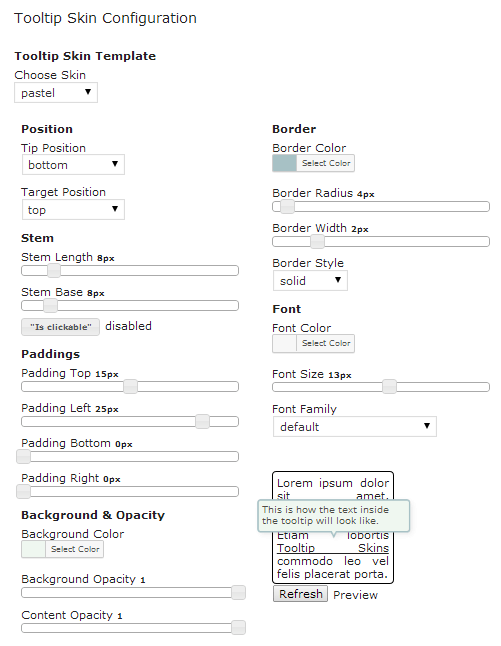 This custom glossary skins add-on extension is available exclusively from the CMinds plugin store. This custom skins add-on for the Tooltip Glossary lets you customize the tooltip's shape, color, opacity, title and more.This custom skins add-on extension only works with the Tooltip Glossary plugin for WordPress by CreativeMinds.