The CM Reviews received a batch of updates in the last weeks. These new features include sorting, limited review length and privacy control. Yes, it's that comprehensive!
Let's take some time to delve into each of them:
CM Reviews Update
Reviews Sorting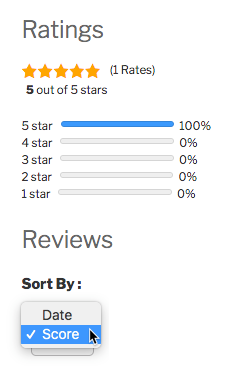 This much requested feature is now fully functional: reviews sorting by date and score.
There is a new setting for this which lets you choose your preferred default reviews sorting type. This is essential to organize massive lists of reviews and to make the most sense out of them.
We didn't forget the users! A setting allows them to sort reviews as they please for each page.
This update also includes a fix: the Tile View now properly organizes reviews horizontally.
"Read more": Limit the Display Length of the Reviews

Reviews come in different lengths. Some users are discrete and economical, preferring to sum up their good or bad experiences with a few words. Others, however, prefer to explain their complaints in detail or make use of their penchant for literature to vividly describe their impressions.
These differences are rich and are the trademark of vibrant, social websites.
It does pose a visual challenge, however. That's because the website might struggle to neatly display reviews when their lengths vary too much.
The new limited review length feature addresses the issue. The admin can now choose a number of words (5, 10, 30 etc.) to limit reviews display to that length.


Note that this affects only displayed reviews. Users can freely write, knowing that their review is fully available for reading.
Also important: the "Read More" label can be customized easily, allowing for translations.
Privacy: IP Control, Terms of Service, Reviews Deletion


While we addressed the critical privacy updates in time for the General Data Protection Regulation (GDPR) avalanche, we still have news.
The latest version of Reviews has improvements on these two features:
IP – The plugin can turn off collecting User IPs for statistics in the settings. If you leave this on, be sure to mention in your Terms of Service (see below)
Terms of Service – Add a comprehensive and clear disclaimer for first time users. Those that reject it will be redirected to your homepage.