It's nearly the end-of-the-year and the holiday season is fast approaching, which means online merchants need to start thinking about their Holiday Ecommerce.
More than ever before, this holiday season is not the time to be missing out with your Ecommerce webstore.
For Reference: Last year during the holiday season (between November and December) there was record breaking $108.2 billion dollars spent on Holiday Ecommerce sales in the U.S. alone. This made up over 20% of total Ecommerce sales that year, with 2017 seeing $453 billion spent in the U.S.
Top performing holidays during that time were:
• On Black Friday over $5 billion was spent online
• Cyber Monday saw $6.6 billion in Ecommerce Sales
• During Thanksgiving Day $2.9 billion was spent
Following a long-running streak of revenue growth every holiday season, experts anticipate another increase in holiday Ecommerce sales for 2018.
To provide some numbers, 2016 saw a 10% increase in holiday Ecommerce revenue from the year before, 2017 had a 13% increase, and in 2018 an even greater 15% growth is expected. That's over $120 billion of estimated holiday revenue for webstores to get their hands on.
Evidently there's much preparation to be done, but putting a holiday strategy together for your webstore can seem pretty overwhelming. To help get everything in order, check out our Ecommerce Holiday Checklist below and ensure your webstore is ready for the holiday rush.
2018 Holiday Ecommerce Checklist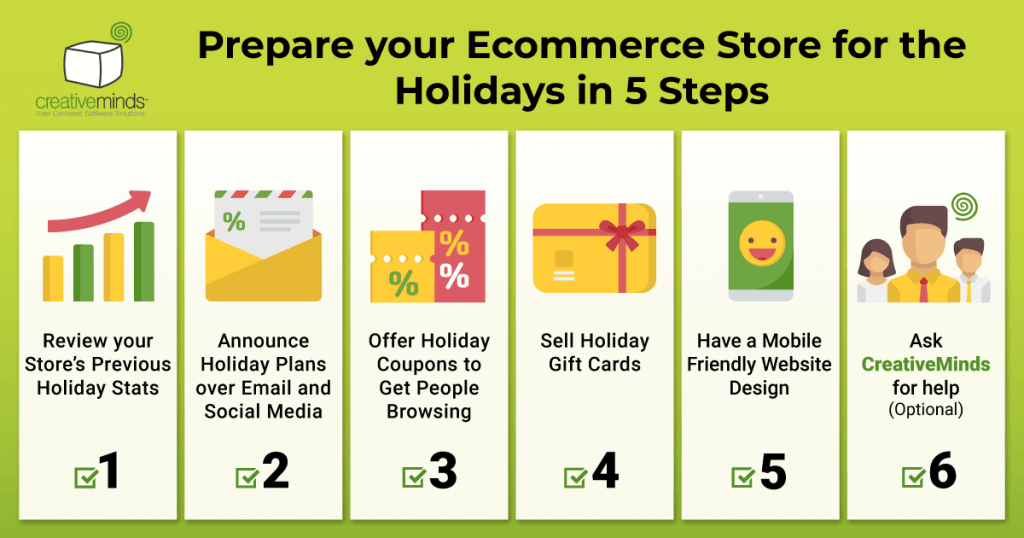 1. Review your Store's Previous Holiday Stats
Before you begin putting together any shiny new promotions, or other holiday Ecommerce initiatives, reflect on last year's stats first.
There's no reason to start from scratch with your holiday strategy every year. Look over your results from the last holiday season to see where you performed well, and what areas need attention. When constructing your holiday plan of attack, try to replicate what gave you the best results, and improve where they were lacking.
Were your holiday email campaigns particularly underwhelming? Or did your business have trouble meeting inventory demands, or experience slow shipping and delivering? To build a strong holiday strategy, solving past problems is one of the most important things to consider first.
Website analytics are the powerhouse behind informed and effective Ecommerce strategies, be sure that you don't neglect yours.
2. Announce Holiday Plans over Email and Social Media
Once you've come up with a Holiday Ecommerce strategy, it's time to shout it out from the mountaintops. Barring that, sending emails and Facebook updates works well too.
It's no secret that social media and email marketing are two of the most powerful methods for Ecommerce advertising, and during the holiday's it gets even more effective. Create targeted email campaigns for your holiday promotion to let customers know that it's time to come back and take advantage of your store's specials.
Getting the word out early into the holidays, with a few well-timed reminders, will help keep your store fresh in people's minds and inspire gift purchases from your product lines.
3. Offer Holiday Coupons to Get People Browsing
While advertising about your latest promotion, create some extra incentive by sending your customers holiday coupons. According to this 2016 Deloitte survey, 77% of holiday shoppers are influenced by coupon offers and promotions. This data shows that special offers make a massive difference on what products and webstores holiday shoppers pay attention too.
Try sending coupons out in emails, or advertise them over your social media, for your customers to take advantage of. Providing a great coupon offer will help your webstore shine out from those that don't, giving your holiday Ecommerce another advantage to stay ahead of the curve.
4. Sell Holiday Gift Cards
After the holiday season ends and everyone's opened their presents, those who received gift cards will begin using them. If you sold gift cards during the holidays, after they end a whole new wave of additional customer traffic will come your way.
It's true that gift cards are one of the most effective ways to encourage post-Holiday Ecommerce activity. According to this survey by GiftCards.com, Christmas-time is one of the most common gift card occasions, second only to birthdays. When using them, 59% of consumers spend more at stores than the amount their gift card held as well. The study also shows more people are beginning to buy digital gift cards since younger consumers rely heavier on online shopping.
Bringing all these stats together, it's easy to see that ample profitable opportunities are available when selling holiday gift cards.
5. Have a Mobile Friendly Website Design
Having a mobile friendly webstore is an important rule-of-thumb for any Ecommerce vendor, regardless of the season. Every year more people become mobile-browsers, and serious webstore can no longer afford to ignore the growing number of mobile-browsing visitor's that are turned away by desktop-only designs.
Plus, with sneaky holiday shoppers using their phones to purchase presents right under their friends and family's noses, you can expect an increase in mobile internet use during this time.
Ensure that your webstore is up-to-date and ready for any customer, regardless of the device they choose to connect.
Conclusion
Once your product line is ready, getting the word out about your holiday sales and drawing customer to pay attention to your webstore is one of the most important parts of holiday Ecommerce.
Webstores will be competing for your incoming and old customers alike, so it's important you stand out from the noise. But by creating an early holiday Ecommerce strategy and offering timely deals, you'll earn a leg up on many competitors.
Any WordPress and Magento users unsure whether their website is ready for the strain of Holiday activity may want to check out our consulting or support packages for both platforms. Our in-house experts are available to get your webstore prepared to excel during the 2018 Holiday Ecommerce season.