Starting a small business is a big task. It needs to be profitable. These plugins can help you make money with WordPress.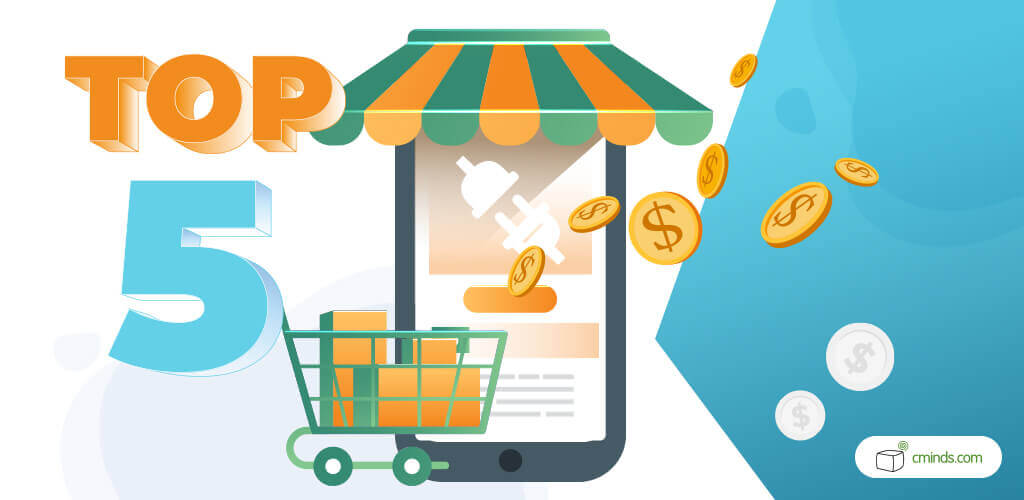 A major factor to consider is how your business will bring in revenue. Of course, there's the product or service you provide, but there are also ways to go above and beyond to make more cash. You can monetize your website or blog to make money with WordPress.
One of the best ways to monetize a small business website is by using WordPress plugins that are already designed to help businesses succeed. All you need to do is install them.
How to Make Money with WordPress: Monetization Plugins
The monetization plugins listed here are all highly rated and popular choices, with a proven track record for success in optimizing sales. These plugins have the solutions you need to make money with WordPress, letting you focus on content.
1. OptinMonster

OptinMonster is a highly popular and well rated WordPress plugin that enables you to monetize your website and make money with WordPress. This plugin enables you to get more leads and increase your sales exponentially as well as grow your email list.
This user-friendly plugin helps generate more leads, subscribers and sales from organic traffic using three simple steps.
Use a pre-built template to create offers using a drag and drop system.
Then target and personalize the offer so it reaches your target audience.
Finally, use the statistics to improve your lead generation in real-time and use split tests to increase conversions.
In addition, there is page level targeting, advanced traffic redirection, multiple form types, A/B testing, lead capture forms, analytics and more.
2. Yoast SEO

Yoast SEO is an absolutely essential plugin for anyone with a WordPress website, no matter what you are selling or providing. Your website should be optimized for search engines, and this plugin can do that, so your content receives more search traffic.
If you are hoping to earn money through eCommerce, you need to be optimized for search engines. This user-friendly plugin walks you through how to do it, and then runs in the background. The plugin offers tips like technical SEO improvements on pages and content edits.
There is a color system, so any green lights are good, orange are things to be improved and red lights are things to change to improve the content ending up in search results.
Additional features include meta tags, canonical URLs, XML sitemaps, faster load times, title and meta description templating, and much more.
3. Ad Manager Server

The Ad Manager Server WordPress plugin from CreativeMinds allows users to create, manage and display an ad campaign across multiple WordPress websites, and is fully mobile responsive.
These ad campaigns support video, banner ads, Google AdSense and HTML campaigns, and they can be easily inserted onto any page or post on your WordPress website. The plugin easily integrates with existing Google AdSense campaigns as well.
The admin can track and restrict ad campaigns by ad clicks or impressions, customize the CSS style, schedule ad campaigns for specific times, display fly-in ads that are triggered by page scroll and much more.
There are also detailed statistical reports for the number of impressions, clicks, user location, and server load for each campaign. It's possible to preview all banner ad campaigns before running them, resize mobile ad banners and run video advertisements.
With this versatile WordPress Ad Management plugin, you can create targeted ad campaigns, track ad performance, and create ad tiers to quickly monetize unused ad space.
4. W3 Total Cache

Website speed is probably the most important factor for any website. How fast your website loads is the first impression potential customer gets of your business. Research shows that 40% of people expect websites to load within three seconds.
W3 Total Cache is a highly rated and well-known WordPress plugin that exists to optimize website speed. It's also completely free, although it can be complex for new users.
This plugin reduces website load times, in turn improving your search engine results ranking.
W3 Total Cache is compatible with shared hosting, VPS and dedicated servers, includes SSL support, and can sustain high web traffic periods. The plugin uses content delivery network integration and caching of pages, posts, feeds, search results and more.
5. Easy Digital Downloads

If you are selling anything online, using Easy Digital Downloads is a good choice. It's a popular WordPress plugin that can sell anything from software to music to documents to graphics, and beyond.
This option is fully user-friendly and provides a solid foundation right after installation. All you have to do is customize the look and feel to match your website content and you're good to go.
Some of the more notable features include the frontend shopping cart for customers to add items to their cart, or use the "Buy Now" option, payment flexibility options from credit cards to third-party payment gateways, detailed customer management options, and more.
This plugin is also designed for localization, and includes over two dozen languages and translations to reach more customers worldwide.
Conclusion
Monetizing WordPress is essential for small businesses which rely on revenue to stay in operation. Using plugins that help you make money with WordPress is always a good idea.
In many cases, once these plugins are installed, they do the hard work for you. So you can sit back and reap the financial rewards.
You should always do thorough research to decide which WordPress plugins are right for your small business. Choosing the right plugins can be a game changer and really deliver your business to all corners of the internet, and of course, convert sales.
TIP: Check all CM plugins for monetization.