It's important to make your WordPress content stand out. So, why not add interactive content to WordPress with the CM Quiz Manager plugin?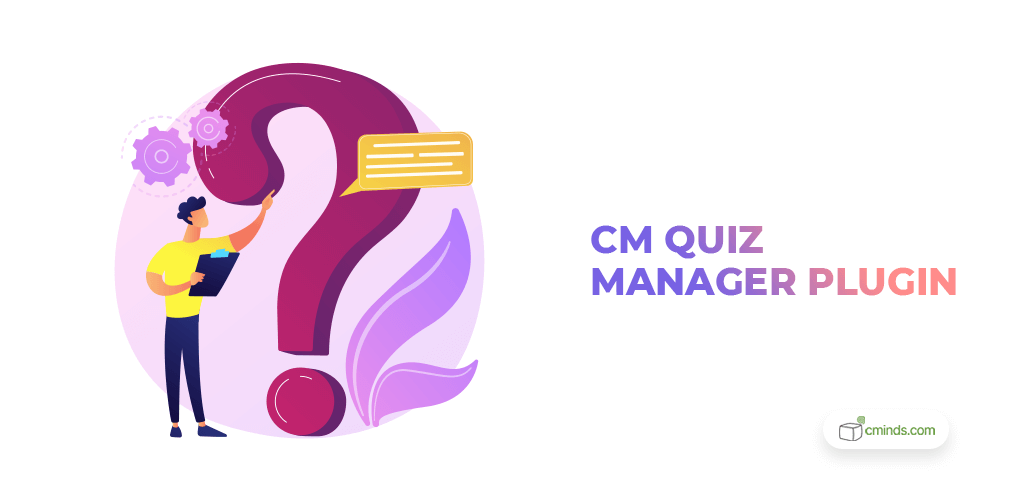 Integrating interactive content is essential for increasing your audience engagement and making your WordPress website a success. Interactive content includes quizzes, assessments, videos, and polls that encourage visitors to engage. It's a way to get a reaction or opinion from customers with just a click of a button.

Interactive content ensures that customers extract value from your content, thereby deepening your relationship with them. This can lead to sales as well as create repeat customers and word of mouth marketing.
If you want to add interactive content to WordPress, one of the best ways is to create quizzes. Quizzes are a fun way to get to know your audience while creating a fun, rewarding experience for them.
A quiz is a collection of questions about a certain subject. It scores the user based on the given answers. This dynamic aspect makes it an especially engaging resource for users. When done right, quizzes are a great way to find out what customers want or find patterns in their interactions.
Add Interactive Content to WordPress with the CMinds Quiz Manager Plugin
The Quiz Manager Plugin for WordPress by CreativeMinds is a way to add quiz knowledge tests with full multimedia content anywhere on a post or page. Admin can moderate the scores and choose to display additional content.
Additionally, there is a progress report system that filters by quiz or by user to easily track and monitor users results. This can be a helpful tool in classroom or the educational field.
Each section of the quiz can have as many questions as you need, and each question can have multiple answers. More than one answer can be marked as correct. Images and videos can enhance the quiz experience too!
Intuitive scoring can be created. Easily show quiz takers how they answered the questions with a graph. Admin can view scores by averages, including by quiz and by user.
Easily display these interactive quizzes on pages or posts with a simple shortcode.
Quizzes can have a fixed set of questions, or they can show random questions each time.
It's also possible to lock certain content unless a high score is achieved. In addition, admin can show the answers to all questions only after the user submits their own answers. Another functionality is letting guests or non-logged-in users take the quizzes.

What Are You Waiting For?
Interactive content is a great way to stand out in the sea of millions of text-only blog posts published every day. One quick and easy way to do this is by adding interactive quizzes.
Quizzes are also a good way to get valuable feedback on your products or services as well as ask for opinions. In addition, quiz results can validate any ideas you have about how customers view your products and how in tune you are with your target market.
In the backend, you get access to the results dashboard that shows details of the quiz answers, who took them, and how well they did.
Quizzes are an excellent way to keep your users engaged. People spend more time interacting with the quiz, which means they spend a lot of time in your site.
Having interactive content can lower your website bounce rate, improve your overall SEO score, build brand loyalty with customers, increase conversions and revenue, improve user-engagement and much more.