Whether you're building your first WordPress website or a seasoned professional, you'll hit a point where you need a question answered.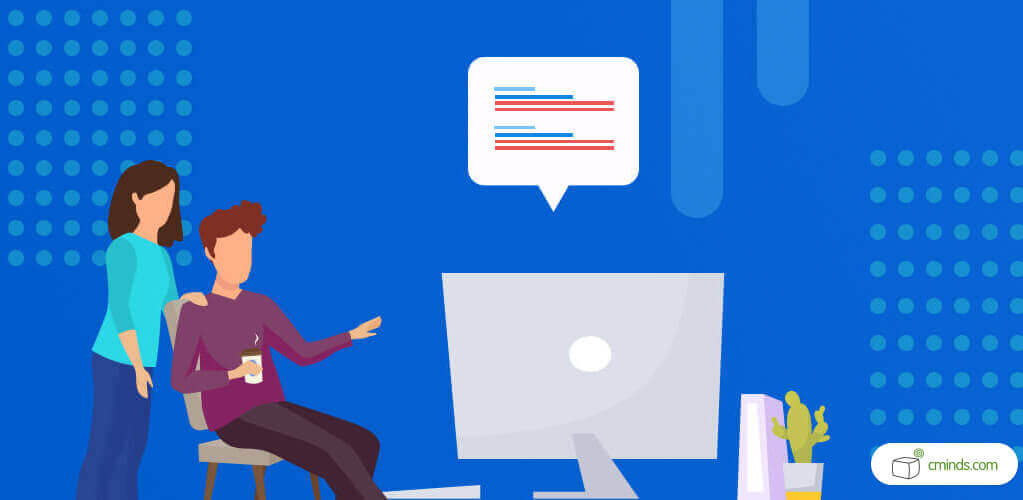 Maybe you're lucky and have a friend or colleague who knows everything about WordPress. If you're not that lucky, finding good support can sometimes seem like a daunting task.
WordPress is an open source platform. This means there are a lot of people out there you can get support from, not just an office of a couple customer service people. Although this is offers flexibility and diversity, it can be a bit overwhelming to figure out where to start.
We've come up with some tips on finding support, depending on what questions you need answered:
General Search
The first thing you should do if you have a question is a little research to see if other people have had the same issue. Do a Google search. You may find there is a good, quick answer already out there. If so, problem solved!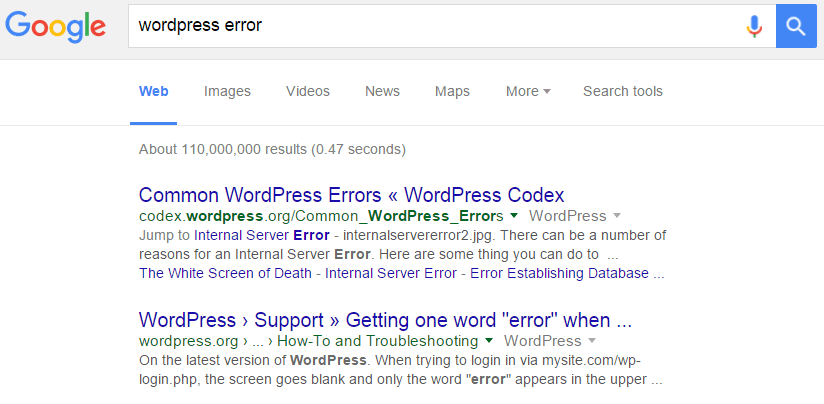 Google is helpful for general questions about WordPress. It can lead you to some great WordPress sites like WPbeginner.com. Here's an article from them on how to fix common WordPress errors.
If you're unsure of what keywords to use to search for your WordPress problem, the WordPress Codex has a page to help.
WordPress. org Support
One place you can try is straight from the source, WordPress.org. Their support page is set up as a forum where WordPress users answer other users' questions. Here you can ask questions that span many categories, from help with installing WordPress to coding plugins.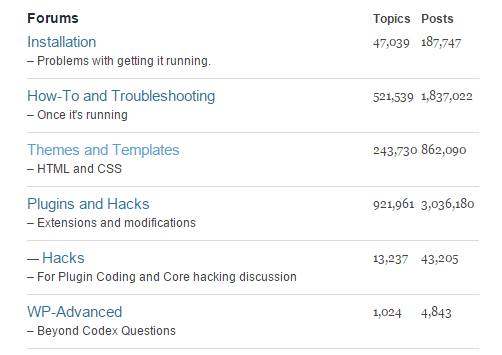 Here's a helpful tip: Before you ask your question, first check whether your question has already been asked by another user. Also, here are some tips for using the support forums from the WordPress Codex.
Plugin Questions
If your question is about a plugin, the best option is to go straight to the plugin developer. You can use the support forum on the plugin's WordPress.org page or contact the developer directly through the plugin website.
For free plugins, support is a bit more difficult, as plugin developers don't have as much time to help you. In most cases, on-site support is needed, which means someone must log into your site to understand the problem. With free plugins, you usually have to count on other WordPress users to answer your questions.
With premium plugins, though, you are likely to get an answer much quicker and have someone who can look into the problem on your site. These developers often have trained people to assist WordPress users. The better level of support from premium plugins is one reason people choose them over free plugins.
Tip: Check to see if the plugin developer has a FAQ page or a user guide that might be able to answer your question.
Paid Services
If you don't want to rely on the general WordPress community to answer your questions, you can subscribe to a service that will help you out. Although these services aren't free, they can save you a lot of time and frustration.
WPsitecare is one example of this service. They offer personal WordPress assistants that are available to answer your questions, usually in less than an hour.

Another is Maintainn, which offers a variety of WordPress maintenance services, including professional support. Click WP boasts saving you time and stress by offering WordPress advice.

If you want someone to fix the problem for you and not just give you the answer, check out WP Curve. They have people available 24/7 to help.

WordPress Meetups
Meetups are a good way to meet other people in the WordPress community. They happen frequently in many different countries. Best case scenario, you find that person who can answer all your WordPress questions.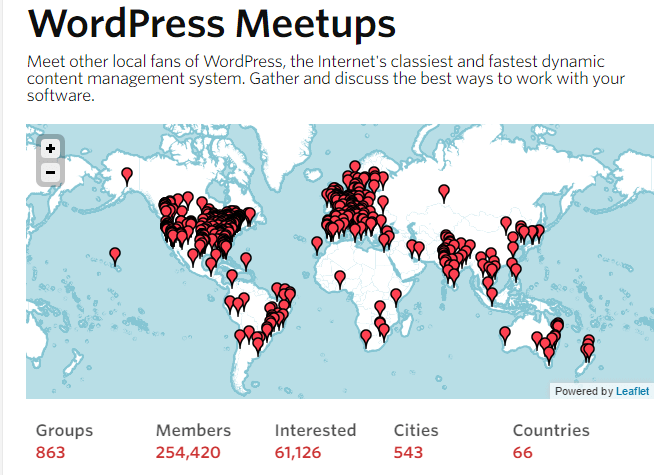 Going to a WordPress meetup may not be the best answer if you have an immediate question, but could introduce you to a community that can help. This community is one of the best features of WordPress.
Other Online Resources
There are a lot of other great online resources where you can ask questions. These are popular sites and can be helpful if you want to open up your question to a wide audience.
Reddit has several WordPress-related subreddits, including a general WordPress one where people post questions.
Quora is another resource similar to Reddit, but only used to ask questions and get answers. Check out the WordPress and WordPress plugins topic pages for help.

StackExchange is another resource where you can ask questions about WordPress for free.

Asking for Help
While WordPress is the most popular CMS, it isn't always the easiest to use. Users are bound to experience frustration at some point, as they would with other CMS. This is okay as long as users respond by learning more about WordPress.
It may be that when you're at the point of asking for help, you're a bit frustrated or maybe more than a bit. Breathe. It's important to be respectful when asking for help, because often the people helping you are volunteering their time to help. You're less likely to get help if you're rude.
Even if the support isn't free, it's still a good idea to be nice when asking your question. For instructions on how to properly ask for WordPress help, check out this WPbeginner guide.
Free versus Premium

In conclusion, there are some great resources out there for WordPress support. It's possible to find the answers you need through the WordPress community. Like many things, though, you get what you pay for.
Free support doesn't guarantee a quick answer or one that resolves the issue. Paying for a premium plugin or a WordPress support service can pay off in saved time and frustration.
If there's a WordPress question burning a hole in you, relax. There are people who can help.
What resources do you use for WordPress support?