With these tips on Telegram bots best practices, they can become your personal assistant.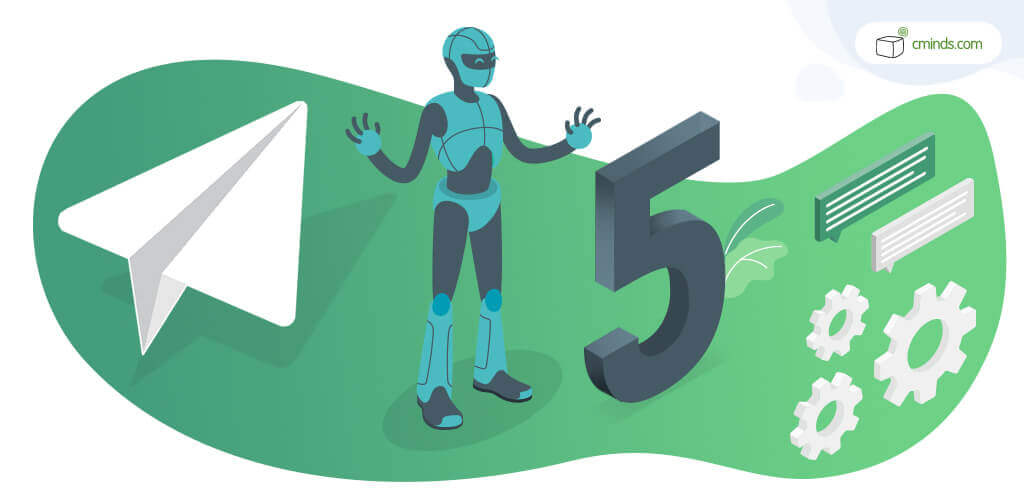 Telegram is a free application that allows you to send texts, videos, and other file types. Telegram has become one of the biggest names in Instant messaging, boasting end-to-end encryption, a wealth of customization, and home to literally thousands of bots! With the use of bots Telegram can become your personal assistant and make your life easier. Time to discuss Telegram bots best practices!
WordPress Telegram Bot Plugin Offer February 2023: For a limited time only, you can get Telegram Bot Plugin for 25% off! Don't miss out!
The Telegram Bot Plugin let you send automatic messages, emails and SMS based on predefined text strings.
Use the Telegram Bot to automate business workflows involving the telegram app.
What Are Bots?

But what is a bot, you might say? YWe can't talk about Telegram Bots best practices without knowing that.
Simply put, bots are a software application capable of running automated tasks and often aim to act as a real person. If you have ever ordered a pizza or asked for help on a website, you have probably interacted with a bot.
The most common form of bot is the chatbot. Chatbots recognise text or speech from a user, interpret the information, and then respond appropriately. Some chatbots are so sophisticated they feel like interacting with another person.
Telegram bots can do almost anything!
Send information about your favourite football team, play music, create a list, or be your opponent in a game of checkers. Bots are easily accessible in Telegram through the search function.
Search 'Gamee' and you'll find a bot that will let you play games and challenger your friends. You can also share songs and lyrics with 'Spotybot' while 'Yandex.Translate' will translate messages from other languages.
For film lovers 'MoviesTracker bot' will relay film information for any film you ask for. Follow 'Storebot' and 'botostore' to discover new bots and explore the bot charts. Telegram bots can act as another person completing tasks such as:
Building Social Services
Accepting Payments or act as a store front
Integrate with other platforms and services like Gmail and Facebook
Customize your content
WordPress Telegram Bot By CreativeMinds

Before we start, we should mention that CreativeMinds has developed a Telegram Bot that solves many of the use cases described in this article.
CM Telegram Bot is a versatile tool. From repeating group messages to emails to storing and showing all content of a Telegram group in WordPress, the WordPress bot has you covered.
Telegram Bots Best Practices
If you want to automate and customize your Telegram experience, here are 5 of the best ways to use Telegram Bots.
1. Organise Your Day

Use automation to declutter your work and organise every day.
Alter bots can be used to set notifications to be sent to either your own Telegram account, a group, or even a specific chat. Bots can keep notes organise and send written reminders to make sure you don't forget to complete a task.
Travel Assistance bots take the hassle out of travelling by using your preferences to avoid scanning for flights. Bots can find accommodation and travel inspiration by using A.I assistant searches to find what is best for you.
For business travel there are bots, such as 'Eddy Travels', that can arrange travel logistics from within a telegram group chat. Bots can also be used to organise your business and office such as organising group events and arranging attendee's.
There are even bots allowing you to connect to customers in real time on your social media platforms so you can organise customer support directly from your Telegram account. Perhaps a friend or client doesn't have Telegram? There's a bot called 'toEmailBot' that will automatically send files received in Telegram to a selected E-mail.
2. Enhance Your Accounts Security

Telegram boasts many fantastic security features but isn't impervious to malware and unapproved content. Thankfully there are bots for that too. They are essential for keeping up with Telegram Bots best practices.
Bots can protect your account from unwanted and inappropriate content, as well as defend against attempts at uploading malware to your device. Telegram bots can ban other bots from entering a group, filter content, scan attachments, and control behaviour.
Security and content management bots are a great addition if you're using Telegram to communicate within your business or want to keep things private.
Other bots such as 'Dr.WEB' can scan all files and links sent to your Telegram account to ensure they are safe to access.
3. Keep Track of Your Website

One of the most useful things Telegram bots can do for you is directly beam information from Google Analytics straight to your Telegram account. Don't miss out on this Telegram Bots best practice.
Imagine being able to have the number of views of your website messaged to you whenever you request it. Some bots even allow you to share selected information with your friends and colleagues. There are also bots to determine the best time to employ your own marketing or chatbots and boost their performance.
Try using Telegram analytics to receive conversational analytics to see how many people read and react to your posts or notify you of any unexpected website traffic. Web scraping bots can keep track of other websites also such as keeping track of the price of TV's from retailer pages.
4. Marketing and Growth

One great thing about Telegrams giant user base is it is a fantastic platform to market your business. There is a bot for almost every marketing need such as being able to post an image, video, Gif, or text directly from the Telegram app to any of your social media accounts.
Bots can be used to enhance the growth of your business by connecting to a great variety of external sources to answer any of your business trend questions or provide information on the most paid for keywords in your market. Market research is an important component for growing a business, but it can often be difficult to obtain data.
Try using a bot like 'surveybot' to post surveys on your social media pages and receive data straight back to your Telegram account rather than spamming your audience with e-mails.
The ability to promote content across multiple platforms through Telegram bots makes Telegram a vital tool for content promotion.
Want to go beyond and use Artificial Intelligence to boost your business?
You can get a free consultation to understand how Natural Language Processing and Data Science can help boost your business.
Contact CreativeMinds Cminds.AI team today >>
5. Fun and Games

It's not always about the work. Telegram is also a great platform for having fun with friends, family, and complete strangers alike.
Bots offer you and your friends the chance to play HTML 5 games. Bots can track the high scores between you and your friends and invite others to play. You could add a quiz game to your favourite group or play old school single player games like snake.
Are you short of games at a party? Start a group chat and use a 'pokerbot' to play cards. There's a bot for that With bots Telegram can really be your personal digital assistant in your pocket!
Conclusion
There is a bot for any personal and business needs. To learn more about WordPress Telegram bots and grow your website, check in at cminds.com for more tips.