Become a master of Magento SEO with this helpful guide packed with tips, tricks, and best practices for success.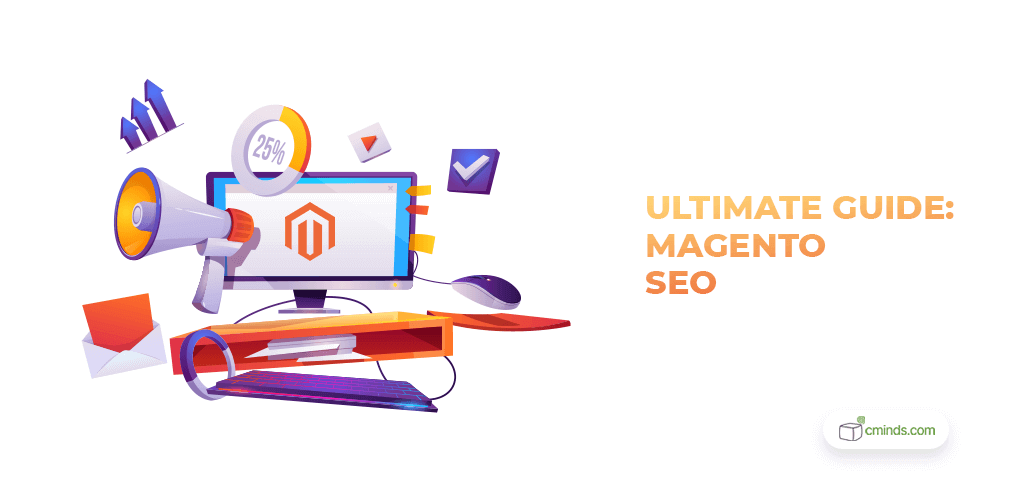 Magento SEO: What You Need to Know

Magento is one of the internet's leading eCommerce platforms. It's powerful and robust, with everything you need to create an awesome eCommerce website.
But, like with any website, your Magento site needs to be search engine optimized.
Search engine optimization – more succinctly known as SEO – is the practice of making your website as search engine friendly as possible. Implementing site-wide SEO techniques ensures that search engines will love your site, placing it higher in search engine results pages (SERPs).
Magento comes with a host of features that can help with search engine optimization right off the bat. But there are additional things that you can do to improve the optimization of your site.
That's where this blog comes in.
Magento SEO: Important Factors

When it comes to optimizing your site, there are lots of important factors to consider. These include:
1. Site Speed
Site speed has become an increasingly important factor in SEO strategies, and Magento SEO is no exception.
We love Magento for it's powerful and robust nature, but it's not the most lithe of eCommerce platforms – it can be bulky and become slow pretty quickly.
So, if you want to get the most out of SEO, speeding up your Magento site should be a priority.
Lucky for you, we know quite a bit about Magento performance optimization. Check out our blog with 10 Practical Tips for Magento Performance Optimization.
A speedy site can really improve SEO, especially since the introduction of Google's SEO Core Web Vitals.
2. URL Structure
Next up is optimizing your URL structure. Your URLs are a big part of keeping your website organized, but they're also key to improving Magento SEO.
URLs should be descriptive but easy to read. Short and simple is best, and they should always be lowercase.
Take a look at the URL for this blog, for example: /ultimate-guide-magento-SEO. It's short and sweet but it tells you exactly what the blog is about, and it contains the keyword we want this page to rank for.
The great news is, Magento comes with URL support built into the platform. You can easily re-write your URLS to fit your products and categories.
3. Page Titles and Meta-descriptions
It's not just page content that needs optimizing for SEO. You also need to think about your page titles and meta-descriptions.
Titles are hugely important because they help search engines understand your content.
Again, let's take the title of this blog as an example: The Ultimate Guide to Magento SEO (Tips, Tricks, and More!). This title was chosen because it tells you exactly what the blog is about, while remaining within the 60-70 character limit that's best for SEO.
Meta-descriptions are the first impression that users will have of the page when they see it in SERPs. Your meta-description will help them decide if they want to click through to your site or look elsewhere.
So, how do you optimize them for search engines?
Crafting the perfect meta titles and descriptions can take time (and a little trial and error), but here are some rules of thumb to help you on your way:
Clarity – Titles should clearly and succinctly describe the page's content, in no more than 70 characters. Meta-descriptions should do the same in under 160 characters.
Keywords – Keywords should be a component of both the title and meta description. Your most important keyword for the page should be at the beginning of the page title.
Unique – Each title and meta-description should be unique. No duplicate content, please.

4. Headings

Most website content has sections. Signifying these sections with headings is important for both visitors and search engines.

For visitors, headings allow them to quickly scan the content and see what's most relevant to them. For search engines, effective headings help them to understand the content's topic and structure.

Following heading best practice tips is essential for Magento SEO, so here's the low-down:

Use only one H1 heading per page. H2 should be used to make it clear what each section is about. H3 should be used for subsections of H2 content.
Follow a logical, hierarchical structure – i.e H1 followed by H2 followed by H3. Try not to jump around or miss steps – i.e H1 followed by H3.

5. Theme

Your theme is a huge part of your Magento website, so pick wisely.

For best SEO results, you need a responsive theme.

A responsive theme is one that formats correctly across any device – desktop or mobile. This is hugely important when more people than ever are browsing the web using their mobile devices.

In fact, search engines will penalize you if you're site doesn't have a mobile version or is not well optimized for mobile devices. Fail to pick a responsive theme and you'll find yourself pushed further down SERPs.

Here at CreativeMinds, we like to think we're quite knowledgeable when it comes to Magento themes. In the past we've put together blogs on how to find the perfect Magento theme and the most popular Magento themes out there. We hope these will help you find your ideal responsive theme to improve your Magento SEO.

6. Images

As well as your content, titles, and meta-descriptions, your images need to be optimized.

Images are an important part of any eCommerce site. After all, you'll want to show off your amazing products in the very best light.

Optimizing your images is the process of decreasing size without losing resolution and clarity. No-one wants a blurry photo on their site.

Optimization helps you to save store space, which will also improve your website speed. That's just one way that your Magento SEO strategy is interlinked.

So, how do you go about optimizing your images?

The best way is to use an extension. Research can help you find the best solution for your site.

Magento SEO: In Conclusion

So there you have it – our guide to Magento SEO!

Your Magento SEO strategy is vitally important if you want to ascend those all important SERPs. From increasing site speed to optimizing images, there's plenty to do when it comes to implementing your strategy.

We hope this guide helps you to better understand SEO and implement your personal strategy.