This use case took place in 2012 and the platform is not available anymore. The client used versions of Download Manager, CM Registration, Site Access Restriction, and custom development hours.
---
Aternity redefines end-user experience management by delivering the industry's first Frontline Performance Intelligence (FPI) Platform, effectively transforming every desktop – real or virtual – into a self-monitoring platform that is user-experience aware.
The company provides its clients with a large amount of documentation about this Platform: online guides, videos and demos, a product knowledge-base, and e-learning programs, together forming the Aternity Knowledge Management Repository (AKR).
Initially, all these documents were prepared on paper and then transmitted to clients via a SalesForce Self-Service Portal. Aternity's management was not happy with that solution, both because it was inefficient and because the SalesForce Self-Service Portal did not meet all the company's documentation and training needs.
A crucial problem was that the information structure was unwieldy and the user interface – navigation, usability, ease of use and ease of finding content – was far from optimal. Users found searching the old knowledge repository neither easy nor satisfying, and user satisfaction was low.
It took the company's workforce a great deal of time to prepare the documents offline and upload them, and the process of publishing the content was too complicated.
A less critical problem was that the SalesForce portal did not provide all of the functionality that Aternity needed. For instance, it did not enable curriculum management of their online training courses; nor did it enable them to sell training courses or other content online. The company therefore had to use several other platforms in addition to its SalesForce-based knowledge repository.
Aternity looked for a company that could supply them with a user-friendly, state-of-the-art online repository and help center that would provide a superb user experience while meeting all their needs. The desired solution would make it easy for Aternity's workforce to publish new content, and for their users to find it by searching or by advanced browsing. Optimally, it would also enable them to consolidate all functions on one easy-to-operate platform. After considering the alternatives, they invited CreativeMinds to develop their new Aternity Knowledge Repository (AKR).
The new AKR custom-designed by CreativeMinds meets all the company's requirements:
A completely new, user-friendly interface offering advanced searching and browsing makes navigation through the complex repository user-friendly and has vastly improved the total user experience.
Content editors can easily add and edit articles, pages, and events, can add media content such as videos, and can set protection levels per article. A workflow can be defined for writing new content, starting with the content contributor and ending with the editor who approves and publishes the article.
Training courses are administered as an integral part of the platform. Administrators can manage users, registrations and event bookings, with multiple permission levels.
An easily administered eStore is also integrated into the platform, enabling the sale of online content, such as articles and training videos.
Aternity's team transitioned smoothly to administering the new Knowledge Repository, and are delighted with the increased speed, ease of use and integration of all needed functions in the solution crafted for them by Creative Minds.
Today the Aternity Knowledge Repository serves the needs of hundreds of Aternity's users, and it is integrated with the Aternity Enterprise platform, helping users get immediate online information.
Aternity's Knowledge Repository Result
Example of the AKR homepage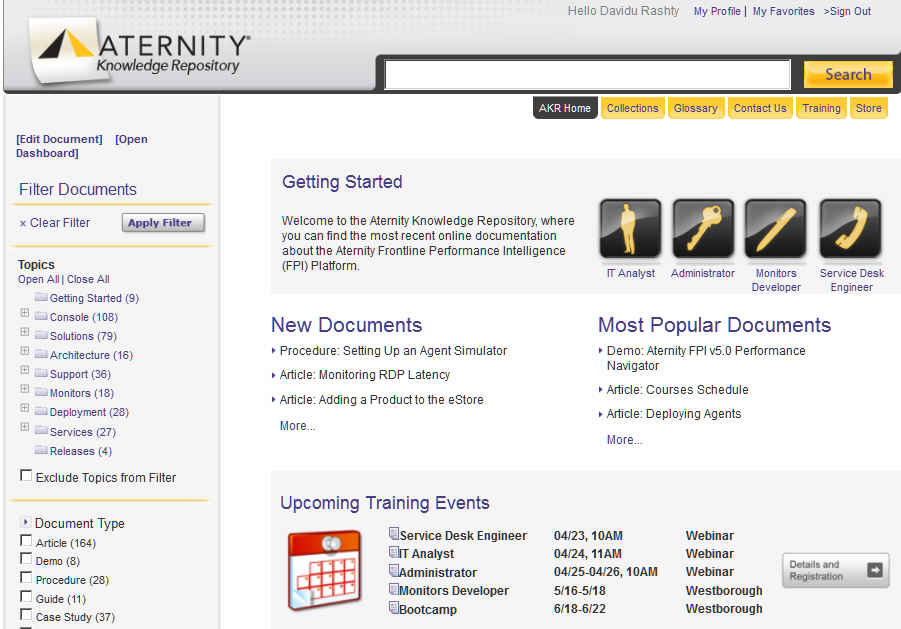 Example of an article taken from the AKR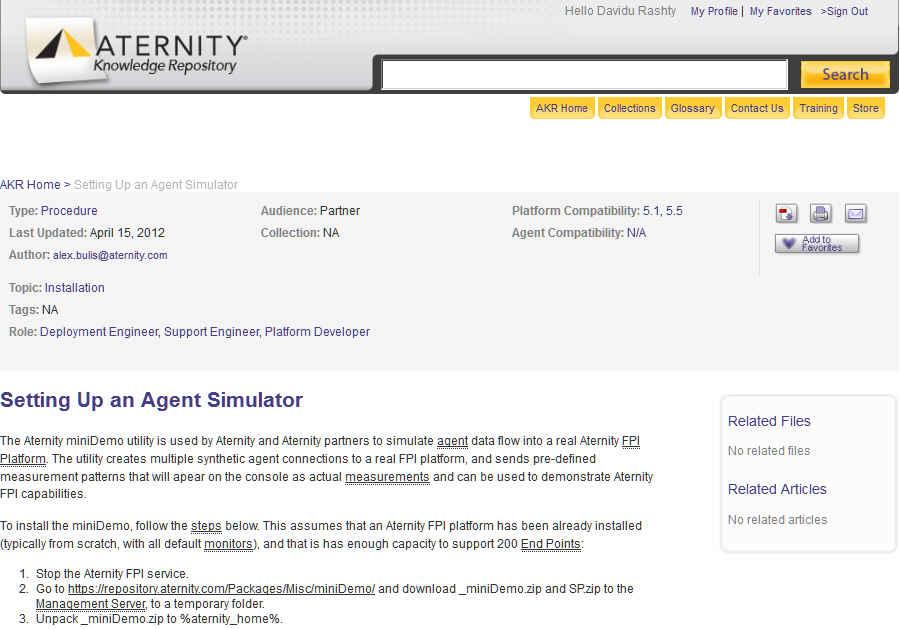 Example of the AKR store